Bank of England
Central bank of the United Kingdom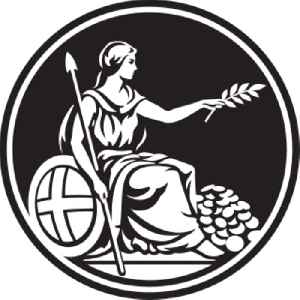 The Bank of England is the central bank of the United Kingdom and the model on which most modern central banks have been based. Established in 1694 to act as the English Government's banker, and still one of the bankers for the Government of the United Kingdom, it is the world's eighth-oldest bank. It was privately owned by stockholders from its foundation in 1694 until it was nationalised in 1946.


The crippling effect of coronavirus within communities

Data obtained by ITV News has revealed the crippling impact coronavirus is likely to have on towns and cities across the UK. With the full winding down of the furlough scheme by October, more than..
Credit: ODN Duration: 01:18
Published
PM: 'Too early' to judge Covid-19 economic recovery

Prime Minister Boris Johnson says it is too early to judge the state of the country's recovery from Covid-19, but says there are signs of strength in the UK economy. The comments come as the Bank of..
Credit: ODN Duration: 00:48
Published
You Might Like



Bank of England to remove any portraits of former governors linked to slave trade

The Bank of England said on Thursday it would remove any portraits still on display within the 325-year-old central bank of former governors or directors with links to the slave trade.




Reuters - Published





Much more serious than the 2008 crisis, former BoE Governor King says

Britain faces a "much more serious" economic challenge now than in 2008 when the country's banking system almost collapsed, and must be prepared for far higher borrowing, former Bank of England..




Reuters - Published




Stock rebound runs out of steam despite emergency BoE cut

The rebound in stocks ran out of steam on Wednesday despite the Bank of England joining other central banks in cutting interest rates, as investors weighed up whether coordinated monetary and fiscal..




Reuters - Published





BoE's Carney: No reason why UK economy should be hit as badly as 2008

There is no reason why the coronavirus outbreak should damage Britain's economy as badly as the financial crisis did in 2008, Bank of England Governor Mark Carney said on Wednesday.




Reuters - Published





Stocks gain after emergency BoE cut adds to stimulus hopes

European stocks rose on Wednesday after the Bank of England joined other central banks in cutting interest rates, raising hopes for more co-ordinated monetary and fiscal stimulus to counter the..




Reuters - Published





Highlights: Bank of England governor speaks at press conference

The Bank of England governor Mark Carney and his successor, Andrew Bailey, spoke at a press conference after the central bank unexpectedly cut interest rates by half a percentage point to 0.25% on..




Reuters - Published





BoE's Carney says coordinating with finance ministry for max impact

Governor Mark Carney said on Wednesday the Bank of England was coordinating with Britain's finance minister to ensure its surprise interest rate cut and other measures announced on Wednesday would have..




Reuters - Published





European stock futures jump as BoE joins rate cut party

Stock futures in London and across Europe jumped on Wednesday after the Bank of England joined other major central banks in cutting interest rates to offset economic damage caused by the coronavirus..




Reuters - Published





BoE allows banks to tap capital cushion during coronavirus

The Bank of England told banks on Wednesday they can tap one of their capital buffers to maintain lending during the coronavirus epidemic, but warned they must not use the cash for bumping up bonuses..




Reuters - Published





Text: Bank of England cuts rates to 0.25% to bolster UK economy

The Bank of England cut its key interest rate to 0.25 percent on Wednesday and announced a raft of other measures to bolster Britain's economy against disruption caused by the coronavirus outbreak.




Reuters - Published





New BoE boss Bailey does not back immediate virus rate cut

The Bank of England should wait until it has more clarity about the economic hit from the coronavirus outbreak before making any decision to cut interest rates, its next governor Andrew Bailey said on..




Reuters - Published




Next BoE boss Bailey wants clearer view on coronavirus hit before rate decision

Andrew Bailey, the next governor of the Bank of England, said on Wednesday that he wanted to see more evidence about the economic impact of the coronavirus outbreak before deciding whether to cut..




Reuters - Published





Next BoE governor Bailey sees coronavirus help for UK firms

Andrew Bailey, set to become Bank of England governor just as Britain is facing an economic hit from coronavirus, said financial support would probably have to be rushed out for companies struggling..




Reuters - Published




UK will not appoint new BoE chief before December 12 election: official

Britain's government will not name a successor to Bank of England Governor Mark Carney before a national election due on Dec. 12, a finance ministry official, who declined to be named, said.




Reuters - Published




UK's Javid sees BoE governor appointment this autumn: ITV

The appointment process for the next governor of the Bank of England is on track and an appointment will be made this autumn, finance minister Sajid Javid said on Wednesday.




Reuters - Published





World needs to end risky reliance on U.S. dollar: BoE's Carney

Bank of England Governor Mark Carney took aim at the U.S. dollar's "destabilizing" role in the world economy on Friday and said central banks might need to join together to create their own replacement..




Reuters - Published





Bank of England picks World War Two code-breaker Turing for banknotes

Mathematician Alan Turing, whose cracking of a Nazi code helped the Allies to win World War Two but who committed suicide after being convicted for homosexuality, will appear on the Bank of England's..




Reuters - Published





Hunt admits no-deal Brexit could be almost as damaging as 2008 financial crash - but will carry it out if necessary

'The Bank of England's predictions are that it wouldn't be quite that bad, but it could be very serious'




Independent - Published