Taipei
Special municipality in Republic of China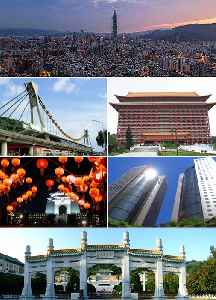 Taipei, officially Taipei City, is the capital and a special municipality of Taiwan. Located in northern Taiwan, Taipei City is an enclave of the municipality of New Taipei City that sits about 25 km (16 mi) southwest of the northern port city of Keelung. Most of the city lies on the Taipei Basin, an ancient lakebed. The basin is bounded by the relatively narrow valleys of the Keelung and Xindian rivers, which join to form the Tamsui River along the city's western border.


Taiwan kickstarts domestic tourism after containing coronavirus spread

Taiwan's transportation and health ministers removed a face mask from a sand sculpture at a ceremony in Taipei to kickstart a domestic tourism initiative. View on euronews
Credit: euronews (in English) Duration: 00:40
Published
Taiwan drives Chinese warplanes from its airspace

Chinese Su-30 fighter jets briefly entered Taiwanese airspace hours after the country's defense ministry announced the dates of annual military exercises that test its capabilities to ward off a..
Credit: Reuters - 3D Animations (Next Me Duration: 01:29
Published
Taiwan swears in President Tsai for second term

President Tsai Ing-wen was sworn in for her second and final term on Wednesday in a ceremony at Taiwan's presidential palace in Taipei. Gloria Tso reports.
Credit: Reuters Studio Duration: 01:42
Published
You Might Like



Taiwan Black Lives Matter protest gets indigenous twist

Hundreds packed into a park in central Taipei on Saturday for a Black Lives Matter protest, with a group of indigenous Taiwanese given prominent billing to draw attention to discrimination against the..




Reuters - Published





Taiwan massage parlour struggles as coronavirus cripples tourism

With Taiwan's borders closed to tourists as part of coronavirus controls, the staff at Taipei's Dynasty massage parlour have little to do all day but pace the floors, the number of clients collapsing..




Reuters - Published





China drops word 'peaceful' in latest push for Taiwan 'reunification'

Chinese Premier Li Keqiang left out the word "peaceful" on Friday in referring to Beijing's desire to "reunify" with Chinese-claimed Taiwan, an apparent policy shift that comes as ties with Taipei..




Reuters - Published





China to encourage Taiwan's people to promote 'reunification'

China will encourage the people of Taiwan to join it in opposing the island's independence and promoting China's "reunification", Chinese Premier Li Keqiang said on Friday, a move likely to worsen..




Reuters - Published





Face masks fail to crimp style of Taiwan martial artists

For martial arts students in Taipei, training is going on almost as normal as Taiwan keeps the spread of the new coronavirus well under control.




Reuters - Published





Taiwan shows solidarity as bookseller who fled Hong Kong opens shop

Taiwan's ruling party on Saturday showed support for a Hong Kong bookseller who fled to the democratic island amid fears of Chinese persecution, with President Tsai Ing-wen offering congratulations as..




Reuters - Published





Bookseller who fled Hong Kong attacked with red paint in Taiwan

A Hong Kong bookseller who fled to Taiwan amid fears of Chinese persecution was attacked on Tuesday by a man who threw red paint at him, just days before he was set to open a new bookshop in Taipei.




Reuters - Published





Taiwan condemns 'groundless' accusations it attacked WHO chief

Taiwan's Foreign Ministry on Thursday condemned "groundless" accusations from the head of the World Health Organization (WHO) that racist slurs against him had come from the island, as Taipei escalated..




Reuters - Published





Taiwan doubles down on virus criticism as China denounces 'disgusting' behavior

Taiwan doubled down on its criticism of China's handling of the coronavirus crisis on Wednesday, saying the Communist Party cared more about power than its own people, while Beijing described Taipei's..




Reuters - Published





Taiwan school uses dividers during lunch to counter coronavirus

A school in Taiwan's capital Taipei is going to unusual lengths to protect its students from the coronavirus - putting up bright yellow dividers on their desks during lunch to reduce their risk of..




Reuters - Published





Shanghai suspends all ties with Prague in spat over Taiwan

The Shanghai city government said on Tuesday it was suspending official contact with Prague after the Czech capital Prague signed a sister city agreement with Taiwan's capital, Taipei, in the latest..




Reuters - Published





Taiwan's military chief among eight dead in helicopter crash

Taiwan's top military official was among eight people killed on Thursday, after a helicopter carrying them to visit soldiers crashed in a mountainous area near the capital Taipei, the defense ministry..




Reuters - Published




Taiwan's top military official missing after helicopter makes emergency landing

Taiwan's top military official was among three people missing on Thursday after a helicopter made an emergency landing in a mountainous northern area near the capital Taipei, the defense ministry said.




Reuters - Published





Hearts 'linked as one' as Taiwan welcomes tiny Nauru amid China tussle

The president of the tiny Pacific island nation of Nauru promised on Friday to always stand beside Taiwan as their hearts are "linked as one", as he visited Taipei amid a growing tussle for influence..




Reuters - Published





China too distracted to worry about Taiwan, Taipei mayor says

China has too many other issues to worry about at the moment, from protests in Hong Kong to a slowing economy, to give much thought to Taiwan, the mayor of Taipei, sometimes seen as a potential future..




Reuters - Published





In face of China threat, Taiwan to invite U.S. experts to bolster defenses

Taiwan plans to invite U.S. military experts to visit to provide advice on bolstering the island's defenses, the defense ministry said on Monday, in the face of what Taipei views as a growing threat..




Reuters - Published





China says aircraft carrier on way to South China Sea after Taiwan passage

China's first domestically-built aircraft carrier is on its way to the South China Sea for tests and to take part in exercises, the Chinese navy said on Monday, after sailing through the Taiwan Strait..




Reuters - Published





In pictures: Thousands join Pride parade in Taiwan

The event in Taipei is the first to be held since Taiwan legalised same-sex marriage in May.




BBC News - Published





Thousands throng Taipei streets in East Asia's largest Pride march

More than 100,000 people thronged the streets of Taiwan's capital Taipei on Saturday for East Asia's largest Pride march, months after the self-ruled island began formally allowing same-sex marriage,..




Reuters - Published





Taiwan says China is an 'authoritarian' threat in the Pacific

Taiwan said on Monday China was practicing "authoritarian expansionism" in the Pacific, pointing to reports of plans for Chinese military presence in two Pacific countries that have recently switched..




Reuters - Published




China restores ties with Kiribati, site of space tracking station

China and the Pacific island state of Kiribati restored diplomatic ties on Friday after the former diplomatic ally of Taiwan abandoned Taipei.




Reuters - Published





Nauru backs Taiwan after two Pacific nations switch diplomatic ties to China

The tiny Pacific country of Nauru will retain long-standing ties with Taiwan, its president said on Thursday, a welcome boost for Taipei after two regional nations switched diplomatic relations to..




Reuters - Published





Taiwan says China meddling with elections after Solomon Islands cuts ties

Taiwan accused China on Monday of trying to influence its presidential and legislative elections after the Solomon Islands cut off ties with Taipei.




Reuters - Published




Solomon Islands says 'business as usual' with Taiwan as it mulls diplomatic switch to China

Solomon Islands said on Monday that its diplomatic ties with Taiwan were stable, giving the assurance even as China woos the Pacific nation with a development fund if it switches alliance from Taipei..




Reuters - Published





Taipei mayor to form political party in challenge to Taiwan president

The mayor of Taipei said on Thursday he will form a political party to run in Taiwan's 2020 elections, a move that could complicate President Tsai Ing-wen's re-election and shake up the political..




Reuters - Published