Trafalgar Square
Public space and tourist attraction in central London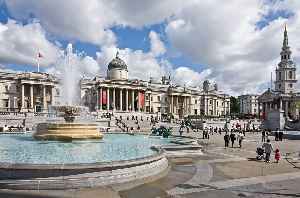 Trafalgar Square is a public square in the City of Westminster, Central London, built around the area formerly known as Charing Cross. Its name commemorates the Battle of Trafalgar, the British naval victory in the Napoleonic Wars over France and Spain that took place on 21 October 1805 off the coast of Cape Trafalgar.


Black Lives Matter organisers urge protesters to 'stay calm'

People participate in a Black Lives Matter protest rally in London, marching from Hyde Park to Trafalgar Square.
Credit: PA - Press Association STUDIO Duration: 00:54
Published
'Take a knee' protest held in Trafalgar Square

Protesters held a 'take a knee' demonstration this afternoon in Trafalgar Square in support of the Black Lives Matter campaign. Report by Browna. Like us on Facebook at http://www.facebook.com/itn and..
Credit: ODN Duration: 01:59
Published
Black Lives Matter protesters take a knee in Trafalgar Square

People take part in a kneeling protest for Black Lives Matter in Trafalgar Square, London, in memory of George Floyd, who was killed on May 25 while in police custody in the US city of Minneapolis.
Credit: PA - Press Association STUDIO Duration: 00:32
Published
George Floyd protests reach London and Berlin

Hundreds rallied in London and Berlin on Sunday (May 31) in solidarity with U.S. protests over the death of George Floyd.
Credit: Reuters Studio Duration: 00:46
Published
Hundreds join London protest against George Floyd death

Hundreds of people have gathered in Trafalgar Square to protest against the death of a black man restrained by police in America. The Black Lives Matter demonstration on Sunday was organised after..
Credit: PA - Press Association STUDIO Duration: 00:44
Published
You Might Like