London Waterloo station
Central London railway terminus and London Underground station complex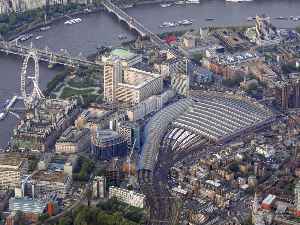 Waterloo station, also known as London Waterloo, is a central London terminus on the National Rail network in the United Kingdom, located in the Waterloo area of the London Borough of Lambeth. It is connected to a London Underground station of the same name and is adjacent to Waterloo East station on the South Eastern main line. The station is the terminus of the South Western main line to Weymouth via Southampton, the West of England main line to Exeter via Salisbury, the Portsmouth Direct line to Portsmouth Harbour and the Isle of Wight, and several commuter services around West and South West London, Surrey, Hampshire and Berkshire. Many services stop at Clapham Junction and Woking.


Waterloo station: Man chases dog down electrified train tracks, leaving commuters stranded as services suspended
'The dog was much faster and the man was looking rather tired,' says passenger caught up in rush hour chaos
Independent - Published
Fire near Waterloo Station causes travel chaos on some of UK's busiest train lines
Nine platforms closed with 'significant damage' expected following lineside blaze
Independent - Published
Nine London Waterloo platforms closed by lineside fire
Commuters are told to avoid travelling from the station during evening rush hour.
BBC News - Published
Windrush memorial to be built at Waterloo station
The monument to the Windrush generation of Caribbean migrants will be erected at Waterloo station.
BBC News - Published
London Waterloo: South Western Railway delays as engineering works overrun
Passengers will face disruption all day after engineering works had overrun at London Waterloo.
BBC News - Published
London explosive packages: Terror police keep 'open mind'
Devices were found in postal bags at London City Airport, Heathrow Airport and Waterloo Station.
BBC News - Published
Police called to London's Waterloo station and City Airport over suspect packages
Police were called to London's Waterloo station and to a building near London City Airport on Tuesday after reports of suspicious packages being found, although services were running as normal.
Reuters - Published
Waterloo station: Police called over reports of suspicious package in central London
Police have been called to Waterloo station in London after reports of a suspicious package.
Independent - Published
You Might Like