Woodstock
1969 music festival in New York, United States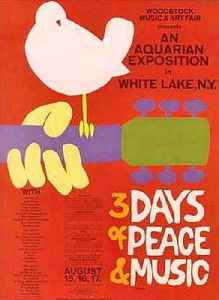 Woodstock was a music festival held August 15–18, 1969, which attracted an audience of more than 400,000. Billed as "an Aquarian Exposition: 3 Days of Peace & Music", it was held at Max Yasgur's 600-acre dairy farm in Bethel, New York, 43 miles (70 km) southwest of Woodstock. It was alternatively referred to as the Bethel Rock Festival or the Aquarian Music Festival. Thirty-two acts performed outdoors despite sporadic rain. It has become widely regarded as a pivotal moment in popular music history, as well as the definitive nexus for the larger counterculture generation.


'Creating Woodstock': how festival came together, and almost fell apart
Mick Richards was among the 450,000 people at Woodstock in 1969, but he did not think much about his "uneventful" 24 hours there until years later, when his teenage son started asking about the..
Reuters - Published
Woodstock still sounds golden 50 years on
On the 50th anniversary of the seminal Woodstock music festival, we speak to people who were at the "Aquarian explosion".
BBC News - Published
Still feelin' groovy: Woodstock photo couple together after all these years
Fifty years ago, Nick and Bobbi Ercoline were just another young couple camped out at the Woodstock festival.
Reuters - Published
Search this site and the web:
You Might Like