Suffolk
County of England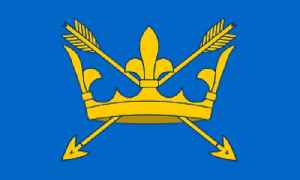 Suffolk is an East Anglian county of historic origin in England. It has borders with Norfolk to the north, Cambridgeshire to the west and Essex to the south. The North Sea lies to the east. The county town is Ipswich; other important towns include Lowestoft, Bury St Edmunds, Newmarket, and Felixstowe, one of the largest container ports in Europe.


Former nurse completes 102nd charity walk on 102nd birthday

A 102-year-old retired nurse has completed her 102nd charity walk on herbirthday. During lockdown, Joan Rich set a goal of walking 102 laps of herlocal park before her 102nd birthday on September 11...
Credit: PA - Press Association STUDIO Duration: 00:55
Published
Police arrest teenager following Suffolk shooting

Suffolk Police say a teenage boy has been arrested after a 15-year-old boy was shot near Kesgrave High School. Report by Jonesia. Like us on Facebook at http://www.facebook.com/itn and follow us on..
Credit: ODN Duration: 00:45
Published
Waterspout seen off the coast of Suffolk

A waterspout was spotted off the coast of Southwold in Suffolk.
Credit: PA - Press Association STUDIO Duration: 00:45
Published
You Might Like



Sudbury bones find: River searched for murder investigation

The bones were found in two black bin bags in the River Stour in Suffolk on Thursday.




BBC News - Published





'Bags of human bones' found in River Stour in Sudbury

The remains were discovered close to a submerged shopping trolley in the River Stour in Suffolk.




BBC News - Published





Stowmarket explosion: Train station evacuated after blast

Police say at least one person has been hurt in the blast in Stowmarket, Suffolk.




BBC News - Published





UK weather: Showers to sweep across northwest but bright and warm in south

Highs of 27C expected around Norfolk, Suffolk and Cambridgeshire




Independent - Published





Coronavirus: Suffolk village pub pleads for customers to return

The owners of a village pub have pleaded for customers to return.




BBC News - Published





Coronavirus: Southwold asks tourists to help them 'rebuild'

A warning becomes a welcome in Southwold, Suffolk, as it gears up for the return of tourists.




BBC News - Published





RAF Lakenheath: US fighter jet crashes into North Sea

The F-15C Eagle, from RAF Lakenheath in Suffolk, crashed shortly after 0940 BST.




BBC News - Published





George Floyd death: Abused Ipswich chef says 'racism not just a US problem'

Brian Powlett shares his experience of being racially abused in a Suffolk village street.




BBC News - Published





Sizewell C: Nuclear power station plans for Suffolk submitted

Critics say EDF's plans would take money from projects that could transform the UK energy landscape.




BBC News - Published





Body of newborn baby found at Suffolk recycling centre

Police make a direct appeal to the baby's mother to seek medical assistance.




BBC News - Published





Tripadvisor names Ipswich 'among world's top emerging destinations'

The Suffolk town was given a boost by chart-topper Ed Sheeran but insists it has plenty more to offer.




BBC News - Published





Fire breaks out at Stowmarket malt factory

The Suffolk factory makes malted ingredients, including the honeycomb centres of Maltesers.




BBC News - Published





Suffolk murder: Man arrested after woman stabbed to death in Newmarket

Police believe victim was known to murder suspect




Independent - Published





General election 2019: Female boxers take on politics

Female boxers in a Suffolk port town have their say on the forthcoming general election.




BBC News - Published





Suffolk library ban for person who defecated in sink

Riding bikes indoors and violence are also among the reasons Suffolk council issued 167 bans.




BBC News - Published





Remembrance Day: Haughley silhouettes stand guard to remember fallen

Metal figures representing soldiers who died in the two world wars are erected in Haughley, Suffolk.




BBC News - Published





Suffolk artist's sketches raising funds for farmers' mental health

A Suffolk artist challenged herself to do 100 drawings in 100 days for a rural health charity.




BBC News - Published





Fake university website for College of Suffolk shut down

The website used Suffolk's links to Ed Sheeran and Harry Potter in a bid to dupe people.




BBC News - Published





England takes the World Porridge Making title in the Highlands

Lisa Williams, from Suffolk, claims the golden spurtle in the 26th year of the Highlands competition.




BBC News - Published





Capel St Mary house fire leaves two dead

Capel St Mary in Suffolk is described as being "in a state of shock" over the deaths.




BBC News - Published





Suffolk town Clare calls for first crier in 300 years

The recruit needs "a genuine love of history and tradition" to fill a post vacant since 1711.




BBC News - Published





Pictures: Ed Sheeran plays first Ipswich homecoming gig

The Suffolk star's world tour is drawing to a close over four nights in his home town of Ipswich.




BBC News - Published





Giant Lowestoft street art paintings to celebrate wildlife

Street artist ATM painted a kingfisher on the wall of a hairdressers in Lowestoft, Suffolk.




BBC News - Published





Vase discovered in house clearance sells for £200,000

The rare 18th Century Chinese vase was expected to fetch £10,000 at auction in Felixstowe, Suffolk.




BBC News - Published





Norfolk and Suffolk NHS Trust: Fake doctor medicated 164 patients

Zholia Alemi, jailed in 2018 for fraud, treated mental health patients in Norfolk and Suffolk.




BBC News - Published





Latitude Festival: RSPCA critical of pink sheep tradition as pressure grows

The RSPCA and Peta have added to criticism of the "cruel" tradition at Latitude Festival in Suffolk.




BBC News - Published





The nuclear fight for Sizewell on Suffolk's coast

The nuclear industry says new plants are essential, but protesters say the environment is under threat.




BBC News - Published





B-52 bomber makes emergency landing at RAF Mildenhall

A US Air Force official says the plane had an "in-flight emergency" and landed at a Suffolk base.




BBC News - Published





Nyall Brown death: Norfolk and Suffolk mental health trust criticised

Mental health trust staff do not always read a patient's notes before seeing them, says a coroner.




BBC News - Published





Arrest over 'drive-by' rock throwing on Norfolk-Suffolk border

A man in his 20s is held on suspicion of damaging more than 50 vehicles in a series of attacks.




BBC News - Published





Bricks and stones thrown from passing cars in Suffolk

Dozens of cars have been damaged by missiles hurled from oncoming vehicles on the Norfolk-Suffolk border.




BBC News - Published