Bolivia
Country in South America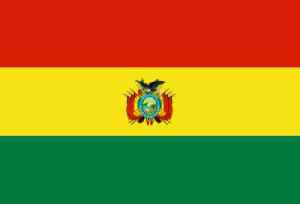 Bolivia, officially the Plurinational State of Bolivia is a landlocked country located in western-central South America. The capital is Sucre while the seat of government and financial center is located in La Paz. The largest city and principal industrial center is Santa Cruz de la Sierra, located on the Llanos Orientales, a mostly flat region in the east of the country.


One trapped miner in Chile rescued, one dead, one remains missing
Chilean authorities found alive one of three Bolivian miners trapped beneath the rubble at a small copper mine early on Saturday, while another was found dead, Chile´s mining ministry said.
Reuters - Published
Brazil jeered by their own fans
Brazil are jeered by their own fans in their opening Copa America game against Bolivia - despite winning 3-0.
BBC News - Published
Bolivia's superfood crop seen as means for food security
Some are now talking of canagua as the next superfood, the new quinoa and a possible solution to food insecurity in the face of climate change.
Credit: Al Jazeera STUDIO Duration: 02:16Published
Bolivia's president begins bid for fourth consecutive term
Some Bolivians say Morales is acting unconstitutionally after voters expressed opposition to his fourth term.
Credit: Al Jazeera STUDIO Duration: 02:25Published
Bolivia: residents watch as landslide sweeps away houses
A landslide on the outskirts of La Paz destroyed over a dozen houses, but there were no casualties as the area had been evacuated.
Credit: euronews (in English) Duration: 01:53Published
Two British teenagers killed in car crash while travelling across world's largest salt flats
Bolivian driver also killed after car flips and third British man taken to hospital
Independent - Published
Cranbrook School teens killed in Bolivia car crash
Students Freddie McLennan and Joe Atkins, both 19, died while travelling across South America.
BBC News - Published
Search this site and the web:
You Might Like