Adam Schiff
U.S. Representative from California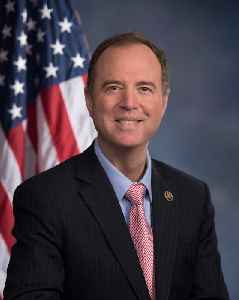 Adam Bennett Schiff is an American lawyer and politician who has served as the U.S. Representative for California's 28th congressional district since 2013. A member of the Democratic Party, Schiff is currently in his 10th term as a congressman, having served since 2001.


Trump casts doubt on Ginsburg's dying wish

[NFA] President Donald Trump on Monday sought to discredit Justice Ruth Bader Ginsburg's family's statement that her last wish was the next president appoint her successor, saying without evidence it..
Credit: Reuters - Politics Duration: 02:51
Published
Trump intel chief defends briefings ban

[NFA] U.S. President Donald Trump's intelligence chief on Sunday defended his decision to cease in-person Congressional briefings on election security, while Democrats said the move would suppress..
Credit: Reuters - Politics Duration: 01:38
Published
U.S. House to vote on $25 billion postal infusion

[NFA] U.S. House of Representatives Democrats unveiled on Wednesday legislation that would require same-day processing for mail-in ballots and give the cash-strapped Postal Service a $25 billion..
Credit: Reuters - Politics Duration: 02:10
Published
You Might Like



U.S. charges Connecticut man with threatening to murder Congressman Adam Schiff

U.S. prosecutors on Monday said a Connecticut man has been criminally charged with threatening to murder Representative Adam Schiff, the California Democrat who led the prosecution of Republican..




Reuters - Published





Trump accuses Schiff of leaking intelligence about Russia to hurt Sanders

President Donald Trump on Sunday accused Representative Adam Schiff of leaking classified information on Russian interference in the 2020 U.S. election to hurt Democratic presidential front-runner..




Reuters - Published




Trump says lead impeachment Democrat Schiff has not paid 'price, yet'

U.S. President Donald Trump said on Sunday that the Democratic lawmaker leading the impeachment case against him, Representative Adam Schiff, has "not paid the price, yet" for his actions, a statement..




Reuters - Published





House impeachment leader Schiff accuses Trump of threatening him on Twitter

Democratic U.S. House impeachment manager Adam Schiff said on Sunday he believes Republican President Donald Trump's comment that he has not yet "paid the price" was intended as a threat.




Reuters - Published





Trump impeachment prosecutor, Adam Schiff, is becoming Exhibit A in president's defense

The lawmaker walking U.S. senators methodically through the case for removing President Donald Trump from office is also becoming Exhibit A in efforts by the president's allies to defend him.




Reuters - Published





Trump 'made a religious man out of Vladimir Putin,' jokes Schiff

There have been few chuckles during U.S. President Donald Trump's impeachment trial in the Senate. But a wisecrack on Thursday about Russian President Vladimir Putin produced some laughter, at least..




Reuters - Published




Schiff says Senate impeachment process will not lead to a fair trial

Democrat Adam Schiff, leading the U.S. House of Representatives team charged with arguing that President Donald Trump must be removed from office, on Tuesday said that the process being considered for..




Reuters - Published




Trump foe Schiff to head Democratic prosecution team at impeachment trial

Democrats in the U.S. House of Representatives on Wednesday unveiled a seven-member team to prosecute President Donald Trump at his Senate impeachment trial, headed by a former federal prosecutor who..




Reuters - Published




Schiff to lead prosecution of Trump in Senate impeachment: Pelosi

House Intelligence Committee Chairman Adam Schiff will lead a team of seven Democrats who will prosecute the impeachment case against President Donald Trump in the U.S. Senate, Speaker Nancy Pelosi..




Reuters - Published





Schiff: focus on 'overwhelming evidence' in Trump impeachment

House Intelligence Committee Chairman Adam Schiff said on Sunday it was best to focus charges in the impeachment of President Donald Trump on where there was overwhelming evidence and not try to charge..




Reuters - Published




Republicans want Hunter Biden, Rep. Schiff and whistleblower to testify on impeachment

Republicans on the U.S. House of Representatives Judiciary Committee want Hunter Biden, Democratic congressman Adam Schiff and a whistleblower to be among the witnesses they want to testify at..




Reuters - Published





House panel impeachment report to be released Tuesday: Schiff

A U.S. House Intelligence Committee report laying out the Democratic case for President Donald Trump's impeachment will be publicly released on Tuesday, the panel's chairman said in a television..




Reuters - Published




Schiff: Trump impeachment inquiry report will be sent in early December

The chairman of the U.S. House of Representatives Intelligence Committee said on Monday committees conducting the impeachment inquiry into President Donald Trump would be sending their report to the..




Reuters - Published




Sondland's testimony 'very important moment' in impeachment inquiry: Schiff

The head of the U.S. House Intelligence Committee, Adam Schiff, said on Wednesday that morning testimony from European Union Ambassador Gordon Sondland was a very important moment in the impeachment..




Reuters - Published




Trump's attack on former ambassador is witness intimidation: Schiff

The Democratic congressman leading the impeachment inquiry into President Donald Trump said Trump's attack on former U.S. Ambassador to Ukraine Marie Yovanovitch on Friday was part of a pattern of..




Reuters - Published




Republican Elise Stefanik tangles with Schiff to defend Trump during hearings

Representative Elise Stefanik, once best known for becoming the youngest woman elected to Congress, stepped into center stage this week as a vocal defender of President Donald Trump during televised..




Reuters - Published





At impeachment hearing, Democrat Schiff asks if Trump used power 'for corrupt purpose'

A second day of televised impeachment hearings opened on Friday in the U.S. House of Representatives with the spotlight on Marie Yovanovitch, the former U.S. ambassador to Ukraine branded "bad news" by..




Reuters - Published




Whistleblower never met or talked with Schiff: source

The whistleblower who prompted an impeachment inquiry into U.S. President Donald Trump never met or spoke with congressman Adam Schiff, the Democrat leading impeachment hearings in Congress, a source..




Reuters - Published




U.S. House panel to hold impeachment hearings next week

The U.S. House of Representatives Intelligence Committee will hold public hearings for three days next week in its impeachment inquiry of President Donald Trump, the panel's chairman, Representative..




Reuters - Published




Schiff: Impeachment hearings no place for conspiracy or targeting whistleblower

The head of the U.S. House panel leading the impeachment inquiry on Tuesday warned fellow lawmakers ahead of public hearings, saying the televised questioning would not serve as a venue to air..




Reuters - Published




Schiff asks Republicans for witness requests in public impeachment inquiry hearings

Adam Schiff, the Democratic chairman of the U.S. House intelligence panel, has asked Republicans to submit witness requests by Saturday ahead of next week's public hearings for the impeachment inquiry..




Reuters - Published





Schiff expects White House officials subpoenaed to testify Monday to defy summons

U.S. House Intelligence Committee Chairman Adam Schiff said on Monday he fully expected four White House officials scheduled for depositions with investigators in the House's impeachment inquiry to..




Reuters - Published




U.S. House defeats Republican bid to censure Schiff in impeachment probe

Democrats in the U.S. House of Representatives on Monday blocked a Republican effort to censure House Intelligence Committee Chairman Adam Schiff over statements he has made related to an impeachment..




Reuters - Published





U.S. Republicans plan vote to censure Democrat Schiff, face of impeachment inquiry

Republican lawmakers will bring a motion to censure the Democratic chairman of the House Intelligence Committee, Adam Schiff, on Monday, a largely symbolic act by the minority party to express dismay..




Reuters - Published




U.S. House Intelligence chairman says impeachment transcripts to be public

U.S. Representative Adam Schiff, the chairman of the House Intelligence Committee, said on Wednesday the committee will make public transcripts of interviews conducted with witnesses in the impeachment..




Reuters - Published




Schiff says impeachment probe to move into public hearing phase eventually: Representative Yarmuth

U.S. House Intelligence Committee Chairman Adam Schiff told fellow Democrats that the House of Representative's impeachment inquiry into President Donald Trump will move into a public hearing phase..




Reuters - Published




Schiff says inspector general correct in deciding whistleblower complaint was urgent, credible

The U.S. intelligence community's inspector general was correct in deciding a whistleblower complaint against President Donald Trump was urgent and credible, House Intelligence Committee Chairman Adam..




Reuters - Published




Trump broke his oath of office in asking China to probe Biden: Schiff

The U.S. House Intelligence Committee's chairman, Democrat Adam Schiff, said on Thursday that President Donald Trump broke his oath of office in asking China to probe former Vice President Joe Biden,..




Reuters - Published




Trump attacks Democrats, whistleblower over impeachment

U.S. President Donald Trump kept up his assaults on the Democratic lawmakers leading impeachment proceedings on Wednesday, accusing House Intelligence Committee Chairman Adam Schiff of treason, as well..




Reuters - Published




Trump repeats that house intelligence committee chairman Schiff should be looked at for treason

U.S. President Donald Trump kept up his assaults on the Democratic lawmakers leading impeachment proceedings on Wednesday, accusing House Intelligence Committee Chairman Adam Schiff of treason, as well..




Reuters - Published