Leicester
City and unitary authority area in England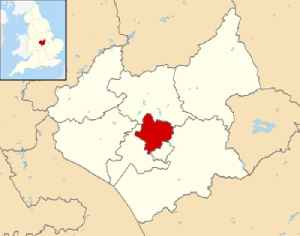 Leicester is a city and unitary authority area in the East Midlands of England, and the county town of Leicestershire. The city lies on the River Soar and close to the eastern end of the National Forest. It is to the north-east of Birmingham and Coventry, south of Nottingham, and west of Peterborough.


PM explains schools face masks U-turn

Prime Minister Boris Johnson defends the government's U-turn on wearing face masks in schools in England, during a visit to Castle Rock High School in Coalville, Leicestershire. Pupils will no longer..
Credit: ODN Duration: 01:13
Published
Williamson on government U-turn over face masks in schools

Education Secretary Gavin Williamson explains the government's late change to the advice on the wearing of face masks in schools in England. Pupils will no longer be advised against using face..
Credit: ODN Duration: 00:47
Published
You Might Like



Late Barkley winner at Leicester sends Villa second

Ross Barkley drills in an injury-time strike to maintain Aston Villa's 100% start to the season as they edge to victory at Leicester.




BBC News - Published





Lord Janner inquiry: Police chief denies ordering against MP's arrest

Ex-Leicester MP Lord Janner, who died in 2015, had denied child sexual abuse charges.




BBC News - Published





Covid test swab snapped off into woman's lung at Leicester hospital

The patient was being treated in Leicester and had a tracheostomy tube, bypassing her mouth.




BBC News - Published





Lord Janner inquiry: Officer 'ordered not to arrest MP'

Ex-Leicester MP Lord Janner, who died in 2015, had denied the child sexual abuse charges.




BBC News - Published





Leicester textile firms 'involved in money laundering'

Some of the companies involved have supplied Boohoo and Select Fashion, a BBC investigation finds.




BBC News - Published





Lord Janner inquiry: Alleged victims felt 'fear and shame'

Lawyers representing alleged victims said the prosecution of the former Leicester MP came "too late".




BBC News - Published





Leicester lockdown: 100 days of extra restrictions in city

Family and friends have been prevented from meeting at home in the city since March.




BBC News - Published





Claudia Webbe: Leicester MP charged with harassment

Claudia Webbe, the Labour MP for Leicester East, is due to appear in court in November.




BBC News - Published





Covid-19: How is Leicester coping with lockdown?

How is Leicester coping with life under the UK's longest-running coronavirus lockdown?




BBC News - Published




Leicester City 4-2 Burnley: Foxes fight back to maintain 100% start

Leicester come from behind to maintain their 100% Premier League start against an under-strength Burnley side at the King Power Stadium.




BBC News - Published





Carabao Cup fourth-round draw completed before third-round games played

Liverpool could play Leicester or Arsenal in the Carabao Cup fourth round after the draw was completed before the third-round games are played.




BBC News - Published





Debutant Castagne nets as Leicester win at West Brom

Timothy Castagne scores on his debut as Leicester comfortably beat newly promoted West Brom in their opening Premier League game.




BBC News - Published





Leicester's Diwali lights switch-on event cancelled

The celebration and Christmas events in Leicester are called off due to coronavirus restrictions.




BBC News - Published





Leicester lockdown: 'Ordinary people forgotten' as changes made

Residents in the city of Leicester still cannot meet with other households in homes or gardens.




BBC News - Published





Sale's Tuilagi to play against former side Leicester for first time

Team news as Leicester host Sale in Saturday's Premiership fixture at Welford Road (15:00 BST).




BBC News - Published





Ben Chilwell: Chelsea sign Leicester defender on five-year deal

Chelsea sign England left-back Ben Chilwell from Leicester on a five-year deal.




BBC News - Published





Chelsea sign England left-back Chilwell from Leicester

Chelsea sign England left-back Ben Chilwell from Leicester on a five-year deal.




BBC News - Published





Model rail enthusiast leaves £132,000 to heritage line

A man from Leicester leaves proceeds from his model rail collection to a Welsh heritage line.




BBC News - Published





Cancer patient's marathon runs inspired by dog in pushchair

Verity Conroy, from Leicester, has been diagnosed with a rare and aggressive form of breast cancer.




BBC News - Published





Leicester health trust awards cancer patient's family £100,000

Margaret Burrell, 76, who died in 2019, was deemed to have received "negligent care".




BBC News - Published





Coronavirus: 'Bittersweet' relief as Leicester beauty salons reopen

Beauty salons and nail bars can reopen in Leicester but not all treatments can be offered.




BBC News - Published





Coronavirus: Local lockdown in Oldham would be 'catastrophic'

The council leader says a Leicester-style lockdown could devastate businesses in the town.




BBC News - Published





Coronavirus: Local restrictions eased in Leicester as other regions face potential return to lockdown

Oldham reportedly 48 hours from severe lockdown as Northern Ireland mulls nationwide restrictions




Independent - Published





Leicester lockdown: Beauty salons and nail bars to reopen

Health Secretary Matt Hancock says restrictions on gatherings in homes and gardens remain in place.




BBC News - Published




Councillor Ruma Ali apologises for holding barbecue during lockdown

Ruma Ali is facing calls to resign following the family event, which broke the rules in Leicester.




BBC News - Published





Coronavirus: Former patients in Leicester urged to donate plasma

Hospital patients are now being treated with plasma from people who have recovered from coronavirus.




BBC News - Published





Leicester's pubs and restaurants set for reopening weekend

People in Leicester are free to enjoy themselves after the local lookdown but told be "responsible".




BBC News - Published




Mum and daughter with cancer reunited after Leicester lockdown

Marian Thomas, 85, had not seen Michelle Teale since March due to Leicester's local lockdown.




BBC News - Published





Coronavirus: 'Relief' for Leicester businesses out of lockdown

"We are already one month behind," said the owner of a restaurant in Leicester.




BBC News - Published




'What a way to run a country': Leicester mayor attacks government's delayed decision on lifting lockdown

Review of restrictions imposed on Midlands city at end of June was due today




Independent - Published





Coronavirus: Oldham brings in tougher lockdown restrictions after spike in cases

Measures aimed at avoiding local lockdown as seen in Leicester




Independent - Published





Man Utd win to qualify for Champions League at Leicester's expense

Manchester United defeat Leicester 2-0 to secure a top-four finish and a place in next season's Champions League.




BBC News - Published





Coronavirus: Reopening shops during Leicester lockdown 'pointless'

Some Leicester shop owners decide it is not worth reopening as customers avoid non-essential travel.




BBC News - Published





Leicester businesses sue government over lockdown 'mishandling'

They say the situation may have left a "stigma" over the city.




BBC News - Published





Coronavirus: Leicester textile firms face enforcement action after safety breaches

About 25% of factories inspected have committed "health and safety breaches" since lockdown.




BBC News - Published





Hassan Jama: Man charged with stabbing murder

Hassan Jama, 19, died after he was stabbed in the Highfields area of Leicester.




BBC News - Published





Leicester could have avoided coronavirus lockdown, mayor says

Sir Peter Soulsby says a "sledgehammer" was used when targeted action was needed.




BBC News - Published





Coronavirus: Blackburn with Darwen 'overtaking Leicester for new cases'

Cases doubled in the last week, prompting fears of tighter restrictions in the Lancashire borough.




BBC News - Published





Tottenham 3-0 Leicester: Son Heung-min and Harry Kane score

Tottenham boost their chances of Europa League football next season and inflict a huge blow on Leicester's Champions League ambitions.




BBC News - Published





Spurs coast to victory to dent Leicester's Champions League hopes

Tottenham boost their chances of Europa League football next season and inflict a huge blow on Leicester's Champions League ambitions.




BBC News - Published





Leicester couple share 'heart-warming' Covid recovery in hospital

Michael and Gillian England would hold hands and have tea together each day they were in hospital.




BBC News - Published





Leicester academic questions lockdown approach for BAME groups

Coronavirus cases continued to rise among BAME groups in Leicester in the weeks following lockdown.




BBC News - Published





Leicester lockdown: 'I needn't have cancelled our holiday'

People living in the suburbs outside Leicester reflect on being released from the local lockdown.




BBC News - Published





Coronavirus: Leicester lockdown easing sparks confusion and anger

Mayor Sir Peter Soulsby says the decision to keep restrictions in place in the city is "political".




BBC News - Published





Coronavirus news — live: Herd immunity could limit second wave in UK as Leicester mayor criticises 'sledgehammer' lockdown

Scientists urge MPs to start planning for potential winter crisis as second wave could cripple NHS




Independent - Published





'Patience is starting to run thin': Anger rises to the surface after Leicester lockdown extended

The continuation of restrictions is proving a tough pill to swallow for Leicester, with local residents and leaders reacting angrily to the government's latest announcement




Independent - Published





Leicester lockdown measures eased after cases drop

Health Secretary Matt Hancock said there were positive signs the actions taken were working.




BBC News - Published





Leicester lockdown: Schools and shops to open in but pubs stay closed as city continues to battle outbreak

Health Secretary Matt Hancock has announced that schools and shops will reopen but pubs will remain closed in Leicester as the city continues to battle a coronavirus outbreak.




Independent - Published





Lockdown 'should be lifted in 90% of Leicester'

City mayor Sir Peter Soulsby speaks out ahead of a decision on whether to extend the local lockdown.




BBC News - Published





Coronavirus: Leicester mayor says 90% of city should 'go free' from lockdown after data suggests virus surge localised

'I very much regret the fact that the Government didn't trust us with this data earlier,' says Peter Soulsby




Independent - Published