Bob Higgins (American football)
American football player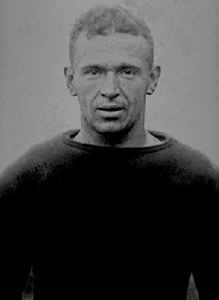 Robert A. Higgins was an American football player and coach. He played college football at Pennsylvania State University, where he was a three-time All-America, and then with professionally with the Canton Bulldogs in 1920 and 1921. Higgins served as the head football coach at West Virginia Wesleyan College, Washington University in St. Louis (1925–1927), and Pennsylvania State University, compiling a career college football record of 123–83–16. He was inducted into the College Football Hall of Fame as a coach in 1954.


Police 'sorry' over Higgins football sex abuse case
Six victims of coach Bob Higgins could not have their cases tried because of double jeopardy laws.
BBC News - Published
Bob Higgins: Former Southampton coach who sexually abused 24 teenage boys jailed for 24 years
Paedophile described as 'pure evil' by victim
Independent - Published
Paedophile ex-football coach Bob Higgins sentenced to 24 years in jail
"Pure evil" paedophile ex-coach Bob Higgins has been jailed for 24 years and three months for sexually abusing schoolboy football players during a 25-year period. The 66-year-old, who ran the youth..
Credit: PA - Press Association STUDIO Duration: 00:51Published
Football coach Bob Higgins exploited children to 'satisfy his sexual needs'
Ex-football coach Bob Higgins has been found guilty at Bournemouth Crown Court of 45 charges of indecent assault against teenage boys. Interviews with Detective Chief Inspector Dave Brown of Hampshire..
Credit: PA - Press Association STUDIO Duration: 00:55Published
Football coach Bob Higgins jailed for 24 years for abusing trainees
Bob Higgins touched and groped young trainees over a 20-year period at Southampton and Peterborough.
BBC News - Published
Bob Higgins abuse: Court hears impact on Billy Seymour's life
Bob Higgins, 66, was found guilty of indecently assaulting 24 boys, mostly trainee footballers.
BBC News - Published
Search this site and the web:
You Might Like