Ivanka Trump
American businesswoman, socialite, fashion model and daughter of Donald Trump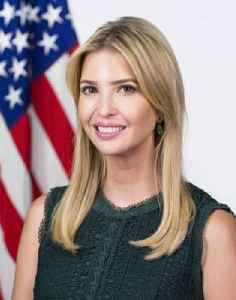 Ivana Marie "Ivanka" Trump, also known as Yael Kushner, is an American businesswoman, fashion designer, author, and reality television personality serving as Senior Advisor to the President since 2017. She is the daughter and second child of U.S. president Donald Trump and his first wife, Ivana. She is the first Jewish member of a first family, having converted before marrying her Jewish husband, Jared Kushner.


Former British spy and FBI source Steele was friends with Ivanka Trump: source
A former British spy who was a source for the FBI in its probe of Donald Trump's presidential campaign had an extended friendship with Ivanka Trump, the president's daughter, a source familiar with the..
Reuters - Published
Secret Service quizzed Eminem over Ivanka Trump track
The 2017 song Framed contains lyrics saying "dumb" Ivanka Trump was "dumped in a pond".
BBC News - Published
Timeline: Trump's foreign policy towards Israel
Since Trump took office in 2017, the White House has taken a series of steps that have outraged the Palestinians and delighted Israel. Here are some of the key events.
Credit: Reuters - Politics Duration: 01:47Published
Judge orders Trump pay $2 mln in Foundation settlement
A judge on Thursday ruled President Donald Trump and his family must pay $2 million dollars to charities as part of a settlement in a lawsuit against his personal foundation brought by New York State...
Credit: Reuters - Politics Duration: 01:14Published
Ivanka Trump says developing countries must do more to empower women to get U.S. aid
Developing countries that want to do business with the United States must do more to empower women and give them better access to the workforce, education and legal protections, White House adviser..
Reuters - Published
Prince Harry, Meghan, Ivanka Trump attend designer's Rome wedding
Britain's Prince Harry and his wife Meghan joined an array of celebrities on Friday for the glitzy wedding of fashion designer Misha Nonoo at a 17th century Italian villa overlooking the city of Rome.
Reuters - Published
As Ivanka Trump visits, U.S. OKs $400 million Argentina highway investment
The United States has approved a $400 million highway investment in Argentina as President Donald Trump's eldest daughter Ivanka Trump visits the South American nation on a wider tour of the region.
Reuters - Published
Women entrepreneurs play 'critical role' in Colombia's economy, peace: Ivanka Trump
Women entrepreneurs are playing a "critical role" in Colombia's economic development and its transition to peace, White House adviser Ivanka Trump said on Tuesday during a visit to Bogota.
Reuters - Published
UK minister to apologize to Ivanka Trump for ambassador's leaked memos
Britain's trade minister said on Monday he would apologize to U.S. President Donald Trump's daughter Ivanka for a leak of confidential memos in which the UK ambassador describes the U.S. administration..
Reuters - Published
Tory minister vows to apologise to Ivanka Trump over leak of UK ambassador's remarks about her father
Foreign secretary Jeremy Hunt threatens 'very serious consequences' for those responsible for the release of secret diplomatic cables
Independent - Published
What exactly is the role of Ivanka Trump?
The US president's daughter took centre stage alongside world leaders at the G20 summit. Why?
BBC News - Published
Congress expands probe of White House personal email use
Top aides in President Donald Trump's White House, including his daughter Ivanka Trump and son-in-law, Jared Kushner, will come under increased scrutiny for their use of personal emails and other..
Reuters - Published
Trump UK visit – live: President's family parade photos of lavish banquet with Queen as thousands set to protest in London
Ivanka and 'crew' pictured as leaders prepare for talks on day two
Independent - Published
You Might Like