Northern Ireland
Part of the United Kingdom lying in the north-east of the island of Ireland, created 1921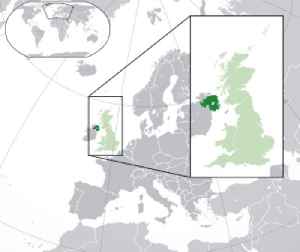 Northern Ireland is a part of the United Kingdom in the north-east of the island of Ireland, variously described as a country, province or region. Northern Ireland shares a border to the south and west with the Republic of Ireland. In 2011, its population was 1,810,863, constituting about 30% of the island's total population and about 3% of the UK's population. Established by the Northern Ireland Act 1998 as part of the Good Friday Agreement, the Northern Ireland Assembly holds responsibility for a range of devolved policy matters, while other areas are reserved for the British government. Northern Ireland co-operates with the Republic of Ireland in several areas, and the Agreement granted the Republic the ability to "put forward views and proposals" with "determined efforts to resolve disagreements between the two governments".


Europa League: Wolves could face Northern Ireland's Crusaders in qualifier
Wolves will play the winner of Northern Ireland's Crusaders or B36 Torshavn of the Faroe Islands in the Europa League second qualifying round.
BBC News - Published
Search this site and the web:
You Might Like