The Beatles
English rock band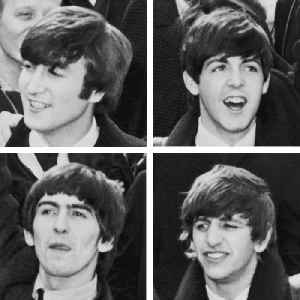 The Beatles were an English rock band formed in Liverpool in 1960. The group, whose best-known lineup comprised John Lennon, Paul McCartney, George Harrison and Ringo Starr, are regarded as the most influential band of all time. They were integral to the development of 1960s counterculture and popular music's recognition as an art form. Rooted in skiffle, beat and 1950s rock and roll, their sound incorporated elements of classical music and traditional pop in innovative ways; the band later explored music styles ranging from ballads and Indian music to psychedelia and hard rock. As pioneers in recording, songwriting and artistic presentation, the Beatles revolutionised many aspects of the music industry and were often publicised as leaders of the era's youth and sociocultural movements.


'God blessed me with good looks': Ringo Starr at 80

Former Beatles drummer Ringo Starr ventured out in Beverly Hills on his 80th birthday on Tuesday (July 7) to wish the world 'peace and love', in what has become an annual ritual. Instead of an annual..
Credit: Reuters Studio Duration: 01:54
Published
Did you know these facts about birthday boy Sir Paul McCartney?

Paul McCartney is now 78 years old: but did you know these facts about the former 'Beatles' star?
Credit: Bang Media World Duration: 01:37
Published
Celebrities design 'thank you' pins

Special charity pins have been designed by celebrities as a small way for people to say thank you to someone who has helped them during the coronavirus crisis. Actress Keira Knightley designed two..
Credit: PA - Press Association STUDIO Duration: 01:06
Published
You Might Like



Penny Lane signs defaced in Liverpool over slavery claims

The signs on the street immortalised in a Beatles song in 1967 were attacked overnight.




BBC News - Published





Astrid Kirchherr: Beatles photographer dies aged 81

Kirchherr, who took the first photo of the band, is credited with helping develop their visual style.




BBC News - Published





Macca and Ringo: Unheard demo by former Beatles up for auction

Some of the proceeds from the sale of the rare track will go towards the NHS Covid-19 appeal.




BBC News - Published





The Beatles: Quarrymen photo emerges on Fab Four split anniversary

The previously unpublished photo of The Quarrymen was captured in a Liverpool home in 1959.




BBC News - Published





Beatles' Magical Mystery Tour piano sketches found in skip

The designs for Sir Paul McCartney's piano are part of a collection that could sell for £10,000.




BBC News - Published




Beatles guitar valued at £400,000 on Antiques Roadshow

The "strange" instrument, which was owned by John Lennon and George Harrison, featured in Sunday's show.




BBC News - Published





UK's Prince Harry and Jon Bon Jovi recreate Abbey Road Beatles cover

Britain's Prince Harry and singer Jon Bon Jovi recreated one of the Beatles' best-known album covers on Friday, walking across the zebra crossing outside Abbey Road recording studios in north London.




Reuters - Published





Beatles, Rolling Stones and more album covers as pottery

Sculptor Simon Buckmaster celebrates the golden age of the album cover in clay.




BBC News - Published





Ringo Starr 'emotional' as Beatles come together in new recording

When Ringo Starr decided to record a cover of one of the last songs written by John Lennon, the Beatles drummer knew he wanted former bandmate Paul McCartney to play bass.




Reuters - Published





Beatles' Abbey Road at 50: Fans celebrate at zebra crossing

The band's famous cover of their 11th studio album was shot on this London zebra crossing half a century ago.




BBC News - Published





Crowds gather to mark 50th anniversary of the Beatles' Abbey Road album photo

Hundreds of people gathered at the world's most famous zebra crossing on Thursday to mark the 50th anniversary of the day the Beatles created one of the best-known album covers in music history and an..




Reuters - Published




Abbey Road: 50 years of the Beatles' famous album cover

Recreating the Fab Four's road crossing, taken half a century ago outside the renowned London studio.




BBC News - Published





China's Tencent talking to Vivendi about stake in Lady Gaga's label

China's Tencent Holdings Ltd is in talks to buy up to 20% of Universal Music Group (UMG) from Vivendi SA , valuing the music label of Lady Gaga, Ariana Grande and the Beatles at around 30 billion euros..




Reuters - Published





Isis 'Beatles' could be tried in the UK, court told

El Shafee Elsheikh's mother is challenging lack of assurance from US that death penalty will not apply if pair are tried there




Independent - Published





Sir Paul McCartney to write It's A Wonderful Life musical

The former Beatle is working on a stage adaptation of Frank Capra's It's A Wonderful Life.




BBC News - Published





Desborough day centre Beatles album sells for £2k

The rare first pressing of Please Please Me was discovered at a day care centre in Desborough.




BBC News - Published