New York Stock Exchange
American stock exchange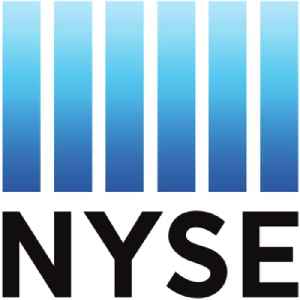 The
New York Stock Exchange
is an American stock exchange located at 11 Wall Street, Lower Manhattan, New York City, New York. It is by far the world's largest stock exchange by market capitalization of its listed companies at US$30.1 trillion as of February 2018. The average daily trading value was approximately
US$
169 billion in 2013. The NYSE trading floor is located at 11 Wall Street and is composed of 21 rooms used for the facilitation of trading. A fifth trading room, located at 30 Broad Street, was closed in February 2007. The main building and the 11 Wall Street building were designated National Historic Landmarks in 1978.
Wall St. slightly higher on Microsoft results, rate cut hopes
Wall Street's main indexes edged higher on Friday after solid results from technology giant Microsoft added to an upbeat mood following hints from a top Federal Reserve official that a U.S. interest..
Reuters - Published
Wall St. slightly lower after mixed results; Netflix tumbles
Wall Street's main indexes edged lower on Thursday as investors digested a slew of mixed earnings, while Netflix reported a surprise fall in U.S. subscribers in a downbeat start to results from..
Reuters - Published
Virgin Galactic blasts off for New York share listing
Virgin Galactic is set to become the first publicly traded human spaceflight company. Julian Satterthwaite reports.
Credit: Reuters Studio Duration: 01:04Published
Slack stock surges at market debut
Shares of Slack, the fast-growing workplace messaging and communication platform, soared nearly 50% in their public trading debut on Thursday, valuing the company at more than $23 billion. Jillian..
Credit: Reuters Studio Duration: 01:30Published
Slack Is Set To Make An Unorthodox Public Debut As The Latest Money-Losing Tech Company To Hit The Market
Shares of the workplace messaging app Slack are expected to begin trading Thursday on the New York Stock Exchange. Slack, the latest high-profile, unprofitable technology company to make its public..
Credit: Wochit News Duration: 00:39Published
Wall St. Pauses With Feds In Focus
(Reuters) - Wall Street's main indexes were flat on Wednesday, as investors refrained from taking positions ahead of the Federal Reserve's policy statement that is expected to open the door to..
Credit: Wochit News Duration: 00:33Published
Wall St. Climbs On Trade Optimism
(Reuters) - U.S. stocks rallied on Tuesday, with the S&P 500 closing in on record levels, as President Donald Trump's comments on the United States and China restarting trade talks added to optimism..
Credit: Wochit News Duration: 00:33Published
Chewy debut gives Wall St. a taste of booming pet market
Shares of pet product retailer Chewy soared as much as 87 percent in their first day of trading but finished with a 60 percent surge as Wall Street looks to get a piece of the growing $70 billion U.S...
Credit: Reuters Studio Duration: 01:59Published
Search this site and the web:
You Might Like