Kansas
State in the United States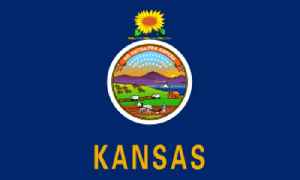 Kansas is a U.S. state in the Midwestern United States. Its capital is Topeka and its largest city is Wichita. Kansas is bordered by Nebraska on the north; Missouri on the east; Oklahoma on the south; and Colorado on the west. Kansas is named after the Kansas River, which in turn was named after the Kansa Native Americans who lived along its banks. The tribe's name is often said to mean "people of the (south) wind" although this was probably not the term's original meaning. For thousands of years, what is now Kansas was home to numerous and diverse Native American tribes. Tribes in the eastern part of the state generally lived in villages along the river valleys. Tribes in the western part of the state were semi-nomadic and hunted large herds of bison.


Disparate death rates may fuel U.S. divide over COVID-19

A Reuters analysis of demographic and public health data found that death rates in Democratic parts of the U.S. are triple those in Republican ones. This report produced by Zachary Goelman.
Credit: Reuters Studio Duration: 02:16
Published
You Might Like



U.S. Supreme Court lets states bar insanity defense

The U.S. Supreme Court on Monday limited the rights of criminal defendants, declaring that states can bar them from using the so-called insanity defense in a ruling involving a Kansas man sentenced to..




Reuters - Published





Kansas school buildings ordered closed statewide for remainder of academic year

Kansas Governor Laura Kelly on Tuesday ordered all public and private schools from kindergarten through 12th grade closed to classroom instruction statewide for the remainder of the academic year due..




Reuters - Published





U.S. Supreme Court gives states latitude to prosecute illegal immigrants

The U.S. Supreme Court on Tuesday widened the ability of states to use criminal laws against illegal immigrants and other people who do not have work authorization in the United States in a ruling..




Reuters - Published




U.S. Supreme Court lets states prosecute immigrants for identity theft

The U.S. Supreme Court on Tuesday widened the ability of states to use criminal laws against illegal immigrants and other people who do not have work authorization in the United States in a ruling..




Reuters - Published




Secretary of State Pompeo not planning 2020 Senate run: sources

U.S. Secretary of State Mike Pompeo told Senate Republican leader Mitch McConnell on Monday he does not plan to run for a U.S. Senate seat in Kansas in 2020, two people close to McConnell said.




Reuters - Published





Explosion at Kansas aircraft plant injures 15 people

At least 15 people were injured on Friday after a liquid nitrogen line exploded at a Textron Aviation plant near Wichita, Kansas, potentially setting back the launch of a new aircraft under..




Reuters - Published




Trump acknowledges Pompeo could run for U.S. Senate

President Donald Trump on Friday acknowledged that his secretary of state, Mike Pompeo, could run for a U.S. Senate seat next year in his home state of Kansas and predicted he would win.




Reuters - Published





Cargill suspends shifts at Kansas beef facility after explosion

Cargill said on Thursday it had suspended some shifts at its Dodge City, Kansas, beef-packing plant after an explosion injured two employees.




Reuters - Published





U.S. Supreme Court divided over Kansas immigrant identity theft case

The U.S. Supreme Court on Wednesday appeared divided over the legality of Kansas prosecuting three immigrants for violating identity theft laws by using other people's Social Security numbers in a..




Reuters - Published





Police search for second suspect in Kansas City bar shooting that killed four

Police were searching on Monday for one of two men who opened fire at a Kansas City, Kansas, bar over the weekend, killing four people and wounding five others in a rampage hours after one of the..




Reuters - Published





Four killed, five wounded in shooting in Kansas bar

Four people were killed and five wounded in a Kansas City area bar early on Sunday when one or two suspects opened fire, and police were hunting for the shooters, local authorities said.




Reuters - Published




'It is time to stop vaping': Kansas reports sixth U.S. death linked to mystery illness

A Kansas resident was the sixth person to die in the United States of a mysterious respiratory illness related to vaping, state officials said on Tuesday, as public health officials scrambled to..




Reuters - Published




U.S. charges Kansas researcher over ties to Chinese university

A researcher at the University of Kansas was indicted on federal fraud charges on Wednesday for allegedly concealing ties to a Chinese university while doing research funded by the U.S. government, the..




Reuters - Published





Tyson to rebuild plant after fire, assures weekly pay for full-time workers

U.S. meat processor Tyson Foods Inc said on Monday it will rebuild its Holcomb, Kansas beef plant after a fire partly destroyed the facility last week and added that full-time, active employees would..




Reuters - Published





Over 3,800 workers at Tyson Foods beef plant in Kansas out of work after fire

Some 3,800 workers at a Tyson Foods Inc meat-processing plant in Kansas will be out of work after a Friday night fire that caused significant damage, but the company on Sunday said it will provide them..




Reuters - Published