Herefordshire
County of England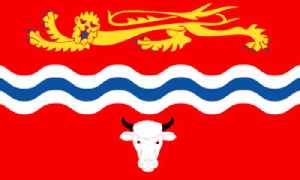 Herefordshire is a county in the West Midlands of England, governed by Herefordshire Council. It is bordered by Shropshire to the north, Worcestershire to the east, Gloucestershire to the south-east, and the Welsh counties of Monmouthshire and Powys to the west.


Herefordshire farm in lockdown after 73 Covid-19 cases

Around 200 workers at a farm in Herefordshire have been quarantined following an outbreak of Covid-19.Some 73 positive cases of the virus have been confirmed among workers at vegetable producer AS..
Credit: PA - Press Association STUDIO Duration: 01:15
Published
You Might Like



Coronavirus: Mathon farm workers traced after fleeing

Three people, one who had tested positive, left the Herefordshire site against advice from officials.




BBC News - Published





Coronavirus: How does lockdown work in Leicester and on a Herefordshire farm?

Local lockdowns are in force on a Herefordshire farm and in Leicester, but how do they work?




BBC News - Published





Coronavirus: Three workers flee quarantined Herefordshire farm where 74 tested positive

Police searching for one employee confirmed to have Covid-19




Independent - Published





Coronavirus: Herefordshire farm outbreak sparks hygiene complaints

More than 70 people have tested positive for coronavirus at the site in Herefordshire.




BBC News - Published





UK farm locked down as 73 staff are Covid-19 positive

Up to 200 vegetable pickers and packers will remain on the farm in Herefordshire while isolating.




BBC News - Published





Herefordshire farm coronavirus outbreak: Hundreds of workers told to self-isolate after 73 test positive

Herefordshire Council says it will arrange supplies for employees




Independent - Published





Mathon key workers isolating after 73 Covid-19 cases

The vegetable pickers and packers will remain on the farm in Herefordshire while isolating.




BBC News - Published





'Vulnerable' birds breed at old Herefordshire gravel pit

Oystercatchers, whose numbers have been in decline since the 1990s, are filmed at the inland lake.




BBC News - Published





Coronavirus: Furloughed staff replace overseas farm workers

A shortage of overseas workers led to a Herefordshire scaffolder and events manager changing jobs.




BBC News - Published





Flooding: The residents who say they are forgotten

Garry Jones's home in the small village of Walton in Herefordshire flooded three times.




BBC News - Published





Floods: Unofficial 'rescue truck' finds itself in deep water

A 4x4 driver almost needs rescuing himself when he attempts to help flood victims in Herefordshire.




BBC News - Published





Major incidents declared after UK storm flooding

Firefighters have rescued people in south Wales and homes have also been flooded in Herefordshire.




BBC News - Published





Herefordshire photographer's archive shows life through the lens

The thousands of photos by Derek Evans are described as a "treasure trove" of social history.




BBC News - Published





Coin seller jailed for hiding part of £3m Viking hoard

Paul Wells hid historic coins, dug up near Leominster in Herefordshire, in a magnifying glass handle.




BBC News - Published





The Herefordshire farmer turning insects into flour

Stephen Ware is working with Harper Adams University to turn crickets into protein-rich flour.




BBC News - Published





Pershore Bridge flood-trapped drivers rescued as warnings remain

River levels are expected to remain high in parts of Worcestershire and Herefordshire.




BBC News - Published





Doctors said Herefordshire woman's bowel cancer was piles

Beth Hewitt, 35, had blood in her stools but said she was told she was too young to have bowel cancer.




BBC News - Published





Super Hero, 3, tries out new prosthetic arm

Hero, three, from Herefordshire, is trialling the prosthetic which has a number of attachments.




BBC News - Published





Herefordshire police dog slashed with knife given award

PC Mike Davey said dog Bacca saved his life on the night they were attacked by a knifeman.




BBC News - Published