Shanghai
Municipality in East China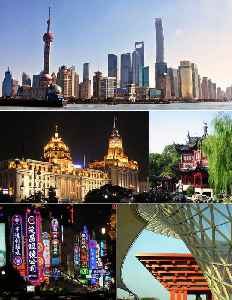 Shanghai is one of the four direct-administered municipalities of the People's Republic of China. It is under the direct administration of the State Council of China. The city is located on the southern estuary of the Yangtze, with the Huangpu River flowing through it. With a population of 24.28 million as of 2019, it is the most populous urban area in China and the second most populous city proper in the world. Shanghai is a global center for finance, technology, innovation, and transportation, and the Port of Shanghai is the world's busiest container port. Shanghai ranked among the top 5 global science cities by scientific research, measured by the Nature Index.


Beluga whales take first swim in new open-water sea sanctuary

The whales — called Little White and Little Grey — were captured in Russian waters and sold to Changfeng Ocean World aquarium in Shanghai over ten years ago.View on euronews
Credit: euronews (in English) Duration: 00:50
Published
Australia evacuates journalists from China

Two Australian foreign correspondents were rushed out of China for their safety with the help of Australian consular officials after being questioned by China's Ministry of State Security, their..
Credit: Reuters - Politics Duration: 02:16
Published
Beluga whales rehomed in sea sanctuary in Iceland

Two beluga whales have been transferred to the world's first open-watersanctuary for the breed in Klettsvik Bay, Iceland. Little White and LittleGrey were previously performing whales in indoor..
Credit: PA - Press Association STUDIO Duration: 03:12
Published
You Might Like



Father dresses as Transformer on son's first day back at school

A father in Shanghai dressed as a robot as his son and classmates returned to school after lockdown.




BBC News - Published





Virus-hit Beijing tightens outbound travel; Shanghai demands quarantine

Beijing banned high-risk people from leaving the Chinese capital and halted some transportation services on Tuesday to stop the spread of a fresh coronavirus outbreak to other cities and provinces.




Reuters - Published





Shanghai to quarantine all who arrive from mid to high-risk COVID-19 areas in China

Shanghai will quarantine all people coming to the city from mid to high-risk COVID-19 areas in China for 14 days, a city official said on Tuesday amid concerns about a resurgence of the disease..




Reuters - Published





Pride events kick off in Shanghai with city run

More than 100 people took part in the Shanghai's eighth annual Pride Run on Sunday, one of a series of events over nine days in China's financial hub to raise public awareness for the LGBT community.




Reuters - Published




China drops Shanghai as a first port of entry for Beijing-bound flights

China on Monday dropped Shanghai as one of the first ports of entry for international flights bound for the capital, Beijing, while four new cities were added to the list and Wuhan, where the..




Reuters - Published





Frozen fare cold comfort for fishing industry battered by coronavirus

Frozen fish sticks and canned salmon have made a comeback as the coronavirus crisis keeps people home, forcing a change of tack for the fishing industry that usually turns to restaurants from Paris to..




Reuters - Published





Absence makes the heart grow fonder as China goes back to school

Temperature checks, compulsory face masks and scrupulous hygiene - it's more like going to a hospital than a school, but the Shanghai students returning to class after three months of lockdown are..




Reuters - Published





Long lines, lots of kids, and plenty to touch: How does Disney reopen its parks?

For a glimpse at how Disney recovers from the coronavirus pandemic, look no further than Shanghai, where the entertainment giant has staged a limited reopening of Shanghai Disney Resort. Adults, kids..




Reuters - Published





Coronavirus: Schools start reopening in China's biggest cities

Some older pupils in Beijing and Shanghai are going back to classes as normal life begins to resume.




BBC News - Published





Tesla's China car registrations surge in March as Shanghai factory back up

U.S. electric vehicle maker Tesla Inc's China car registrations jumped 450% in March, month on month, data from auto consultancy LMC Automotive showed.




Reuters - Published





Tesla expands locally made line-up, blunting trade war impact

U.S. electric vehicle maker Tesla Inc said on Friday it has started China sales of two more Model 3 variants built at its Shanghai plant, meaning all Model 3 sedans sold in the country are now locally..




Reuters - Published





Shanghai set to reopen schools after coronavirus closures

Local schools in Shanghai that have been closed in an effort to contain the spread of the new coronavirus will reopen starting April 27, the director of the city's education commission said on..




Reuters - Published




China's Shanghai orders all incoming travellers to undergo 14-day quarantine

The eastern Chinese city of Shanghai will make all incoming travellers undergo 14 days of quarantine and observation from Thursday in a bid to prevent coronavirus transmission, the local government..




Reuters - Published





New York retains top spot in Z/Yen financial center index

New York extended its lead over London to head Z/Yen Group's rankings of global financial centers on Thursday, with Tokyo leap-frogging Hong Kong, Singapore and Shanghai into third place.




Reuters - Published





Chinese father builds 'baby pod' to protect infant from coronavirus

The father of a two-month-old infant in Shanghai has created a custom-built pod complete with an air purification system to keep his baby safe from the coronavirus outbreak.




Reuters - Published





China appoints Gong Zheng as acting mayor of Shanghai

China's Shanghai government said on Monday that Gong Zheng would become its acting mayor, according to a statement on its WeChat account.




Reuters - Published





Shanghai downgrades emergency alert level as coronavirus spread subsides

The government of Shanghai downgraded the city's emergency alert level on Monday from level 1 to level 2 as the coronavirus spread subsides.




Reuters - Published





From schools in Shanghai to picnics in Caracas: How coronavirus is moving global life online

Millions of people worldwide are having to embrace life under lockdown - confined to their own four walls or neighbourhoods for weeks on end as countries battle to reduce the spread of the coronavirus.




Reuters - Published




Imported coronavirus cases in China outpace local infections for fifth day

China's imported coronavirus cases outnumbered domestic transmissions for a fifth straight day as infected travellers passed through major transport hubs in Beijing, Shanghai, and the southern cities..




Reuters - Published




Shanghai extends quarantine requirement to UK, 7 other European countries

Travelers who have visited the United Kingdom, Switzerland, Sweden, Belgium, Norway, the Netherlands, Denmark and Austria in the past 14 days will be subject to a 14-day quarantine on arrival in..




Reuters - Published





China sees fewer coronavirus cases, wary of international travellers

Mainland China reported a drop in new coronavirus infections on Sunday, but major cities such as Beijing and Shanghai continued to wrestle with cases of infected travellers arriving from abroad.




Reuters - Published




Shanghai says travelers from more countries to face quarantine

China's financial hub Shanghai will from March 13 require travelers from France, Spain, Germany and the United States to undergo a 14-day quarantine upon arrival, the city government said on Thursday.




Reuters - Published




China shuts all temporary coronavirus hospitals in city of Wuhan - state media

China has now closed all temporary hospitals in the central city of Wuhan, the epicenter of a coronavirus outbreak, a news website backed by the Shanghai government, the Paper, said on its official..




Reuters - Published





Shanghai tightens airport checks as imported virus infections in China jump

Shanghai increased airport screening on Saturday as imported coronavirus infections from countries such as Italy and Iran emerge as the biggest source of new cases in China outside Hubei, the province..




Reuters - Published




Shanghai reports three new coronavirus cases imported from abroad - state media

China's financial center of Shanghai reported three new coronavirus infections on Friday, in Chinese nationals who caught the virus abroad, the official People's Daily of the ruling Communist Party..




Reuters - Published





China appoints new deputy party secretary in Shanghai

China's Communist Party's ruling Central Committee named a new deputy party secretary for Shanghai on Friday, after the previous deputy party secretary Ying Yong was transferred to head Hubei province..




Reuters - Published





Shanghai trying to find people who crossed coronavirus patient from Iran

Shanghai is trying to identify anyone who came into contact with a coronavirus patient who arrived in the city from Iran, the local government said on Thursday.




Reuters - Published




In coronavirus fight, Shanghai river town opts for caution

In Qibao, an old river town on the outskirts of Shanghai, officials have deployed more than 2,700 staff and volunteers to check temperatures and monitor traffic as they work to contain the coronavirus..




Reuters - Published




Shanghai says students won't return to school now, online learning to start March 2

The Shanghai government has said that students will not return to schools now and the semester will start via online learning amid China's coronavirus outbreak.




Reuters - Published




Chinese doctors using plasma therapy on coronavirus, WHO says 'very valid' approach

Doctors in Shanghai are using infusions of blood plasma from people who have recovered from the coronavirus to treat those still battling the infection, reporting some encouraging preliminary results,..




Reuters - Published




Coronavirus spells brutal Valentine's Day for Shanghai dining spots

As Valentine's Day nears on Friday, Shanghai restaurant owner Bill Hu finds himself unusually free.




Reuters - Published




Coronavirus diagnosis method not changed in other Chinese provinces, regions: Shanghai health commission

The methodology for coronavirus diagnosis has not changed in other provinces apart from Hubei, and not in municipalities such as the city of Shanghai, a Shanghai Health Commission spokeswoman said on..




Reuters - Published




Coronavirus: Chinese Grand Prix expected to be postponed over virus fears

The Chinese Grand Prix - due to take place in Shanghai on 19 April - is expected to be postponed due to coronavirus fears.




BBC News - Published





Taiwan to suspend most flights to mainland China to control coronavirus

Taiwan will suspend flights to most cities in mainland China from Monday due to the coronavirus epidemic but those to the capital Beijing, Shanghai, Xiamen and Chengdu will continue, the government..




Reuters - Published




Tesla tumbles as coronavirus weighs on Shanghai factory

Shares of Tesla tumbled 19% on Wednesday, hitting the brakes on a dramatic rally after a senior executive warned the coronavirus outbreak in China would delay deliveries of Model 3 cars made at its..




Reuters - Published





Chinese Grand Prix in doubt as Shanghai suspends events

Sports authorities in Shanghai suspend of all sporting events in the city as a result of the coronavirus outbreak.




BBC News - Published





Lufthansa extends flight suspension to Beijing and Shanghai until February 28

Lufthansa is extending until Feb. 28 its suspension of flights to Beijing and Shanghai, the German airline said on Monday, citing the coronavirus outbreak.




Reuters - Published