OPEC
International organization of petroleum-exporting countries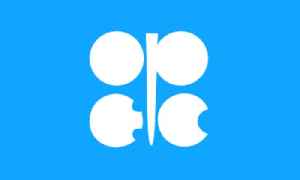 The Organization of the Petroleum Exporting Countries is an intergovernmental organization of 13 nations. Founded on 14 September 1960 in Baghdad by the first five members, it has since 1965 been headquartered in Vienna, Austria. As of September 2018, the 13 member countries accounted for an estimated 44 percent of global oil production and 81.5 percent of the world's "proven" oil reserves, giving OPEC a major influence on global oil prices that were previously determined by the so-called "Seven Sisters" grouping of multinational oil companies. A larger group called OPEC+ was formed in late 2016, to have more control on global crude oil market. Due to the COVID-19 pandemic the demand for OPEC oil has fallen to a 30-year low in second quarter of 2020.


Oil gains ahead of weekend OPEC talks

Oil prices gained on Friday ahead of a weekend OPEC meeting that could extend production cuts, but some analysts say a deal may prove hard to reach. Julian Satterthwaite reports.
Credit: Reuters Studio Duration: 01:12
Published
You Might Like



OPEC and allies to agree one-month extension to output cuts

OPEC and its allies led by Russia are "most likely" to agree on a one-month extension to an oil production cuts deal on Saturday, an OPEC delegate said.




Reuters - Published





OPEC+ to meet Saturday on extending cuts, pushing for compliance

OPEC and its allies led by Russia will meet on Saturday to discuss extending record oil production cuts and to push laggards such as Iraq and Nigeria to comply with existing curbs.




Reuters - Published





OPEC, allies coordinating to hold Saturday meeting: Saudi Arabia

Saudi Arabia's energy minister said on Friday that OPEC and its allies, a group known as OPEC+, were working to hold their oil output policy meeting on Saturday.




Reuters - Published





OPEC+ keen to keep U.S. shale in check as oil prices rally

When OPEC, Russia and their allies agreed in April to slash oil production, little did they expect that their initiative to prop up collapsing prices would be helped by a swift drop in U.S. output.




Reuters - Published





Explainer: Why oil-rich Venezuela is suffering severe gasoline shortages

At least five Iranian tankers carrying fuel are currently en route to gasoline-starved Venezuela, which has the world's largest crude reserves. The United States, which maintains sanctions on both OPEC..




Reuters - Published





Iran's OPEC governor dies after brain haemorrhage

Iran's OPEC Governor Hossein Kazempour Ardebili has died of a brain haemorrhage two weeks after falling into a coma, the semi-official news agency ISNA reported on Saturday.




Reuters - Published




Exclusive: OPEC+ wants to maintain oil output cuts beyond June - sources

OPEC and its allies want to maintain existing oil cuts beyond June when the OPEC+ group is next due to meet to shore up prices and demand, which has been hit by the coronavirus pandemic, four OPEC+..




Reuters - Published





Oil mixed on supply cuts, fears of second coronavirus wave

Oil prices were mixed on Monday, supported by Saudi Arabia's move to reduce output by 1 million barrels per day (bpd) on top of reductions agreed under an OPEC+ pact, but pressured by fears of a second..




Reuters - Published





Oil prices rise on Saudi voluntary cuts

Oil prices rose on Monday, recovering earlier losses on news that leading exporter Saudi Arabia will reduce its output by 1 million barrels per day (bpd) on top of reductions agreed under an OPEC+..




Reuters - Published





Second cargo of water trucks from Mexico arrives in Venezuela under oil swap

A vessel carrying water trucks and equipment bartered by two Mexican companies arrived in Venezuela on Thursday, the second shipment under an oil-for-food agreement signed with the OPEC nation's..




Reuters - Published





Factbox: Non OPEC+ crude oil supply cuts

The Organization of the Petroleum Exporting Countries and its allies, known as OPEC+, agreed on Sunday to reduce output by 9.7 million barrels per day (bpd) for May and June in an effort to prop up oil..




Reuters - Published





U.S. oil sanctions against Iran are unjust: Rouhani

Iranian President Hassan Rouhani said U.S. sanctions against Iran and Venezuela were unjust in a telephone call with Venezuelan President Nicolas Maduro on Monday and called for the two countries to..




Reuters - Published





Saudi energy minister says effective global oil cuts above 19 million bpd

Saudi Arabia's energy minister said on Monday that effective global oil supply cuts would amount to around 19.5 million barrels per day, taking into account the reduction pact agreed by OPEC+, pledges..




Reuters - Published




Trump says global oil production cut should help industry recover

U.S. President Donald Trump said on Monday the OPEC+ group of oil producers is looking to cut output by 20 million barrels per day (bpd), a figure that appeared to include a wider group of producers,..




Reuters - Published





Trump says OPEC+ looking to cut 20 million bpd, not 10 million

U.S. President Donald Trump said on Monday the OPEC+ group of oil producers is looking to cut output by 20 million barrels per day, double the 10 million barrels agreed to a day earlier.




Reuters - Published





Kremlin says 'important' global oil deal helped avert market chaos

The Kremlin said on Monday that the global oil output deal clinched by OPEC and non-OPEC countries had helped stop oil markets sliding into chaos and would help support a more or less stable oil price..




Reuters - Published





Oil gains on OPEC+ deal, stocks stymied by pandemic worries

Global equities weakened on Monday as investors braced for more indications of economic damage from the coronavirus pandemic while oil prices rose in choppy trade following a landmark deal by OPEC and..




Reuters - Published





Japan petroleum industry head says OPEC+ deal falls short of expectations

The agreement by the Organization of the Petroleum Exporting Countries (OPEC) and its allies to cut output failed to reach the reduction levels expected by the market, leading to oil prices remaining..




Reuters - Published





Goldman Sachs still sees crude prices falling after OPEC+ deal

Goldman Sachs said on Sunday that the deal between major oil producers to cut output by nearly 10 million barrels per day is 'historic yet insufficient,' adding that no deal would be enough to offset..




Reuters - Published





Oil firmer on OPEC+ deal, equities unable to shake pandemic fears

Global shares fell on Monday as investors braced for more signs of economic damage from the coronavirus pandemic although a landmark deal by OPEC and its allies to slash output helped oil prices..




Reuters - Published





Oil, equities slip as OPEC+ cut fails to lift confidence

Oil prices and U.S. stock futures dipped in early Monday trade as a landmark agreement by OPEC and its allies to slash output by a record amount failed to give investors any cause for lasting optimism..




Reuters - Published





OPEC, Russia approve biggest-ever oil cut to support prices amid coronavirus pandemic

OPEC and allies led by Russia agreed on Sunday to a record cut in output to prop up oil prices amid the coronavirus pandemic and said they had an unprecedented deal with fellow oil nations, including..




Reuters - Published




Iraqi oil minister says big oil cut deal will help to stabilize oil market

Iraq's oil minister said late on Sunday that the big oil cut deal reached at an OPEC+ meeting would help stabilize the market.




Reuters - Published





Canada welcomes oil cut deal, says it is committed to achieving price certainty

Canada on Sunday formally welcomed a deal by OPEC and allies to cut oil output by a record amount, saying Ottawa was committed to achieving price certainty and economic stability.




Reuters - Published





Saudi Arabia, Russia, U.S. welcome outcome of OPEC+ meeting: SPA

Saudi Arabia's king Salman, Russia's president Vladimir Putin and his U.S. counterpart Donald Trump welcomed the outcome of OPEC+ meeting during a joint phone call, Saudi state news agency SPA said on..




Reuters - Published





Trump says 'great' OPEC+ deal will save U.S. jobs

U.S. President Donald Trump on Sunday praised a deal among the world's top oil producers to cut global petroleum output, saying it would save jobs in the U.S. energy industry.




Reuters - Published





Mexico to cut oil output by 100,000 bpd from May: officials

Mexico will reduce its oil output by 100,000 barrels per day (bpd) from May after top oil producers collectively agreed to cut production by 9.7 million barrels per day at OPEC+ talks, Mexican..




Reuters - Published





Kremlin says leaders of Russia, U.S., Saudi Arabia support OPEC+ oil deal

Russian President Vladimir Putin, U.S. President Donald Trump and Saudi Arabia's King Salman all supported the OPEC+ deal to cut global crude output, the Kremlin said on Sunday.




Reuters - Published





Mexico's energy minister says oil producers agreed to cut output by 9.7 mln bpd from May

Mexico's Energy Minister Rocio Nahle said on Sunday oil producers unanimously agreed to cut output by 9.7 million barrels per day from May at OPEC+ talks and thanked OPEC members for their support in..




Reuters - Published





Kazakhstan confirms global deal to cut oil output by 9.7 million bpd

Kazakhastan's Energy Ministry said on Sunday it confirmed reports that the OPEC+ group of countries had agreed to cut the global oil output by 9.7 million barrels per day for two months starting on May..




Reuters - Published





OPEC+ agrees largest ever oil output cut of 9.7 million bpd: sources

OPEC, Russia and other oil producing nations agreed on Sunday to cut output by a record amount, representing around 10% of global supply, to support oil prices amid the coronavirus pandemic, sources..




Reuters - Published





Saudi, others resist Mexican plan to make small oil output cuts - sources

Saudi Arabia and other oil producers in the OPEC+ group pushed back on Friday on a Mexican plan to cut less than requested under plans for global supply curbs, two sources from the OPEC+ group said on..




Reuters - Published





Russia's Putin, Saudi crown prince discuss OPEC+: Kremlin

Russian President Vladimir Putin and Saudi Crown Prince Mohammed bin Salman discussed a planned OPEC+ reduction of oil output, the Kremlin said.




Reuters - Published





Kremlin: Putin and Trump discuss OPEC+ oil cuts deal

Russian President Vladimir Putin and U.S. President Donald Trump, in a phone call on Friday, discussed a potential global deal on oil production cuts by the group known as OPEC+, the Kremlin said.




Reuters - Published





Russia calls on G20 to join efforts with OPEC+ on oil market

Russian Energy Minister Alexander Novak called on the G20 group of the world's largest economies on Friday to join the efforts of the group of leading oil producers, known as the OPEC+, to stabilize..




Reuters - Published





Global oil output cuts held hostage to standoff

Oil producers in the OPEC+ group, led by Saudi Arabia and Russia, were expected to pressure Mexico on Friday to seal an accord for a collective cut in output of 10 million barrels per day, before..




Reuters - Published




Kremlin says Putin, Trump, Saudi king seek to stabilise oil trade

Russian President Vladimir Putin, U.S. President Donald Trump and Saudi Arabia's King Salman, discussed the OPEC+ oil group meeting in a phone call on Friday and confirmed their aim was to stabilise..




Reuters - Published





Saudi energy minister says OPEC+ oil pact 'hinges on' Mexico joining

Saudi Arabia's energy minister said on Friday that a final OPEC+ oil supply pact to reduce 10 million barrels per day, which was agreed on Thursday, "hinges on" Mexico joining in the cuts.




Reuters - Published





Saudi king, Trump, Putin review importance of cooperation between oil producing countries

Saudi Arabia's King Salman, U.S. President Donald Trump and Russian President Vladimir Putin reviewed, in a phone call, the importance of cooperation between oil producing countries, after Thursday's..




Reuters - Published





Mexico proposes 100,000 bpd oil output cut at OPEC meeting

In a meeting with OPEC and its allies, Mexico proposed reducing its oil output by 100,000 barrels per day (bpd) in the next two months, Energy Minister Rocio Nahle said on Thursday.




Reuters - Published





Saudi, Russia outline record oil cut under U.S. pressure as demand crashes

OPEC, Russia and other allies outlined plans on Thursday to cut their oil output by more than a fifth and said they expected the United States and other producers to join in their effort to prop up..




Reuters - Published




OPEC+ outlines oil cut deal, but Mexico holds up final agreement: sources

OPEC, Russia and other allies outlined plans on Thursday to cut their oil output by more than a fifth and said they expected the United States and other producers to join in their effort to prop up..




Reuters - Published





Trump says he had good call with Russia's Putin, Saudi king on oil

U.S. President Donald Trump said on Thursday he had a good conversation with Russian President Vladimir Putin and Saudi Arabia's King Salman and expected that OPEC and other countries would be..




Reuters - Published




Oil sinks as market doubts OPEC supply cuts will be enough

Oil prices tumbled on Thursday on doubts that a deal between OPEC and allies to make a record oil supply cut would be enough to offset the collapse in global fuel demand caused by the coronavirus..




Reuters - Published





Trump administration official says U.S. welcomes reports of OPEC+ oil cut deal

The United States welcomed on Thursday reports that OPEC and its allies agreed in principal to reduce oil production by 10 million barrels per day (bpd), a senior Trump administration official said on..




Reuters - Published





Instant View: OPEC+ cuts will not be enough to halt oil collapse - analysts

OPEC and other major oil producers on Thursday said they would cut output by 10 million barrels per day for two months in the face of a huge fall in demand due to the coronavirus crisis.




Reuters - Published




Oil slumps, investors say OPEC supply cuts won't be enough

Oil prices slumped on Thursday, giving back an earlier 10% surge as investors doubted the emerging supply-cut agreement between members of OPEC and its allies would adequately address the global fuel..




Reuters - Published