Bruno Le Maire
French politician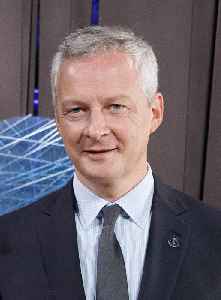 Bruno Le Maire is a French politician and former diplomat serving as Minister of the Economy and Finance since 2017. He previously served as Secretary of State for European Affairs from 2008 to 2009 and Minister of Food, Agriculture and Fishing from 2009 to 2012.


France unveils 15 bln euro aid package for jet makers

France has unveiled a 15 billion euro package of aid targeted at the country's aerospace industry, but also including support for Air France. Julian Satterthwaite reports
Credit: Reuters Studio Duration: 01:23
Published
Franco-German recovery grants idea a "historic step" - Le Maire

The Franco-German proposal for the European Union to raise debt in order to issue grants for its economic recovery is a historic step, French Finance Minister Bruno Le Maire said on Tuesday. Ciara Lee..
Credit: Reuters Studio Duration: 02:06
Published
You Might Like



France ready to take further steps against coronavirus if necessary, minister says

France will not hesitate to take further steps to protect its citizens from the spread of the coronavirus, Finance Minister Bruno Le Maire said on Sunday.




Reuters - Published




French finance minister says no shortages of essential goods

France's Finance Minister Bruno Le Maire said on Sunday there was no shortage of grocery products and urged people to continue their food shopping as usual despite the introduction of tougher measures..




Reuters - Published




Germany, France monitoring coronavirus very closely, ready for decisive action: Scholz

Germany and France are monitoring the spread of the coronavirus very closely, Finance Minister Olaf Scholz said on Monday after talks with his French counterpart Bruno Le Maire, adding that Berlin and..




Reuters - Published





France and Poland should consider nuclear energy cooperation: minister

France and Poland should consider cooperation in nuclear energy, French Finance Minister Bruno Le Maire said on Monday, as central Europe's largest economy looks for ways to reduce its dependence on..




Reuters - Published





Fiat-PSA merger is good news for the car industry - France's finance minister

Fiat Chrysler (FCA) and Peugeot maker PSA merger is good news for France, Europe and also for the car industry, France's Finance Minister Bruno Le Maire told Reuters on Wednesday.




Reuters - Published





France rejects U.S. proposal on international tax reform

France rejects a U.S. idea for companies to opt out of a proposed international tax reform, Finance Minister Bruno Le Maire said on Friday, urging Washington to negotiate in good faith.




Reuters - Published




EU ready to respond to U.S. tariff threat on France: Le Maire

The latest U.S. tariff threats on French products are "unacceptable" and the European Union is ready to issue a riposte, French finance minister Bruno Le Maire said on Tuesday.




Reuters - Published





French finance minister says Peugeot-Fiat deal 'good news' for France

French Finance Minister Bruno Le Maire gave his blessing to the merger between national champion PSA and Italo-American carmaker Fiat-Chrysler, saying the deal would be good news for France and Europe..




Reuters - Published





Fiat Chrysler-PSA must keep French industrial footprint: France's Le Maire

France welcomed a planned merger between Italy's Fiat Chrysler and French Peugeot maker PSA , but would be vigilant about the firm's French industrial footprint and about maintaining its decision..




Reuters - Published





French Finance Minister: 'glimmer of hope' on Brexit deal

There is a "glimmer of hope" that a Brexit deal can be reached before Britain's departure due on Oct. 31, French Finance Minister Bruno Le Maire said on Wednesday.




Reuters - Published




French Finance Minister: not candidate to be Macron's new choice for EU post

French Finance Minister Bruno Le Maire said on Monday that he was not a candidate to replace Sylvie Goulard as French president Emmanuel Macron's choice for European Commissioner.




Reuters - Published





French government supports Renault chairman Senard: finance minister

French government wants the Renault-Nissan alliance to enter a new phase and supports Renault's chairman Jean-Dominique Senard, French Finance Minister Bruno Le Maire said on Friday.




Reuters - Published





U.S.-China trade war may cut global growth by half a point next year: Le Maire

The trade war between the United States and China could cut global growth by 0.5 points next year, French Finance Minister Bruno Le Maire said on Wednesday.




Reuters - Published





France and EU ready to respond with sanctions in U.S. trade dispute: French minister

France and the European Union (EU) are ready to respond "with sanctions" if the United States were to reject the hand extended by Europe in the Airbus trade dispute, said French Finance Minister Bruno..




Reuters - Published





Bullets, death threats sent to French finance minister: aide

French Finance Minister Bruno Le Maire has received three letters containing death threats, including one this week with bullets enclosed, one of his aides said on Wednesday.




Reuters - Published





French minister hopes for closer ties with new Italy government

With the arrival of a new government in Rome, France and Italy have a unique chance to strengthen their ties through joint projects and closer cooperation on European matters, French Finance Minister..




Reuters - Published





France hopes new Italian government will help boost ties: Le Maire

French Finance Minister Bruno Le Maire said on Saturday he hoped the arrival of a new Italian government would strengthen bilateral ties between Rome and Paris as well as their cooperation on European..




Reuters - Published





France urges Trump: 'Don't mix digital taxes and wine tariffs'

Finance Minister Bruno Le Maire said on Saturday that France would proceed with taxing revenues of big technology firms and urged the United States not to bring trade tariffs into the debate on how to..




Reuters - Published




Renault-FCA merger idea remains good opportunity: France's Le Maire

The idea of a merger between Renault SA and Fiat Chrysler (FCA) remains a good opportunity, but nothing has changed in terms of the conditions the French government has set, French Finance Minister..




Reuters - Published





Japan's Seko, France's Le Maire to meet at 0900 GMT: ministry

Japanese Industry Minister Hiroshige Seko and visiting French Finance Minister Bruno Le Maire will meet at 6 p.m. (0900 GMT), Japan's Ministry of Economy, Trade and Industry said on Monday.




Reuters - Published





France's Le Maire says 'essential' to bolster Renault-Nissan alliance

French finance minister Bruno Le Maire on Sunday said it was vital that Renault and Nissan Motor strengthen their alliance as the auto industry undergoes rapid change in the areas of electric and..




Reuters - Published





France would consider any Renault deal respecting its interests: minister

The French government is open to tie-ups involving Renault as long as French industrial interests are protected, Finance Minister Bruno Le Maire said on Thursday.




Reuters - Published





France engaged constructively in failed FCA-Renault talks: Le Maire

France's finance minister said on Thursday following the collapse of merger talks between Fiat Chrysler (FCA) and Renault that the government had engaged constructively but failed to win the support of..




Reuters - Published