John Paul Stevens
American Supreme Court judge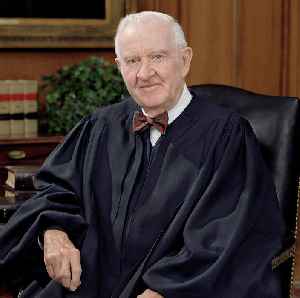 John Paul Stevens was an American lawyer and jurist who served as an associate justice of the United States Supreme Court from 1975 until his voluntary retirement in 2010. At the time of his retirement, he was the second-oldest-serving justice in the history of the court. The oldest-serving justice was Oliver Wendell Holmes Jr., who was 90 years and 309 days at the time of his retirement in 1932. and the third-longest-serving justice. His long tenure saw him write for the court on most issues of American law, including civil liberties, death penalty, government action and intellectual property. In cases involving presidents of the United States, he wrote for the court that they were to be held accountable under American law. A registered Republican when appointed, Stevens was considered to have been on the liberal side of the court at the time of his retirement. Stevens was the longest-lived Supreme Court justice in United States history.


Trump, justices pay respects to late U.S. jurist Stevens
President Donald Trump, members of the U.S. Supreme Court and others paid their respects on Monday to liberal Justice John Paul Stevens, who died last week, as his body lay in repose in the..
Reuters - Published
Former US Supreme Court Justice John Paul Stevens dies
He led the court's liberal wing and wrote more dissenting opinions than any justice in US history.
BBC News - Published
Also reported by •Reuters
Retired U.S. Justice John Paul Stevens dies, leaving liberal legacy
Former Justice John Paul Stevens, a Republican appointee to the U.S. Supreme Court who later became an outspoken leader of the liberal wing as the court moved to the right, died on Tuesday at age 99.
Reuters - Published
Search this site and the web:
You Might Like