Catholic Church
Christian church led by the Bishop of Rome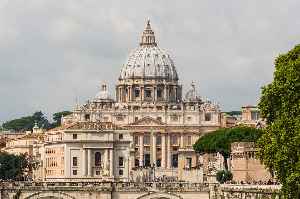 The Catholic Church, also known as the Roman Catholic Church, is the largest Christian church, with approximately 1.3 billion baptised Catholics worldwide as of 2017. As the world's oldest continuously functioning international institution, it has played a prominent role in the history and development of Western civilisation. The church is headed by the Bishop of Rome, known as the pope. Its central administration, the Holy See, is in the Vatican City, an enclave within the city of Rome in Italy.


Pope denounces 'hardships and trials' facing Catholics in China
Pope Francis paid tribute on Wednesday to Chinese Catholics for holding on to their faith despite "hardships and trials", an apparent reference to Beijing's restrictions on religion.
Reuters - Published
In tearful ceremony, Sri Lanka Catholics mark one month since bombings
Weeping Sri Lankan Catholics lit candles and prayed in a memorial service outside a bombed church on Tuesday, one month after Easter bombings by Islamist militants killed more than 250 people.
Reuters - Published
New sex abuse scandal rocks Catholic Church in Poland
A new documentary exposing child sex abuse by members of the Roman Catholic Church is forcing the country's bishops to meet in Warsaw today. Released over the weekend, the film entitled 'Tell No One'..
Credit: euronews (in English) Duration: 03:53Published
Fearless Priest Entered Notre-Dame To Rescue Crown Of Thorns Relic Amid Fire
Jean-Marc Fournier, chaplain of the Paris fire brigade, entered the Notre-Dame Cathedral while it was burning to save priceless artifacts. According to Business Insider, Fournier is credited with..
Credit: Wochit News Duration: 00:34Published
"Be humble", Pope Francis urges Catholic Church
"Be humble", Pope Francis urges Catholic Church
Credit: euronews (in English) Duration: 00:50Published
Pope Says 1960s Sexual Revolution Led To Church Abuse Crisis
According to Reuters.com, "Former Pope Benedict has blamed the Catholic Church's sexual abuse scandal on the effects of the sexual revolution of the 1960s and a general collapse in morality."..
Credit: Wochit News Duration: 00:48Published
Church must acknowledge male domination, says Pope
Pope Francis, addressing sexual abuse scandals and calls for women priests, said on Tuesday that for its own good the Roman Catholic Church had to acknowledge its history of male authoritarianism and..
Credit: Reuters Studio Duration: 00:59Published
Vatican enacts first unified child abuse policy
Pope Francis has enacted new legislation aimed at preventing child sexual abuse on Vatican property. Previously the Roman Catholic Church headquarters was governed by a myriad of guidelines, some ad..
Credit: Reuters Studio Duration: 00:56Published
Search this site and the web:
You Might Like