World
Earth and all life upon it, including human civilization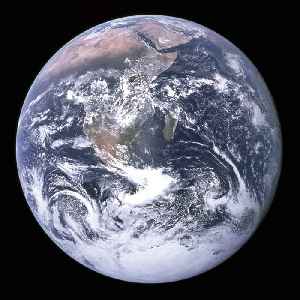 The world is the planet Earth and all life on it, including human civilization. In a philosophical context, the "world" is the whole of the physical Universe, or an ontological world. In a theological context, the world is the material or the profane sphere, as opposed to the celestial, spiritual, transcendent or sacred spheres. "End of the world" scenarios refer to the end of human history, often in religious contexts.


France 1-1 Turkey: World champions held in Paris
World champions France are held to a 1-1 draw by Turkey in Paris to delay their qualification for Euro 2020.
BBC News - Published
GB's women win 4x400m bronze at Worlds to end Championships with six medals
Britain end their World Championships campaign with six medals after the women's 4x400m relay team win bronze.
BBC News - Published
Shares stumble over Trump impeachment threat, China jibes
World stocks fell to a two-week low after U.S. lawmakers called for an impeachment inquiry into President Donald Trump, and after Trump himself delivered a stinging rebuke to China's trade practices in..
Credit: Reuters Studio Duration: 01:46Published
G7 leaders pose for 'family photo' in France
World leaders and special invited guests posed for a 'family photo' along the picturesque Biarritz seaside on Sunday, set against a backdrop of worries over a global economic downturn and disunity on a..
Credit: Reuters Studio Duration: 00:53Published
Asher-Smith wins 200m gold at Worlds and sets new British record
Dina Asher-Smith becomes the first British woman to claim a global sprint title by storming to 200m gold at the World Championships.
BBC News - Published
Nigel Benn comeback: Ex-world champion says he is Benjamin Button
Nigel Benn will come out of retirement after 23 years in November, but fellow ex-world champion Richie Woodall says he fears for the 55-year-old.
BBC News - Published
Stimulus optimism boosts stocks, eases pressure on bonds
World stock markets rose on Monday on signs that major economies would look to prop up stalling growth with fresh stimulus measures, easing pressure on bonds and dampening demand for perceived..
Reuters - Published
British university drop-out wins £1.3m at world's most prestigious poker tournament
Ex-computer science student vies to become youngest World Series of Poker main event winner
Independent - Published
Semenya to pull out of Worlds if she can't defend 800m title
Caster Semenya says she will not race at the World Championships in Qatar later this year if she loses an appeal against IAAF rules governing testosterone levels in female athletes.
BBC News - Published
Niki Lauda: World champion Lewis Hamilton pays tribute to 'bright light in my life'
World champion Lewis Hamilton has paid tribute to Niki Lauda by saying he was "a bright light in my life".
BBC News - Published
World Championship 2019: Judd Trump trails Thepchaiya Un-Nooh
World number seven Judd Trump faces a battle at the World Championship after falling 6-3 behind against Thepchaiya Un-Nooh.
BBC News - Published
Stocks inch higher as investors look ahead to trade talks, Brexit
World stock markets edged higher on Monday, as investors eyed the resumption of trade talks between the United States and China and watched for signs of progress on Brexit.
Reuters - Published
World stocks poised for weekly loss; dollar firms again
World stocks fell for a third straight day on Friday on pessimism about global economic growth and trade tensions, putting them on track for their first weekly drop this year, while the U.S. dollar was..
Reuters - Published
You Might Like