World
Earth and all life upon it, including human civilization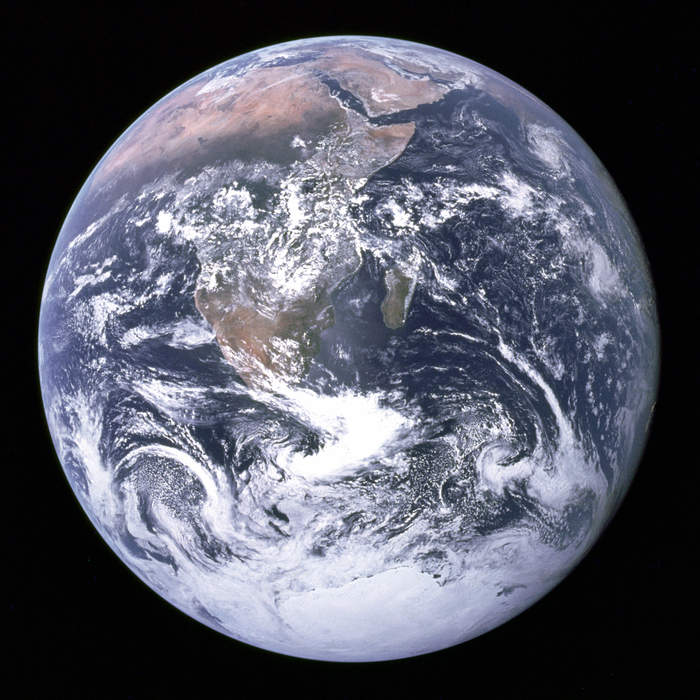 The world is the Earth and all life on it, including human civilisation. In a philosophical context, the "world" is the whole of the physical Universe, or an ontological world. In a theological context, the world is the material or the profane sphere, as opposed to the celestial, spiritual, transcendent or sacred spheres. "End of the world" scenarios refer to the end of human history, often in religious contexts.


Prince Harry crowned World's Sexiest Royal

Prince Harry may have relinquished his role as a senior British royal, but he's picked up a new one - World's Sexiest Royal.
Credit: Cover Video STUDIO Duration: 00:41
Published
You Might Like



Diego Maradona: World mourns Argentine football great

Fans around the world gather to pay tribute to one of the greatest players of all time.




BBC News - Published





English Open: World number one Judd Trump clinches victory with century in final-frame decider

World number one Judd Trump makes a superb century break to win the English Open in a final-frame decider against Neil Robertson in Milton Keynes.




BBC News - Published





South Africa set deadline to decide on Rugby Championship participation

World champions South Africa delay their departure to the Rugby Championship while they decide whether to take part.




BBC News - Published





US Open: World number eight Belinda Bencic pulls out of Flushing Meadows event

Swiss world number eight Belinda Bencic becomes the fifth top-10 women's player to pull out of the US Open.




BBC News - Published





Selby beats Robertson to reach last four of Worlds

Three-time champion Mark Selby reaches the World Championship semi-finals with an emphatic victory over Neil Robertson.




BBC News - Published





Bob Weighton death: World's oldest man dies aged 112 from cancer

The world's oldest man, Bob Weighton, from Alton, Hampshire, has died aged 112 from cancer, his family has confirmed to PA.




Independent - Published





World stocks rally after Chinese data boost to close worst quarter since 2008

World stocks looked set to close their worst quarter since 2008 on a brighter note on Tuesday, as strong Chinese factory data held out hope for an economic revival even as much of the rest of the world..




Reuters - Published





Stocks shaky after worst Wall Street crash since 1987

World share markets and oil prices struggled on Tuesday after coronavirus panic caused Wall Street's worst one-day rout since the Black Monday crash of 1987.




Reuters - Published





World shares gain as China data fuels bets on growth

World shares rose to record highs on Friday, buoyed by Chinese growth figures that suggested the world's second-biggest economy was stabilizing.




Reuters - Published




World's oldest sweet shop put on sale as owner seeks to be elected police boss instead

Keith Tordoff looks to swap rhubarb and custards for crime and fire




Independent - Published





Festive world markets pause for breath near record highs

World stocks flatlined near record highs on Tuesday and remained on track for their best year in a decade, as China's latest policy easing pledges added to the optimism generated by signs of detente in..




Reuters - Published





'We have work to do': World's youngest leader debuts at EU summit

New Finnish Prime Minister Sanna Marin brushed aside the media frenzy over her appointment as the world's youngest serving head of government at age 34, pledging a sharp focus on climate policies as..




Reuters - Published





General election: Boris Johnson is 'world's leading sycophant' towards Trump, Corbyn says as US president heads to London

Two days after London Bridge terror attack, Labour leader also blames invasions of Iraq and Libya for making 'us less safe at home'




Independent - Published





Global stocks fall from 20-month highs on trade talk doubts

World stock markets slid from 20-month highs on Thursday as uncertainty about a U.S.-China trade deal offset strong results from Apple and Facebook, while the dollar weakened as investors mulled..




Reuters - Published





Global stocks climb on hopes for progress in trade; Canadian dollar gains

World stock indexes rose on Monday as signs of work to resolve the U.S.-China trade war bolstered investor hopes, while the Canadian dollar strengthened in the hours before results of the election for..




Reuters - Published




France 1-1 Turkey: World champions held in Paris

World champions France are held to a 1-1 draw by Turkey in Paris to delay their qualification for Euro 2020.




BBC News - Published





GB's women win 4x400m bronze at Worlds to end Championships with six medals

Britain end their World Championships campaign with six medals after the women's 4x400m relay team win bronze.




BBC News - Published





Asher-Smith wins 200m gold at Worlds and sets new British record

Dina Asher-Smith becomes the first British woman to claim a global sprint title by storming to 200m gold at the World Championships.




BBC News - Published





Nigel Benn comeback: Ex-world champion says he is Benjamin Button

Nigel Benn will come out of retirement after 23 years in November, but fellow ex-world champion Richie Woodall says he fears for the 55-year-old.




BBC News - Published





Stimulus optimism boosts stocks, eases pressure on bonds

World stock markets rose on Monday on signs that major economies would look to prop up stalling growth with fresh stimulus measures, easing pressure on bonds and dampening demand for perceived..




Reuters - Published





British university drop-out wins £1.3m at world's most prestigious poker tournament

Ex-computer science student vies to become youngest World Series of Poker main event winner




Independent - Published





Semenya to pull out of Worlds if she can't defend 800m title

Caster Semenya says she will not race at the World Championships in Qatar later this year if she loses an appeal against IAAF rules governing testosterone levels in female athletes.




BBC News - Published