Adolf Hitler
Leader of Germany from 1934 to 1945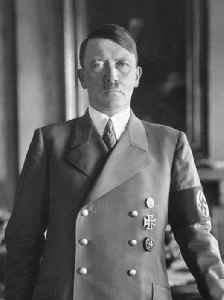 Adolf Hitler was a German politician and leader of the Nazi Party. He rose to power as Chancellor of Germany in 1933 and later Führer in 1934. During his dictatorship from 1933 to 1945, he initiated World War II in Europe by invading Poland in September 1939. He was closely involved in military operations throughout the war and was central to the perpetration of the Holocaust.


Former Labour candidate who asked question at Tory leadership debate suspended over Hitler tweet
BBC defends vetting process as law firm investigates comment by solicitor Aman Thakar, last year's Labour candidate in Southwark
Independent - Published
California man suspected of threatening synagogue free on bond
California police have arrested a man suspected of making online threats to shoot up a Jewish temple, saying he had a fascination with Adolf Hitler and planned to emulate a mass shooting at a synagogue..
Reuters - Published
Leaders salute "raw courage" of D-Day veterans
The leaders of France, Britain and the U.S. paid tribute to the sacrifice of D-Day veterans on Thursday, the 75th anniversary of the largest ever seaborne invasion that opened the way for western..
Credit: Reuters Studio Duration: 02:23Published
Piper marks moment first British soldier landed on Normandy beach
Standing on Mulberry Harbour in Arromanches, Normandy, a lone piper played to honor the moment the first British soldier touched Normandy's shores in 1944 on Thursday (June 6) at the beginning of a..
Credit: Reuters Studio Duration: 00:58Published
Uncovering the secrets of a D-Day map
Scientists in the UK are using special cameras to try and trace hidden messages in a 1944 map of the D-Day landings. Gracie Jerome reports.
Credit: Reuters Studio Duration: 01:42Published
Trump Climate Advisor Compared 'Demonization of CO2' to Hitler's Treatment of Jews
Over Memorial Day, the New York Times published a shocking article about the Trump regime's dangerous policies on climate change. According to Gizmodo, the Times unearthed a bizarre 2014 quote from..
Credit: Wochit News Duration: 00:44Published
Nazi Salute Runs Rampant In Tennessee School
A Tennessee elementary school will "no longer feature a student portraying Hitler or the [Nazi] salute" as part of a class project about World War II after an 11-year-old was removed from her..
Credit: Wochit News Duration: 00:39Published
Search this site and the web:
You Might Like