Elizabeth Warren
United States Democratic Senator from Massachusetts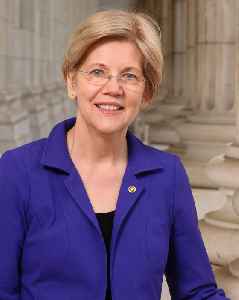 Elizabeth Ann Warren is an American politician and lawyer serving as the senior United States Senator from Massachusetts since 2013. She was formerly a law school professor specializing in bankruptcy law. A member of the Democratic Party and a progressive, Warren has focused on consumer protection, economic opportunity, and the social safety net while in the Senate. She was also a Democratic candidate in the 2020 United States presidential election.


Warren Seen As "Least Acceptable"

Joe Biden has not selected a vice president for his 2020 campaign. He pledged to chose a woman for his ticket. Elizabeth Warren is campaigning hard to be Biden's running mate. But, a new poll of..
Credit: Wochit News Duration: 00:42
Published
Warren Campaign For Veep Spot

Elizabeth Warren wants to be Joe Biden Vice President pick. She's shamelessly campaigning for the spot while the country is struggling with a race war, record unemployment, and a global health crisis...
Credit: Wochit News Duration: 00:36
Published
Who will Joe Biden pick as running mate?

Here are some of the nearly dozen candidates who are likely under consideration, as former Vice President Joe Biden faces fresh calls to choose a black woman as his running mate. Lisa Bernhard reports.
Credit: Reuters Studio Duration: 03:11
Published
Who Are Biden's Top VP Prospects?

Joe Biden has started the vetting process to choose a running mate for the Democratic ticket. Reuters reports the process expected to wrap up by July. Who are some of the names on the list? Senator..
Credit: Wochit News Duration: 00:40
Published
Warren Sells Out Medicare For All In VP Bid

During the primary Elizabeth Warren and Joe Biden fought over "Medicare for All." Biden was against it while Warren was "all-in" for it. She even told Biden that if he was against it he was "running in..
Credit: Wochit News Duration: 00:39
Published
Biden Cruises To Victory In Oregon

In early returns, Biden gathered around 67% of the vote to defeat Senators Bernie Sanders and Elizabeth Warren. OPB News reports that none of the candidates campaigned or mounted significant campaign..
Credit: Wochit News Duration: 00:28
Published
Treasury, Fed heads grilled for coronavirus response

Treasury Secretary Steve Mnuchin and Federal Reserve Chairman Jerome Powell were in the hot seat Tuesday as they faced senators for the first time in a required update on the financial response to the..
Credit: Reuters - Politics Duration: 02:47
Published
You Might Like



Elizabeth Warren to host private fundraiser for Biden: NY Times

Democratic U.S. Senator Elizabeth Warren has agreed to host a high-dollar fundraising event for Joe Biden's presidential campaign, the New York Times reported on Saturday, citing three people familiar..




Reuters - Published





As Biden crafts U.S. coronavirus response proposals, Warren has his ear

Presumptive Democratic U.S. presidential nominee Joe Biden has been speaking regularly with former rival Elizabeth Warren on public health and economic relief ideas as he crafts more ambitious..




Reuters - Published




Senator Elizabeth Warren's brother dies after contracting the coronavirus

Former Democratic presidential candidate Elizabeth Warren's oldest brother, Donald Reed Herring, died on Tuesday night after contracting the novel coronavirus, she confirmed on Thursday.




Reuters - Published





Senator Warren takes Treasury, Fed to task over 'little oversight' of stimulus programs

U.S. Senator Elizabeth Warren chastised the Federal Reserve and Treasury Department on Thursday over their rollout of massive stimulus programs designed to help businesses weather the global..




Reuters - Published




Warren says she would accept an offer to be Biden's running mate

U.S. Senator Elizabeth Warren said on Wednesday that she would accept an offer to be Democratic presidential candidate Joe Biden's running mate if the position were offered.




Reuters - Published





Democrat Biden tacks left, backs Warren bankruptcy plan with student loan relief

Democratic presidential hopeful Joe Biden has endorsed former rival Elizabeth Warren's plan to reform consumer bankruptcy laws including allowing relief of student loan debt, incorporating proposals by..




Reuters - Published




Biden, not Sanders, gains in popularity after Warren drops out: Reuters/Ipsos poll

Elizabeth Warren's departure from the Democratic presidential race appears to have benefited front-runner Joe Biden more than Bernie Sanders, her liberal ally on many issues, according to a..




Reuters - Published





Warren ends White House bid, leaving Biden and Sanders to fight for Democratic nod

Elizabeth Warren ended her presidential campaign on Thursday after concluding she had no realistic path to the Democratic nomination, leaving behind a two-man battle between former Vice President Joe..




Reuters - Published




Elizabeth Warren ends 2020 Democratic White House bid, says 'we will persist'

Elizabeth Warren, the liberal firebrand who emerged as a top Democratic contender for the White House on the strength of an anti-corruption platform backed by a dizzying array of policy proposals,..




Reuters - Published




Factbox: Three remain in hunt for U.S. Democratic presidential nomination

The field of candidates seeking the U.S. Democratic presidential nomination shrank to three on Thursday as U.S. Senator Elizabeth Warren of Massachusetts ended her bid after failing to win her home..




Reuters - Published




Warren drops out of presidential race as Biden, Sanders intensify war of words

Elizabeth Warren ended her presidential campaign on Thursday, bowing to the reality that the race for the Democratic nomination has become a two-way battle between former Vice President Joe Biden and..




Reuters - Published





Liberal firebrand Elizabeth Warren to end 2020 Democratic White House bid: source

U.S. Senator Elizabeth Warren, the liberal firebrand who emerged as a top Democratic contender for the White House on the strength of an anti-corruption platform backed by a dizzying array of policy..




Reuters - Published




Elizabeth Warren ends US presidential bid

A favourite of the liberal left, the Massachusetts senator had been a frontrunner in the Democratic field.




BBC News - Published





Democrat Warren reassessing path forward after disappointing 'Super Tuesday,' campaign aide says

Democratic presidential candidate Elizabeth Warren is "talking to her team to assess the path forward," a campaign aide said on Wednesday, after the U.S. senator from Massachusetts saw disappointing..




Reuters - Published




Sanders raised $46.5 million in February, Warren $29 million, Biden $18 million

Democratic U.S. presidential front-runner Bernie Sanders raised $46.5 million in February, his campaign said on Sunday, and will launch new television ad buys in nine states with primaries later this..




Reuters - Published




Democratic presidential hopeful Warren raised more than $29 million in February

Democratic presidential candidate Elizabeth Warren pulled in more than $29 million in February, according to a campaign memo released on Sunday, more in a single month than the campaign had raised in..




Reuters - Published





Sanders courts Massachusetts voters on Warren's home turf

Bernie Sanders drew a massive crowd in Boston on Saturday, touting his grassroots-funded campaign in progressive rival Elizabeth Warren's home state ahead of the Democratic primary in Massachusetts..




Reuters - Published




Presidential hopeful Warren latest to press BlackRock on climate

U.S. Senator Elizabeth Warren, one of several vying to be the Democratic party's presidential nominee, this week pressed the world's largest asset manager for details on its recent vows to take more..




Reuters - Published





'Not good enough' Warren says of Bloomberg's non-disclosure agreement pledge

Democratic U.S. presidential candidate Michael Bloomberg said on Friday that his company has identified three women bound by non-disclosure agreements regarding his past conduct and that they would be..




Reuters - Published




Democrat Warren, worried campaign will run out of cash, taps $3 million loan

U.S. Senator Elizabeth Warren raised more money than most of her Democratic presidential rivals in the weeks before the Iowa caucuses, but spent so heavily that her campaign took out a $3 million loan..




Reuters - Published





Elizabeth Warren's presidential campaign raised $11 million in January

U.S. Senator Elizabeth Warren raised $11 million in January for her presidential bid, but spent nearly all the money her campaign had amassed and ended the month with only $2.3 million in cash, a..




Reuters - Published





Elizabeth Warren appears to drop opposition to unlimited-money group backing her campaign

Democratic presidential hopeful Elizabeth Warren on Thursday declined to disavow a new super PAC that has earmarked $1 million to back her candidacy, an apparent reversal from her vigorous opposition..




Reuters - Published





Warren doubles down on criticizing Bloomberg as U.S Democrats sprint to Super Tuesday

A debate-stage scrap between Michael Bloomberg and Elizabeth Warren spilled onto the Democratic campaign trail on Thursday as the former New York mayor sought to move past his rocky debate debut and..




Reuters - Published





Democratic presidential candidate Warren gets super PAC help despite past opposition

Democratic presidential candidate Elizabeth Warren will get help in the final days before Nevada's caucuses from a super PAC, despite her outspoken opposition to such fundraising efforts.




Reuters - Published





Iowa caucuses: Pete Buttigieg takes lead in partial results

Bernie Sanders is narrowly behind in second place, with Elizabeth Warren and Joe Biden third and fourth.




BBC News - Published





On the campaign trail: Warren pitches unity, Biden gets union boost in Iowa

Democratic presidential candidates fanned out across Iowa on Saturday for a frenzy of rallies and last-ditch speeches with just two days to go before the rural state kicks off the nominating process.




Reuters - Published





Democrat Warren sends star stand-in to Iowa: her dog Bailey

Stuck in Washington as a juror in President Donald Trump's impeachment trial while rivals for the Democratic Party's presidential nomination crisscross Iowa, Senator Elizabeth Warren has tapped a..




Reuters - Published





Warren wins coveted Iowa endorsement for Democrats' presidential nomination

The Des Moines Register newspaper endorsed Massachusetts Senator Elizabeth Warren in the crowded race for the Democratic Party's presidential nomination late on Saturday, a coveted show of support that..




Reuters - Published




Warren calls on big U.S. banks for steps on climate risk

U.S. Senator Elizabeth Warren, a contender for the Democratic Party's presidential nomination, is asking the biggest U.S. banks for details on their assessments of and preparations for risks related to..




Reuters - Published




Stuck in Washington, 2020 Democratic senators send family, Ocasio-Cortez to barnstorm Iowa

Bernie Sanders scrapped Iowa campaign appearances, Amy Klobuchar sent campaign representatives to "hot dish" dinners and Elizabeth Warren planned a remote video speech as the Democratic U.S. senators..




Reuters - Published





Warren would ask for resignation of all of Trump's political appointees

Democratic U.S. Senator Elizabeth Warren said on Tuesday that if elected to the White House she would ask for the resignations of all of President Donald Trump's political appointees on her first day..




Reuters - Published