English Football League
League competition featuring professional association football clubs from England and Wales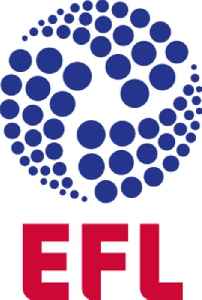 The English Football League (EFL) is a league competition featuring professional association football clubs from England and Wales. Founded in 1888 as the Football League, the league is the oldest such competition in world football. It was the top-level football league in England from its foundation until 1992, when the top 22 clubs split away to form the Premier League. In the seasons from 1995 the league was reduced to 20 teams.


Klopp happy 'Project Big Picture' kickstarted debate on English soccer

Liverpool coach Juergen Klopp speaks about Project Big Picture, Everton and players returning from international duty.
Credit: Reuters - Sports Duration: 06:51
Published
Premier League rejects Project Big Picture

The Premier League has rejected Project Big Picture, which was brought forwardby Manchester United and Liverpool. The proposals included an immediate£250million bailout for the EFL and a 25 per cent..
Credit: PA - Press Association STUDIO Duration: 00:55
Published
Oliver Dowden dismisses Project Big Picture plans as a 'latest wheeze'

Culture Secretary Oliver Dowden described the proposals as "a distraction atbest" and added: "I hope the EFL will stop being distracted by this latestwheeze."
Credit: PA - Press Association STUDIO Duration: 00:35
Published
What will an EFL supporter test event look like?

Matches in the English men's professional leagues will welcome payingspectators for the first time since March this weekend as the EFL carries outseven pilot events. Clubs are desperate to get fans..
Credit: PA - Press Association STUDIO Duration: 00:59
Published
EFL club gears up to welcome back fans

League Two club Walsall demonstrate social distancing and public healthprecautions inside the Banks' Stadium ahead of a planned return for limitedfans at upcoming fixtures.
Credit: PA - Press Association STUDIO Duration: 01:33
Published
You Might Like



Scholes frustrated as Wycombe break net - EFL round-up

Paul Scholes suffers defeat in charge of Salford, while a broken goal net is among other things you may have missed in the EFL.




BBC News - Published





EFL rejects Premier League's £50m rescue package for League One and Two clubs

English Football League clubs reject the Premier League's proposed £50m rescue package for League One and Two clubs.




BBC News - Published





EFL transfer deadline: Which players could move?

With the transfer window closing for the year at 17:00 BST on Friday, BBC Sport looks at a few EFL players who could be on the move.




BBC News - Published





EFL clubs could 'disappear in 5-6 weeks' without support

Some EFL clubs will "disappear within five to six weeks" unless they get some support, says Nigel Travis, chairman of League Two side Leyton Orient.




BBC News - Published





EFL clubs could 'disappear within five to six weeks' - Leyton Orient chairman

Some EFL clubs will "disappear within five to six weeks" unless they get financial support, says Nigel Travis, chairman of League Two Orient.




BBC News - Published





'Big Picture' reforms in best interests of game as a whole - EFL chief Parry

EFL chairman Rick Parry praises Liverpool and Manchester United for coming up with a plan he believes can protect the English football pyramid.




BBC News - Published





Premier League support for EFL clubs could be reached in coming week - Oliver Dowden

A deal for the Premier League to support lower-league clubs during the coronavirus pandemic "could be reached this week", according to Culture Secretary Oliver Dowden.




BBC News - Published





EFL: Bizarre bus breakdowns, historic records and a debut to forget

A coronavirus-related bus breakdown, a historic start to the season and a debut to forget - five things you may have missed from the EFL.




BBC News - Published





Premier League awaits EFL £250m coronavirus 'bail-out' proposals

The Premier League is still waiting for detailed proposals from the Football League around their requested £250m 'bail-out'.




BBC News - Published





Coronavirus: EFL 'deeply frustrated' as plans for limited fans return are halted

EFL chairman Rick Parry says the league is "deeply frustrated" after plans to allow some fans to return to matches were halted.




BBC News - Published





Fans return as Warnock manages from home - EFL round-up

Which fans saw wins with their own eyes and which boss made a game-changing substitution from his house? Here's our EFL round-up.




BBC News - Published





Coronavirus: EFL 'prepared as can be' for return of supporters to league games

English Football League chief executive Dave Baldwin says they are "as prepared as can be" for the return of fans.




BBC News - Published





EFL chairman Rick Parry says it is not inevitable football clubs will fold in the new year

EFL chairman Rick Parry says a financial solution is needed quickly to "keep every single club alive".




BBC News - Published





EFL: Future of some Football League clubs beyond Christmas in doubt

Some English Football League clubs will struggle to stay afloat beyond Christmas if there is a delay to the wider rollout of fans and a financial rescue package is not secured urgently, BBC Sport has..




BBC News - Published





Crowd Pilots: EFL confirm 10 upcoming games will host fans

The English Football League announces 10 upcoming matches will feature crowd pilots, with up to 1,000 fans at each game.




BBC News - Published




EFL: Harrogate make dream start as Sheffield Wednesday begin long road back

BBC Sport looks at five of the big results on the opening weekend of the EFL season.




BBC News - Published





Bury FC: One year on from EFL expulsion - what happened next?

Twelve months on from Bury's English Football League expulsion, what happened next for the town, the club and its fans?




BBC News - Published





EFL appeals against decision to clear Derby of breaching spending rules

The English Football League appeals against a disciplinary panel's decision to clear Derby of breaching spending rules.




BBC News - Published





English Football League: Fans to watch fixtures at Cambridge United as test events

Supporters will be allowed back into two fixtures in English Football League competitions at Cambridge United next week as test events.




BBC News - Published





EFL: All Championship, League One and League Two games made available to view

All EFL games will be available to watch from home while matches continue to be played behind closed doors or at limited capacity.




BBC News - Published





Derby County: EFL charges over spending rules dismissed

Derby County avoid a points deduction as charges relating to a breach of English Football League spending rules are dismissed.




BBC News - Published





EFL fixtures 2020-21: Your club-by-club guide to the new season

Find out your team's fixtures in the Championship, League One and League Two during the 2020-21 season.




BBC News - Published





Macclesfield Town relegated after EFL wins points appeal, Stevenage reprieved

Macclesfield Town are relegated to the National League after the EFL wins an appeal against a points deduction.




BBC News - Published





Charlton Athletic: English Football League rejects takeover by Paul Elliott

Prospective new Charlton owner Paul Elliott has his application to take over the League One club rejected by the EFL.




BBC News - Published





Harrogate Town promotion a 'superb lift' after lockdown

Harrogate Town's promotion to the English Football League will boost the local economy, it is hoped.




BBC News - Published





Harrogate beat Notts County to win promotion to League Two

Harrogate will play in the English Football League for the first time after beating Notts County in the National League promotion final.




BBC News - Published





English clubs may have to play full 2020-21 season before reduced crowds, says government adviser

Football clubs in England may have to play the entire 2020-21 football season in front of reduced capacity crowds, a senior government adviser says.




BBC News - Published





Premier League and EFL 2020-21 seasons to start on 12 September

The 2020-21 Premier League and EFL seasons will start on 12 September.




BBC News - Published





EFL: Jimmy Glass and Paul Caddis feature in most memorable final days

An injury time goal from a goalkeeper and winner-takes-all drama feature in BBC Sport's most memorable EFL final days.




BBC News - Published





Premier League and EFL summer transfer window to be from 27 July to 5 October

The Premier League and EFL summer transfer window will be open for 10 weeks between 27 July and 5 October, subject to Fifa approval.




BBC News - Published





'English football disrespected' - EFL chairman Parry on Wigan crisis

Wigan's plight shows English football has been "disrespected", says EFL chairman Rick Parry in a Q&A with BBC sports editor Dan Roan.




BBC News - Published




Wigan Athletic: EFL chairman Rick Parry secretly filmed discussing Wigan rumours

EFL chairman Rick Parry is secretly recorded by a Wigan fan discussing rumours related to the club's administration.




BBC News - Published





Coronavirus: No positive tests in latest round of EFL testing

The latest round of coronavirus testing across the English Football League returns no positive results.




BBC News - Published





Premier League, EFL and PFA announce scheme to help BAME coaches

The Premier League, EFL and PFA announce a new scheme to increase the number of black, Asian and minority ethnic coaches.




BBC News - Published




Championship: EFL apologises after iFollow streams of games hit by technical issue

A technical issue hits the streaming of Championship games, prompting some fans to miss the start of the first matches back after the coronavirus pandemic.




BBC News - Published





Rooney Rule: PFA calls for 'loophole' in EFL appointments to be closed

The Professional Footballers' Association wants all managerial appointments in the EFL to follow a diverse recruitment process.




BBC News - Published




Barrow: The Bluebirds' 48-year wait from being voted out to being voted back into the Football League

Promoted Barrow's long battle to return to the English Football League – voted back in 48 years after being voted out.




BBC News - Published





Barrow promoted back to English Football League after National League vote

Barrow are promoted to the English Football League after National League clubs vote to end the 2019-20 season.




BBC News - Published





Macclesfield Town: Players and staff struggling with mental health during EFL hearing uncertainty

Macclesfield Town players say their mental health has been "disregarded", as they await Friday's disciplinary hearing.




BBC News - Published





EFL: Threat of clubs going bust because of coronavirus not gone away - Rick Parry

The threat of clubs going bust because of the financial impact of Covid-19 has not gone away, says Football League chairman Rick Parry.




BBC News - Published




EFL agrees how to end season before club vote

League One and League Two clubs are set to vote on the future of the current season after new regulations are ratified.




BBC News - Published





EFL clubs agree points-per-game system before vote on whether to end season

League One and League Two clubs are set to vote on the future of the current season after new regulations are ratified.




BBC News - Published





League Two relegation unlikely to be scrapped by EFL clubs at Tuesday's vote

Stevenage and Macclesfield are likely to be left sweating on their League Two status once EFL clubs meet on Tuesday.




BBC News - Published





QPR 'appalled' by EFL plans for Championship return on 20 June

QPR chief executive Lee Hoos says the club is "vehemently opposed" to the EFL's plans for the Championship to return on 20 June.




BBC News - Published




Preston's Stockley among positives in latest round of EFL Covid-19 testing

Preston say striker Jayden Stockley was one of 10 positive Covid-19 tests across eight Championship clubs returned in the latest round of testing.




BBC News - Published





EFL: Leagues One and Two play-offs to be before Championship play-offs

The League One and Two play-offs are likely to be held before the Championship play-offs in an effort to help clubs sort out contracts.




BBC News - Published





Championship, League One & League Two clubs to meet on 8 June

English Football League clubs are set to meet on 8 June in an attempt to rubber-stamp proposals on how to end a season early.




BBC News - Published





EFL to publish coronavirus test results before training return

The EFL plans to publish the results of its first wave of coronavirus testing among Championship players before Monday.




BBC News - Published





EFL: How coronavirus is affecting lower league clubs, players, fans and livelihoods

BBC Sport looks at the the impact of coronavirus on lower league football clubs, players and fans, and how the game might recover.




BBC News - Published