Mar-a-Lago
Resort and historic place in Palm Beach, Florida, US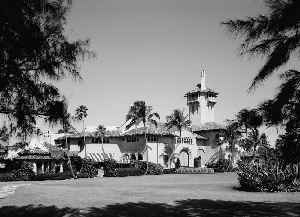 Mar-a-Lago is a resort and national historic landmark in Palm Beach, Florida, built from 1924 to 1927 by cereal-company heiress and socialite Marjorie Merriweather Post. The 126-room, 62,500-square-foot (5,810 m2) mansion contains the Mar-a-Lago Club, a members-only club with guest rooms, a spa, and other hotel-style amenities. It is located in Palm Beach County on the Palm Beach barrier island, with the Atlantic Ocean to the east and Florida's Intracoastal Waterway to the west.


NYC Mayor paints 'Black Lives Matter' outside Trump Tower

New York City Mayor Bill de Blasio joined Reverend Al Sharpton and others on Thursday in painting the words "Black Lives Matter" on Fifth Avenue - and right outside of Trump Tower. Lisa Bernhard has..
Credit: Reuters - Politics Duration: 01:34
Published
You Might Like



Teens arrested with AK47 at Trump's Mar-a-Lago resort in Florida

The boys were fleeing police and "had no idea" they had entered the US president's property.




BBC News - Published





Brazil's Bolsonaro to meet Trump on Saturday: sources

Brazil's right-wing President Jair Bolsonaro is preparing to meet U.S. President Donald Trump on Saturday at the Mar-a-Lago resort in Florida, four people familiar with the Brazilian leader's travel..




Reuters - Published





Chinese woman who intruded at Mar-a-Lago sentenced to six months

A Chinese woman who was acquitted of trespassing at U.S. President Donald Trump's Mar-a-Lago resort in Florida was sentenced to six months in jail on Friday on a separate charge of resisting arrest.




Reuters - Published





Two women in custody for running checkpoints at Trump's Florida resort

Two women were arrested in Florida after police opened fire on them for running two security checkpoints near Mar-a-Lago on Friday in a car chase that was unrelated to U.S. President Donald Trump's..




Reuters - Published




Vehicle runs security checkpoints at Trump's Florida resort, two held

Law enforcement authorities in Florida on Friday said they were holding two people whose vehicle ran two security checkpoints at U.S. President Donald Trump's Mar-a-Lago resort during a police chase.




Reuters - Published




Two held after vehicle breaches security checkpoints at Trump resort: reports

Two people are being held in custody after a black vehicle breached two security checkpoints at U.S. President Donald Trump's Mar-a-Lago resort in Florida, according to media reports on Friday hours..




Reuters - Published




Chinese national arrested for allegedly trespassing at Trump's Mar-a-Lago

A Chinese national trespassed at U.S. President Donald Trump's Mar-a-Lago resort in Florida on Wednesday and was arrested upon refusing to leave, police said.




Reuters - Published

Also reported by •BBC News


Chinese national sentenced to eight months in prison for trespassing at Trump's resort

A Chinese woman was sentenced to eight months in prison in a federal court on Monday after she was convicted of bluffing her way into U.S. President Donald Trump's Mar-a-Lago resort in Florida,..




Reuters - Published




Yujing Zhang: Woman who sparked alarm at Mar-a-Lago found guilty

The woman was accused of lying to a federal officer to illegally enter the president's resort club.




BBC News - Published





Jury to weigh trespassing case against Chinese woman arrested at Mar-a-Lago

A federal court jury was due to begin deliberations on Wednesday in the trespassing trial of a Chinese woman accused of hoodwinking her way past U.S. Secret Service agents to gain illegal entry to..




Reuters - Published




Trespassing trial of Chinese woman arrested at Mar-a-Lago moves to jury

A Chinese woman accused of hoodwinking U.S. Secret Service agents to gain illegal entry to President Donald Trump's Florida resort repeated her assertion that she "did nothing wrong" as her federal..




Reuters - Published





Chinese trespasser at Mar-a-Lago worried staff by filming, Florida jury hears

A Chinese woman arrested by the Secret Service after she snuck into President Donald Trump's Florida resort aroused the suspicions of staff by filming and behaving oddly, witnesses at her trial said on..




Reuters - Published





Chinese woman in Mar-a-Lago trespassing case fights criminal charges

A Chinese national arrested for bluffing her way onto U.S. President Donald Trump's Florida resort carrying a variety of electronic gear, sparking questions about whether she was an intelligence..




Reuters - Published




Jury selection begins at Chinese woman's Mar-a-Lago trespassing trial

A judge urged potential jurors to ignore their feelings about President Donald Trump's Florida resort, even if they "think it should be blown up," in order to fairly decide the fate of a Chinese..




Reuters - Published




Explainer: Chinese woman arrested at Trump's Mar-a-Lago takes unusual legal path

A Chinese woman charged in March with lying to get into U.S. President Donald Trump's Mar-a-Lago resort while carrying multiple electronic devices, has decided to act as her own lawyer.




Reuters - Published