Andy Burnham
British Labour politician and Mayor of Greater Manchester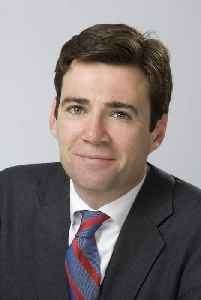 Andrew Murray Burnham is a British Labour Party politician serving as Mayor of Greater Manchester since 2017. He served as Secretary of State for Culture, Media and Sport from 2008 to 2009 and Secretary of State for Health from 2009 to 2010. Burnham served as Member of Parliament (MP) for Leigh from 2001 to 2017.


Andy Burnham calls for greater 'fairness' to regions

The Mayor of Greater Manchester has called for the government to be 'fairer' to regions, suggesting a focus on London has left regions struggling to deal with the coronavirus pandemic. Andy Burnham..
Credit: ODN Duration: 01:48
Published