Border Force
Responsible for frontline border control operations at UK ports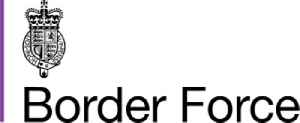 Border Force is a law-enforcement command within the Home Office, responsible for frontline border control operations at air, sea and rail ports in the United Kingdom. The force was part of the now defunct UK Border Agency from its establishment in 2008 until Home Secretary Theresa May demerged it in March 2012 after severe criticism of the senior management.


UK Border Force escorts suspected migrants to shore

Large numbers of suspected migrants are arriving in the UK following days ofhigh winds in the English Channel. Border Force has deployed extra resourcesto the Dover Strait on Tuesday as crossings have..
Credit: PA - Press Association STUDIO Duration: 01:29
Published
Migrants arrive in Dover on Border Force boats

More migrants arrived in Dover on Thursday morning as Britain shook off thehigh winds of Storm Francis. The new arrivals - brought in on Border Forcespeedboats - were taken ashore in the Kent port.
Credit: PA - Press Association STUDIO Duration: 00:30
Published
More migrant crossings amid Government promise of new action

More migrants have been found by the UK's Border Force amid news theGovernment intends to introduce a new plan to stem the surge in Channelcrossings.
Credit: PA - Press Association STUDIO Duration: 00:35
Published
Migrants detained in Dover after boat stopped in Channel

More migrants in dinghies have been picked up by UK Border Force officials and taken to Dover today. Over 4,000 people have successfully crossed the Channel from France in small boats so far this year...
Credit: ODN Duration: 00:58
Published
Priti Patel in Dover as Government face criticism over migrant crossing crisis

Home Secretary Priti Patel headed to Dover to meet Border Force staff and wasspotted disembarking from a police boat that had been out in the Channelearlier on Monday morning. Last year, Ms Patel vowed..
Credit: PA - Press Association STUDIO Duration: 01:10
Published
Boat carrying migrants to UK seen bailing out water

An inflatable dinghy carrying around 20 Syrian migrants has been met by BorderForce off the coast of Dover. The packed vessel had been making its way acrossthe English Channel on Monday morning, with..
Credit: PA - Press Association STUDIO Duration: 01:27
Published
Gove: 'Home sec is focused on protecting UK's borders'

Senior minister Michael Gove has said that Priti Patel is "absolutely focused" on making sure that the UK's borders are secure. It comes after a number of small boats carrying migrants across the..
Credit: ODN Duration: 00:23
Published
Migrants intercepted as they journey across channel

A boat carrying migrants across the English Channel has been intercepted by the UK Border Force. Report by Patelr. Like us on Facebook at http://www.facebook.com/itn and follow us on Twitter at..
Credit: ODN Duration: 01:09
Published
You Might Like



Border Force tackle 12 migrant boat English Channel crossings

The Border Force dealt with vessels carrying 165 migrants trying to reach the UK on Monday.




BBC News - Published





Record 400-plus migrants cross Channel in one day

Border Force intercepts 409 people, including young children, on board 27 boats.




BBC News - Published




Eurostar announces £40 London-Amsterdam service

UK Border Force officials will now be stationed in Amsterdam and Rotterdam to carry out checks.




BBC News - Published





Channel crossings: Child asylum seekers held at Border Force processing centre amid 'preventable chaos'

Government refuses to say if children will be held beyond 24-hour legal limit as charities raise concerns




Independent - Published





Child migrants to be sent away from Kent as council reaches capacity

Under-18s arriving in Dover alone will stay with Border Force until a council placement is found.




BBC News - Published





At least 26 migrants land on Kent beaches

The Coastguard and Border Force are dealing with "a number of incidents" from Saturday morning.




BBC News - Published





UK border: 13 boats carrying over 130 migrants intercepted on English Channel

The Home Office has said Border Force officials have intercepted 13 boats carrying more than 130 migrants arriving in the UK on Friday. A spokesperson for the department said Border Force was..




Independent - Published





Channel migrants 'should be returned to France'

The former head of the Border Force says it is the only way to stop people smugglers risking lives.




BBC News - Published





'Gaping lack of oversight': UK Border Force doesn't know how many detention facilities it runs, says report

Watchdog warns of 'alarming lack of oversight and accountability' in Britain's short-term holding facilities, with children and pregnant women held in 'very poor conditions' for 'far too long'




Independent - Published





More migrants intercepted at Dover amid lockdown spike

Border Force officials are dealing "with a number of small boat incidents" off Kent, officials say.




BBC News - Published





Border Force intercepts 49 migrants off Kent coast

The nationalities and medical conditions of the 43 male and six female passengers are not yet known.




BBC News - Published





Border Force seize cocaine worth £19 million hidden in lorries carrying toys and paper

National Crime Agency says three arrests were made in connection with the seizures




Independent - Published





Channel migrants: Border Force picks up 72 people

Border Force intercepts four boats off Kent and Sussex on Easter Sunday.




BBC News - Published




Child refugee with gunshot wound detained on French border amid 'serious concerns' about treatment of youngsters trying to reach UK

Watchdog raises 'alarm over child safeguarding and legality of detention in short-term holding facilities run by UK Border Force in northern France




Independent - Published





Coronavirus: MPs launch investigation into police and Border Force preparations

An inquiry has been launched into whether police, the Border Force and other agencies are prepared for the impact of coronavirus.




Independent - Published





Man found guilty of smuggling endangered live eels worth £53 million out of UK

Khoo was caught after Border Force officers found 200kg of European 'glass eels' hidden under chilled fish




Independent - Published





Channel migrants: More than 100 intercepted over 10 hours

The Border Force and Kent Police say they dealt with six incidents during one day.




BBC News - Published





Border Force officer arrested in ecstasy supply probe

The 40-year-old is arrested in Folkestone by the National Crime Agency's anti-corruption unit.




BBC News - Published





Channel migrants: Boat carrying 28 rescued off Dover

A Border Force vessel was called to intercept a migrant boat entering UK waters, the Home Office says.




BBC News - Published





Meet Flerken the rescued half wildcat, half domestic pet

The Savannah cat was seized by Border Force officers after being illegally imported into the UK.




BBC News - Published





Channel migrants: Coastguard lead search and rescue operation

Two aircraft and Border Force vessels are scrambled to a "number of incidents," the coastguard says.




BBC News - Published





Near-record number of migrants make Channel crossing in one day

Total of 79 refugees in five boats intercepted by Border Force




Independent - Published





Channel migrants: 'Multiple' boats spotted off the Kent coast

Border Force is dealing with a "number of incidents" as a dinghy is found on the beach at Kingsdown.




BBC News - Published





Channel migrants: Boat containing 13 people intercepted

Thirteen migrants, including children, were transferred to a Border Force vessel off the Kent coast.




BBC News - Published





Six migrants found in dinghy in Channel

Border Force officials intercept a boat with men from Iran in the Channel.




BBC News - Published





Border Force and coastguard conduct search and rescue mission off Kent coast

Border Force patrol boats are responding to a number of small boat "incidents" off the Kent coast.




Independent - Published





Sajid Javid to ramp up no-deal Brexit preparations with '£1bn spending package'

Chancellor says funding will be used for public information campaigns and extra Border Force officers




Independent - Published





Migrant search camera trial seen in leaked footage

Long-range thermal imaging cameras could be used by Border Force to monitor migrant boats setting sail from France.




BBC News - Published





Channel migrants: Border Force dealing with several boats

Migrants from a number of boats have reportedly landing on beaches in Kent and Sussex.




BBC News - Published