Louisiana
State in the southern United States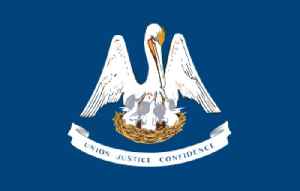 Louisiana is a state in the Deep South region of the South Central United States. It is the 19th-smallest by area and the 25th most populous of the 50 U.S. states. Louisiana is bordered by the state of Texas to the west, Arkansas to the north, Mississippi to the east, and the Gulf of Mexico to the south. A large part of its eastern boundary is demarcated by the Mississippi River. Louisiana is the only U.S. state with political subdivisions termed parishes, which are equivalent to counties. The state's capital is Baton Rouge, and its largest city is New Orleans.


Besides Lacking Beds, Eleven US States Face Critical Shortage Of ICU Medical Professionals

As COVID-19 infections surge, health care professionals across the US are struggling to keep up with the demand for personal protective equipment. But according to UPI, a new report reveals that in 11..
Credit: Wochit News Duration: 00:34
Published
As Florida Gov Refuses To Close Gyms, Arizona And Texas Scramble For Morgue Trucks

In Texas and Arizona, morgues are filling up in the areas hardest-hit by the novel coronavirus COVID-19 pandemic. According to CNN, officials in those places are bringing in coolers and refrigerated..
Credit: Wochit News Duration: 00:40
Published
Experts Say 'Patchwork Of Policies' Are Creating COVID-19 Hotspots

Experts who run the US COVID Atlas say many current COVID-19 hotspots across the country are in areas along state borders. They say that's because different governments have taken different approaches..
Credit: Wochit News Duration: 00:34
Published
Should Bars Reopen?

The U.S. national tally of COVID-19 cases stands at more than 2.4 million with nearly 125, 000 deaths. According to Gizmodo, a spike in cases happened when a number of states decided to reopen. Now..
Credit: Wochit News Duration: 00:32
Published
Rapper Hurricane Chris Facing Murder Charges

CNN reports Hurricane Chris is facing a murder charge in Shreveport, Louisiana. Around 1 a.m. Friday, a man was fatally shot at a Texaco convenience store. The man was identified by the local coroner's..
Credit: Wochit News Duration: 00:34
Published
You Might Like



Boosie Badazz Rants at Mark Zuckerberg Over Instagram Account Ban

Here's Boosie Badazz going on a hilarious rant about getting banned from Instagram, and he wants action right now from Mark Zuckerberg ... if he could just get his name right. The Louisiana rapper is..




TMZ.com - Published





Louisiana Woman Witnesses Lightning Strike Demolish Tree, Caught on Video

A Louisiana woman's lucky to be alive after a frightening encounter with mother nature when a lightning strike obliterated a tree, sending thousands of pieces flying ... and it was all caught on video...




TMZ.com - Published





Libertarian Candidate Jo Jorgensen Bitten By Bat, Requires Rabies Shots

The Libertarian Party's candidate for President has been sidelined .... 'cause she was bit by a bat. Jo Jorgensen had a rally scheduled in Louisiana but she had to cancel, because somewhere on the..




TMZ.com - Published





US top court strikes down law limiting abortions

In a landmark ruling, the US Supreme Court strikes down a Louisiana law restricting abortions as unconstitutional




BBC News - Published





NHC says center of storm Cristobal made landfall in southeast Louisiana

The center of Tropical Storm Cristobal has made landfall along the coast of southeast Louisiana between the mouth of the Mississippi River and Grand Isle, the U.S. National Hurricane Center said in its..




Reuters - Published





Storm Cristobal slows advance, dropping heavy rains on Louisiana

Tropical Storm Cristobal on Sunday slowed its advance through the Gulf of Mexico, bringing a coastal storm surge, high winds and rain to southeast Louisiana, where it is expected make landfall later..




Reuters - Published





Oil workers, Louisiana residents flee ahead of Storm Cristobal

Tropical Storm Cristobal on Saturday dumped rain from Louisiana to the Florida peninsula as it moved through the U.S. Gulf of Mexico, prompting evacuations of several southeast Louisiana towns and..




Reuters - Published




Federal inmates with COVID-19 in Louisiana continued working for days, union says

The union for corrections officers at one of the U.S. federal prisons hardest hit by the coronavirus pandemic has filed a U.S. Labor Department complaint alleging that prison managers failed to isolate..




Reuters - Published





'This is not real life'- the Louisiana family devastated by the coronavirus

Susan Morrison lost her 39-year-old stepbrother, Lawrence Jones, from coronavirus complications on April 8. A day later, her 83-year-old father, Feaster Dorsey, also became a COVID-19 victim.




Reuters - Published





U.S. Supreme Court requires unanimous jury verdicts for serious crimes

The U.S. Supreme Court ruled on Monday that the constitutional guarantee of trial by jury requires a unanimous verdict in serious crimes, siding with a Louisiana man convicted of murder and paving the..




Reuters - Published




Six killed as severe storms, tornadoes rip through U.S. South

At least six people were killed on Sunday as a strong storm system swept across Mississippi and Louisiana, spinning off more than a dozen tornadoes and leaving behind a path of destruction, state and..




Reuters - Published





Food trucks start feeding big rig drivers at Interstate rest stops

Big rig driver Tanuya White was running essential products from Chicago to Shreveport, Louisiana, on Saturday when she stopped to sample food truck fare at a rest stop on Interstate 30 near Social..




Reuters - Published





One worker injured in fire at Valero's Meraux, Louisiana, refinery

One worker was injured in a fire at Valero Energy Corp's 125,000 barrel-per-day Meraux, Louisiana, refinery early Friday morning, a company spokeswoman said.




Reuters - Published





Explosion rocks Valero Meraux, Louisiana, refinery: local TV

An early morning explosion rocked Valero Energy Corp's 125,000 barrel-per-day (bpd) Meraux, Louisiana, refinery on the east side of New Orleans, a New Orleans television station reported.




Reuters - Published





African-Americans dying of coronavirus at higher rates, preliminary data shows

The new coronavirus is killing African-Americans at a higher rate than the U.S. population at large, according to preliminary numbers from Louisiana, Michigan and Illinois that officials say point to..




Reuters - Published




Outbreak shows signs of leveling off in New York, New Jersey, but vigilance urged

The governors of New York, New Jersey and Louisiana pointed to tentative signs on Monday that the coronavirus outbreak may be starting to plateau in their states but warned against complacency as the..




Reuters - Published




Factbox: U.S. hospitals differ on best use of hydroxychloroquine for coronavirus

Major hospitals in New York, Louisiana and other areas hit hardest by the coronavirus outbreak are routinely using hydroxychloroquine on patients hospitalized with COVID-19, though robust evidence on..




Reuters - Published





U.S. braces for 'hardest' week as coronavirus deaths mount

The United States on Sunday entered one of the most critical weeks so far in the coronavirus crisis, with government officials warning that the death toll in places such as New York, Michigan and..




Reuters - Published




U.S. braces for 'hardest, saddest' week as some churches defy stay-at-home orders

The United States enters one of the most critical weeks so far in the coronavirus crisis with the death toll exploding in New York, Michigan and Louisiana, but a few governors still resisted issuing..




Reuters - Published




Louisiana church holds services, defying coronavirus stay-at-home order

The pastor of the Life Tabernacle Church near Baton Rouge held services on Sunday in defiance of a stay-at-home order issued by Louisiana because of the coronavirus pandemic, telling worshippers they..




Reuters - Published




U.S. enters 'hardest, saddest' week in coronavirus crisis

The United States enters one of the most critical weeks so far in the coronavirus crisis with the death toll exploding in New York, Michigan and Louisiana and some governors calling for a national..




Reuters - Published




New York in 'race against time' as Trump stresses face masks are voluntary

Two of the principal U.S. coronavirus hot spots - New York and Louisiana - reported their biggest jumps in COVID-19 deaths yet on Friday, as the White House sent mixed messages on whether Americans..




Reuters - Published




U.S. prosecutors resist calls to free inmates as coronavirus spreads

Five inmates at a federal prison in Oakdale, Louisiana, have died since March 28 after contracting the coronavirus. Harold Lee's family fears he could be next.




Reuters - Published




Death toll from COVID-19 at Oakdale prison in Louisiana continues to climb

The death toll from COVID-19 at a U.S. prison in Oakdale, Louisiana, has continued climbing, with a fourth inmate now dead, the Bureau of Prisons said on Thursday, as it grappled with outbreaks at..




Reuters - Published





Third inmate at Louisiana's Oakdale prison has died from coronavirus: official

The novel coronavirus on Wednesday killed two more inmates in the U.S. federal prison system, also in the Oakdale, Louisiana, facility where the system's first death occurred on Saturday, a spokesman..




Reuters - Published




Prisoner serving time for drug charge is first U.S. inmate to die from COVID-19

Patrick Jones, a 49-year-old prisoner in Louisiana who was serving a 27-year prison term for a drug charge, became the first federal inmate to die from COVID-19, the federal Bureau of Prisons (BOP)..




Reuters - Published




Pentagon eyes Chicago, Michigan, Florida, Louisiana as coronavirus spreads

The U.S. military is watching coronavirus infection trends in Chicago, Michigan, Florida and Louisiana with concern as it weighs where else it may need to deploy, after boosting aid to New York,..




Reuters - Published




U.S. has most coronavirus cases in world, next wave aimed at Louisiana

The number of U.S. coronavirus infections climbed above 82,000 on Thursday, surpassing the national tallies of China and Italy, as New York, New Orleans and other hot spots faced a surge in..




Reuters - Published




Coronavirus impact spreads across U.S. as Congress readies aid

The burden caused by the fast-spreading coronavirus accelerated across the United States on Wednesday beyond the hot spots of New York, California and Washington state as Louisiana and others faced a..




Reuters - Published