South Asia
Southern region of Asia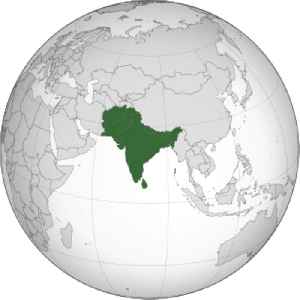 South Asia, or Southern Asia, is the southern region of the Asian continent, which comprises the sub-Himalayan SAARC countries and, for some authorities, adjoining countries to the west and east. Topographically, it is dominated by the Indian Plate, which rises above sea level as Nepal and northern parts of India situated south of the Himalayas and the Hindu Kush. South Asia is bounded on the south by the Indian Ocean and on land by West Asia, Central Asia, East Asia, and Southeast Asia.


Asim Umar: Al-Qaeda's South Asia chief 'killed in Afghanistan'
Afghanistan's intelligence agency says the chief of al-Qaeda's South Asia branch has been killed.
BBC News - Published
U.S. hopes to see rapid action on lifting Kashmir curbs: official
The United States hopes to see rapid action by India to lift restrictions it has imposed in Kashmir and the release of detainees there, the senior U.S. diplomat for South Asia said on Thursday.
Reuters - Published
Kate Middleton And Prince William Made History In Pakistan
Kate Middleton and Prince William made history on Tuesday in Pakistan. The pair became the first British royal couple to wear matching traditional outfits in Pakistan. While royal women have previously..
Credit: Wochit News Duration: 00:41Published
The 'brown girls' out to conquer Instagram
South Asian women are proudly taking ownership of their identities on social media
BBC News - Published
India and Nepal open South Asia's first cross-border oil pipeline
India and Nepal officially opened South Asia's first cross-border oil pipeline on Tuesday, a project seen as part of New Delhi's efforts to increase its influence in the Himalayan nation where China is..
Reuters - Published
Monsoon season: The river politics behind South Asia's floods
Every year, tensions increase between India and Nepal during the monsoon season. Why?
BBC News - Published
Bangladesh police kill three suspected Rohingya traffickers; rescue 15 refugees
Bangladesh police killed three people suspected of trying to smuggle 15 Rohingya Muslim refugees to Malaysia in a clash on Tuesday near the South Asian nation's main refugee camp, an official said, the..
Reuters - Published
In rare move, Pakistan military agrees to budget cut amid economic woes, PM says
Pakistan's powerful military has agreed in a rare move to cut its hefty budget for a year to help ease the South Asian country's "critical financial situation", Prime Minister Imran Khan said.
Reuters - Published
Commercial flights to and from Pakistan, India disrupted as tensions rise
Several airlines, including Emirates and Qatar Airways, suspended flights to Pakistan on Wednesday after the South Asian nation closed its air space following heightened tensions with neighboring..
Reuters - Published
Lilly Singh: Why the YouTuber coming out as bisexual is 'worth celebrating'
Fans reveal why having a South Asian woman come out as bisexual is 'amazing news'.
BBC News - Published
Saudi crown prince begins Asia tour in Pakistan amid India tensions
Saudi Arabia's Crown Prince Mohammed bin Salman on Sunday kicked off his tour of South Asia and China with a high-profile visit to Pakistan, but the trip risks being overshadowed by escalating tensions..
Reuters - Published
Explainer: Jaish-e-Mohammad, the Pakistan-based militants, at heart of tension with India
A Pakistan-based militant group, Jaish-e-Mohammad, has taken responsibility for the deadliest attack on security forces in Indian Kashmir in 30 years of insurgency, ratcheting up tension between the..
Reuters - Published
You Might Like