South Asia
Southern region of Asia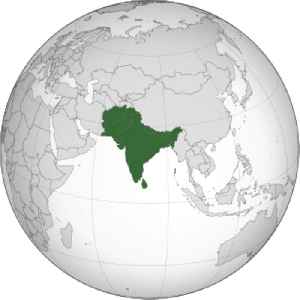 South Asia or Southern Asia is the southern region of Asia, which is defined in both geographical and ethno-cultural terms. The region consists of Afghanistan, Bangladesh, Bhutan, India, Maldives, Nepal, Pakistan, and Sri Lanka. Topographically, it is dominated by the Indian Plate and defined largely by the Indian Ocean on the south, and the Himalayas, Karakoram, and Pamir mountains on the north. The Amu Darya, which rises north of the Hindu Kush, forms part of the northwestern border. On land (clockwise), South Asia is bounded by Western Asia, Central Asia, East Asia, and Southeast Asia.


South Asia monsoon: More than 130 people killed in Nepal floods

The monsoon season in Nepal started last month, then took a turn for the worse on Sunday.
Credit: Al Jazeera STUDIO Duration: 02:06
Published
India coronavirus infections top one million

India saw record cases on Friday, as Red Cross warned the virus was spreading at 'an alarming rate' across South Asia.
Credit: Al Jazeera STUDIO Duration: 02:05
Published
Nepal needs to be careful of China's tactics: Central Tibetan Administration

Lobsang Sangay, the President of Central Tibetan Administration has warned Nepal to be careful from China's tactic of elite co-optation. He made this statement over the question asked on the recent..
Credit: ANI Duration: 01:20
Published
South Asia faces a remittances crisis amid COVID-19 pandemic

Coronavirus lockdowns cost millions of migrant workers their jobs, halting billions in remittances they sent home.
Credit: Al Jazeera STUDIO Duration: 02:06
Published
Pandemic spreading faster in Americas, south Asia, Middle East - WHO

The coronavirus pandemic is accelerating, with Thursday's 150,000 new cases the highest in a single day and nearly half of those in the Americas, the World Health Organization (WHO) said on Friday..
Credit: Reuters Studio Duration: 01:00
Published
India exercises its right of reply in response to statement by Pakistan at UNHRC

India exercised its right of reply in response to statement made by Pakistan, at 43rd session of UN Human Rights Council. Senthil Kumar, First Secretary at Permanent Mission of India, Geneva said that..
Credit: ANI Duration: 02:49
Published
You Might Like



Vitiligo: The shame and stigma in South Asian communities

British Asians speak out about the myths, misconceptions and growing up with vitiligo.




BBC News - Published





South Asian anti-black racism: 'We don't marry black people'

Amit's relationship with Michelle was a secret for years because he feared his family's reaction.




BBC News - Published





'Why I've used skin-whitening products'

Radio 1 Newsbeat ask people from South Asian backgrounds about using of skin-lightening products.




BBC News - Published





South Asian people most likely to die in hospital from coronavirus in UK, major study finds

Diabetes plays a role, researchers say




Independent - Published





Nepal's parliament approves map including territory controlled by India

The upper house of Nepal's parliament approved a new map of the country on Thursday including land controlled by India, in a row that has strained ties between the South Asian neighbours.




Reuters - Published




Pakistani legislator dies from COVID-19, as highest daily toll recorded

A Pakistani local legislator died on Wednesday after contracting COVID-19, hospital officials said, marking the first death of a political figure in the South Asian nation from the disease at a time..




Reuters - Published





South Asia coronavirus cases top 37,000, headache for governments eyeing lockdown end

South Asia's coronavirus infections have crossed 37,000, with more than half in India, official data showed on Thursday, complicating the task of governments looking to scale back lockdowns that have..




Reuters - Published




India presidential palace isolates 500 over virus scare; Pakistan's Khan to be tested

About 500 people entered self-isolation in staff quarters of India's presidential palace on Tuesday, and Pakistan's prime minister was due to be tested, as the coronavirus spreading through South Asia..




Reuters - Published





Indian presidential palace isolates 500 people in coronavirus alarm

About 500 people entered self-isolation at India's presidential palace on Tuesday after a worker's relative tested positive for the coronavirus in the latest alarm close to public figures as the..




Reuters - Published





South Asia coronavirus cases hit 22,000 as Maldives locks down capital

The number of people infected with the coronavirus crossed 22,000 in densely populated South Asia on Friday driven by a rise in cases in India as the tiny Indian Ocean island nation of Maldives locked..




Reuters - Published





World Bank warns South Asia's economic growth to slump

The World Bank has slashed its growth predictions for the South Asia region due to the coronavirus.




BBC News - Published





Bangladesh extends coronavirus lockdown, India's Modi mulls longer restrictions

In South Asia's latest moves to curb the coronavirus pandemic, Bangladesh has extended its nationwide lockdown by 11 days while Indian Prime Minister Narendra Modi will hold talks on Saturday with..




Reuters - Published





India ramps up coronavirus tests as South Asian cases top 12,000

India said on Friday it ramped up coronavirus testing as documented cases there rose above 6,700 and topped 12,000 across South Asia.




Reuters - Published





South Asian nations weigh tighter lockdowns as coronavirus cases hit 12,000

India accounts for more than half the tally of those infected with coronavirus across south Asia, which crossed 12,000 on Friday, government data showed, despite a harsh weeks-long clampdown to control..




Reuters - Published





India curbs diagnostic testing kit exports as virus spreads

India is restricting the export of most diagnostic testing kits, as coronavirus cases in the South Asian nation topped 3,350 on Sunday despite a three-week nationwide lockdown to slow the spread of the..




Reuters - Published





Indian officials warn of lockdown extensions as COVID-19 cases in South Asia near 6,000

The number of confirmed new coronavirus cases in South Asia neared 6,000 on Saturday, even as authorities in some cities tightened restrictions on movement and warned lockdowns could be extended in a..




Reuters - Published





Racing to stop coronavirus, India scours mosques to trace contacts with Delhi gathering

As coronavirus cases rose across densely-populated South Asia, authorities scoured mosques in northern India on Wednesday trying to trace people who attended the gathering of a Muslim group in New..




Reuters - Published




India cuts rates as distress mounts across South Asia over coronavirus

India's central bank slashed interest rates in an emergency move on Friday to counter the economic fallout from the coronavirus pandemic after the federal government locked down the country in order to..




Reuters - Published




Indian business and transport suspended during 14-hour lockdown

Hundreds of millions of Indians stayed at home on Sunday, heeding the prime minister's appeal for people to self-isolate to contain the coronavirus as confirmed cases in South Asia surged to 1,144 with..




Reuters - Published





One dead in Sri Lanka jail clash as South Asia tries to stem virus

One prisoner died and three others were injured when fighting broke out on Saturday in a Sri Lankan jail over rumors of coronavirus, as governments across South Asia tightened restrictions on movement..




Reuters - Published





Sri Lanka imposes curfew as South Asia steps up coronavirus battle

Sri Lanka imposed a nationwide weekend curfew on Friday as South Asian countries escalated efforts to check the spread of coronavirus across the densely populated region of 1.9 billion people.




Reuters - Published




India locks down Kashmir region on coronavirus fears, South Asian markets slide

India blocked roads in Kashmir on Thursday after the insurgency-torn region reported its first case of coronavirus, as several other parts of the country imposed restrictions on public gatherings in..




Reuters - Published





Flooded toilets, dirty sheets: South Asia quarantine centers worry experts

When Mrinal Sabharwal and his wife landed in New Delhi with hundreds of other passengers from Barcelona on Monday, they expected clean coronavirus quarantine facilities.




Reuters - Published




Pakistan urges calm as coronavirus cases surge, Sri Lanka stops flights

Pakistan's prime minister has urged calm after its tally of coronavirus cases rose to 245 while Sri Lanka sealed itself off and shut its stock market on Wednesday, fuelling fears that South Asian..




Reuters - Published





India shuts Taj Mahal; Pakistan cases rise after quarantine errors

India closed the Taj Mahal, its principal tourist site, and the financial hub of Mumbai ordered offices providing non-essential services to keep half their staff at home in increased measures to curb..




Reuters - Published




Coronavirus closes India's Taj Mahal, Mumbai to keep half its office workers home

India closed the Taj Mahal, its top tourist site, and the financial hub of Mumbai ordered offices providing non-essential services to keep half their staff at home as efforts to control the spread of..




Reuters - Published





India's Taj Mahal closed; Mumbai orders offices to keep half of workers at home

India closed the Taj Mahal, its top tourist site, and the financial hub of Mumbai ordered offices providing non-essential services to function at 50% staffing levels as efforts to control the spread of..




Reuters - Published





Crowded, poor South Asia sees steady rise in coronavirus cases

Health authorities across South Asia reported rising numbers of coronavirus cases on Monday, raising the prospect of rapidly spreading outbreaks overwhelming poor medical facilities in a region that is..




Reuters - Published




India proposes regional fund to fight coronavirus as cases exceed 100

India proposed setting up an emergency fund to fight the coronavirus outbreak in South Asia on Sunday, with New Delhi offering $10 million to get it going, as the number of confirmed infections in the..




Reuters - Published





India closes a border, extends travel curbs as regional coronavirus cases rise

India ramped up travel restrictions and closed a border with neighboring Myanmar to counter the coronavirus outbreak, as countries across South Asia reported a rise in cases on Wednesday.




Reuters - Published





As India coronavirus cases spike, experts daunted by prospect of South Asia spread

India has ramped up the screening of travelers to keep the coronavirus at bay but a flurry of new cases has experts warning that it may be hard to contain a spread in densely populated South Asia with..




Reuters - Published





The Kiwi-born Bayern player holding the hopes of South Asia

Sarpreet Singh is making waves in New Zealand and South Asia - as well as at his club Bayern Munich.




BBC News - Published





U.S. hails 'monumental day for Afghanistan' ahead of Taliban pact

Saturday is a "monumental day for Afghanistan", the United States embassy in Kabul said on Twitter, just hours before the signing of a pact with Taliban Islamist militants that could bring an end to an..




Reuters - Published




India to purchase over $3 billion defense equipment from U.S. - Trump

India will buy defense equipment worth more than $3 billion from the United States, President Donald Trump said on Monday, the second day of his three-day visit to the South Asian nation.




Reuters - Published




Pakistan expects reprieve at global anti-terror financing meeting

Pakistan hopes to secure a four-month reprieve at a global meeting on anti-terrorism financing in Paris on Friday where a decision whether or not to blacklist the South Asian nation is expected,..




Reuters - Published





The cassette that made me a secret daytime DJ

Moey Hassan describes how "daytimers" became the big thing for South Asian teens in 1980s Bradford.




BBC News - Published





Afghanistan says death of Islamic State leader delivers big blow to Afghan faction

Afghanistan welcomed the killing of Islamic State leader Abu Bakr al-Baghdadi as a major blow to terrorism that is expected to weaken the South Asian branch of the Middle Eastern militant group.




Reuters - Published