Africa
Continent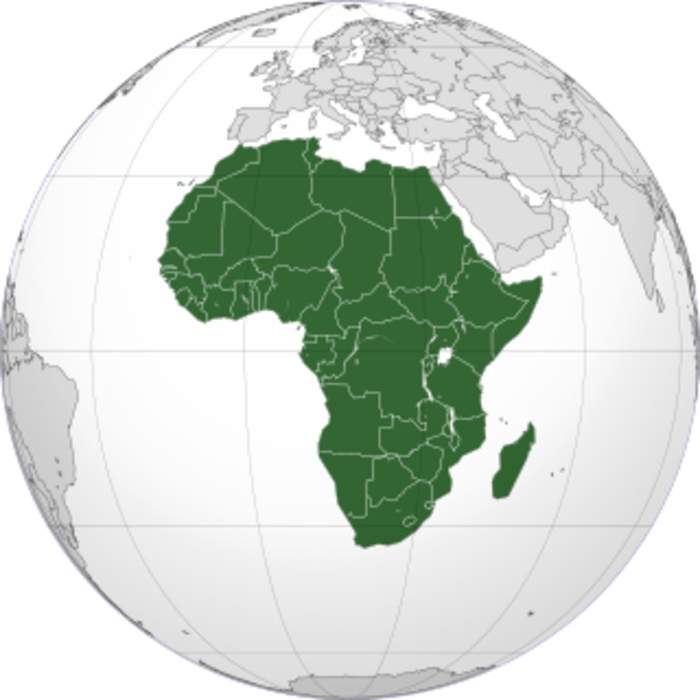 Africa is the world's second-largest and second-most populous continent, after Asia in both cases. At about 30.3 million km2 including adjacent islands, it covers 6% of Earth's total surface area and 20% of its land area. With 1.3 billion people as of 2018, it accounts for about 16% of the world's human population. Africa's population is the youngest amongst all the continents; the median age in 2012 was 19.7, when the worldwide median age was 30.4. Despite a wide range of natural resources, Africa is the least wealthy continent per capita, in part due to geographic impediments, legacies of European colonization in Africa and the Cold War, undemocratic rule and deleterious policies. Despite this low concentration of wealth, recent economic expansion and the large and young population make Africa an important economic market in the broader global context.


Tiger fishing in Zimbabwe: Catch and release helps preserve fish stocks

Conservationists say climate change, pollution, and over-fishing, have led to depleting fish stocks at Kariba, Africa's largest man-made lake.
Credit: Al Jazeera STUDIO Duration: 02:25
Published
Canary Islands migrants: Spain struggles as African arrivals rise

Local government is overwhelmed as 9,000 migrants from Africa arrive in the past month alone.
Credit: Al Jazeera STUDIO Duration: 01:58
Published
Israeli agents killed al Qaeda's No. 2 - NYT

Al Qaeda's second-in-command, accused of helping to mastermind the 1998 bombings of two U.S. embassies in Africa, was killed in Iran in August by Israeli operatives acting at the behest of the United..
Credit: Reuters Studio Duration: 01:17
Published
'Polypill' Dramatically Cuts Risk For Heart Attack And Stroke By 40%

A new medication has been found to reduce the risk of heart attack or stroke by up to 40%. The "polypill" mixes 3 blood pressure meds and a cholesterol-lowering drug has been found to lower heart..
Credit: Wochit News Duration: 00:32
Published
The new penguin colony that could save a species

South African researchers plan to release scores of abandoned, hand-reared African penguin chicks at the Western Cape's De Hoop nature reserve, boosting efforts to start a new breeding colony of the..
Credit: Reuters Studio Duration: 02:16
Published
Explained: France, Turkey and the cartoon dispute

Slights and barbs have marred relations between France's Emmanuel Macron and Turkey's Tayyip Erdogan for years, but the row over cartoons of the Prophet Mohammad has dragged them to a new low which..
Credit: Reuters - Politics Duration: 03:02
Published
European holidaymakers to blame for COVID second wave, says health expert

"Anybody who drives down the motorways in France in August will see the lines of Dutch caravans moving south, almost like a migration of animals in Africa," Martin McKee, Professor of European Public..
Credit: euronews (in English) Duration: 02:33
Published
Europe's week: Leaders face tough decisions amid second wave of COVID-19

This week EU leaders grappled with tough decisions on re-introducing restrictive measures amid an uptick in infections. Meanwhile, African countries appear to have been largely spared the mass outbreak..
Credit: Euronews English Duration: 06:55
Published
'Global financial crisis; rise of China, India led to economic rebalancing': S Jaishankar

During a webinar, External Affairs Minister S Jaishankar said that the year 2008 was a turning point in modern era marked by the global financial crisis and the rise of China, India and ASEAN, which..
Credit: HT Digital Content Duration: 03:40
Published
Contributing to rise of Africa is in India's strategic interest: EAM Jaishankar

External Affairs Minister S Jaishankar said that facilitating, contributing and partnering the rise of Africa is in our strategic interest. "If Africa becomes one of the poles of global politics, it is..
Credit: ANI Duration: 01:51
Published
African films going beyond stereotypes on Netflix

Netflix subscribers will have the chance to watch more authentic portrayals of African characters, rather than what ususally gets produced in Hollywood, with two new films from the continent appearing..
Credit: Reuters Studio Duration: 03:01
Published
EU's priorities in Africa should be rule of law, equality and democracy, says MEP

"Our priorities in Europe have to be the same in the agenda with Africa: equality, rule of law and democracy," said MEP Iratxe Garcia. View on euronews
Credit: euronews (in English) Duration: 02:50
Published
New portrait of Queen Victoria's African goddaughter

A new painting of Queen Victoria's African goddaughter, Sarah Forbes Bonetta, has gone on display. Her portrait is part of a project by English Heritage, to commission and display paintings of black..
Credit: ODN Duration: 01:25
Published
French MPs approve return of looted artefacts to Benin, Senegal

French legislators have unanimously passed a law to allow the return of 27 African antiques stolen from Senegal and Benin about 150 years ago.
Credit: Al Jazeera STUDIO Duration: 02:34
Published
France to vote on new law over returning stolen African artworks

The legislation would pave the way for the restitution of another 26 works to Benin and Senegal.
Credit: Al Jazeera STUDIO Duration: 02:23
Published
Meet the man 'seizing' African art from Western museums

Congolese activist Mwazulu Diyabanza is demanding that France return colonial artifacts and has begun 'seizing' African art from museums. Emer McCarthy reports.
Credit: Reuters Studio Duration: 02:12
Published
You Might Like



Africa's week in pictures: 13 - 19 November 2020

A selection of the week's best photos from across the continent.




BBC News - Published




Migrant crisis: Hundreds evicted from Gran Canaria port as arrivals surge

It follows a sharp rise in the number of people arriving in Spain's Canary Islands from Africa.




BBC News - Published





Africa basks in Booker boost for female writers

Maaza Mengiste and Tsitsi Dangarembga's shortlisting for a major prize is a boost for Africa's literary scene.




BBC News - Published





Letter from Africa: Culture clash over Nigeria's rival alphabets

A court case of the use of Arabic script on the local currency reveals deep cultural and religious divides.




BBC News - Published





Jerry John Rawlings: 'I'm just an ordinary, hungry, screaming Ghanaian'

Through decades of speeches and interviews, this is how Jerry John Rawlings spoke of his vision for Ghana and for Africa.




BBC News - Published





Letter from Africa: Why Nigerians fear social media sanctions

Politicians are debating a bill that some worry is an attempt to stifle activism after the #EndSars protests.




BBC News - Published





The Somali man who has a scorpion named after him

Somali environmentalist Ahmed Ibrahim Awale hopes it will inspire African researchers.




BBC News - Published





Unmasking the Pyramid Kings - Crowd1 scam targets Africa

Behind the promises and the hype, Crowd1 hides some ugly truths, some wealthy scammers, and a whole pyramid of lies.




BBC News - Published





Family of soldier killed by elephant in Malawi query his care

Mathew Talbot was charged at while taking part in a counter-poaching operation in Africa.




BBC News - Published





Trump and Africa: How Ethiopia was 'betrayed' over Nile dam

The US president has sided with Egypt in the escalating dispute over a mega dam, analysts say.




BBC News - Published





Climate change: 'Dangerous and dirty' used cars sold to Africa

Millions of polluting and unsafe used cars from rich nations are exported to Africa and Asia.




BBC News - Published





'Red, red wine': The meaning of African election symbols

Campaign colours and why they are so important for those in pursuit of power.




BBC News - Published





Mount Kilimanjaro fire: Firefighters struggle to contain Tanzania blaze

Firefighters in Tanzania are struggling to tackle a number of fires on Africa's highest mountain.




BBC News - Published





Why Africa's animation scene is booming

While the film sector struggles to produce new content, the global demand for animation has soared.




BBC News - Published





France fines Congo activist for seizing museum artefact

Emery Mwazulu Diyabanza said he had "come to claim back the stolen property of Africa".




BBC News - Published





Glen Snyman: South African accused of fraud for saying he's 'African'

The mixed-race South African teacher said he was "African" when applying for a headmaster's job.




BBC News - Published





US elections: The African evangelicals praying for Trump to win

They see the US president as a defender of religious freedom and their conservative values.




BBC News - Published





Gal Gadot's Cleopatra film sparks 'whitewashing' claims

Critics on social media say the role of Egypt's famed ruler should go to an Arab or African actress.




BBC News - Published





Kilimanjaro: Fire breaks out on Africa's tallest mountain

In Tanzania, efforts to put out the blaze on Kilimanjaro are hampered by strong winds.




BBC News - Published





Spain's Canary Islands see new influx of African migrants

More than 1,000 have arrived in recent days and this year has seen a big increase from 2019.




BBC News - Published





Africa 'needs $1.2tn' to recover coronavirus losses

The economic damage caused by coronavirus leaves the continent with a big repair bill, the IMF says.




BBC News - Published





Coronavirus in Africa: Five reasons why Covid-19 has been less deadly than elsewhere

The continent of a billion people has had fewer deaths than the UK despite the generally fragile health systems.




BBC News - Published





Portrait of Queen Victoria's African goddaughter goes on show

English Heritage said it would feature portraits of "overlooked" black figures connected with its sites.




BBC News - Published





Rwanda's clothing spat with the US helps China

As the African nation continues to ban the import of used US clothes, China takes advantage.




BBC News - Published





Nigeria turns 60: Can Africa's most populous nation remain united?

Nigeria's greatest challenge on its 60th anniversary remains its diversity, writes Adaobi Tricia Nwaubani.




BBC News - Published





Activists on trial over attempt to steal African staff

The leader of the group said they had come to claim Africa's stolen property from a Paris museum.




BBC News - Published





Nigeria's independence: Six images from six decades

Africa's most populous country is set to mark 60 years of independence from British rule.




BBC News - Published





Coronavirus: Age and climate seen as behind Africa's low cases

The continent has been spared the surge in coronavirus cases seen elsewhere in the world.




BBC News - Published





Coronavirus: Health chief hails Africa's fight against Covid-19

Africa has had fewer cases than Europe, Asia or the Americas, with numbers continuing to decline.




BBC News - Published





Six African heritage sites under threat from climate change

A recent study warns that without intervention many of the continent's ancient sites could be lost.




BBC News - Published





Uganda Makerere University fire: 'Ivory Tower' gutted

An overnight blaze leaves a distinctive building at one of Africa's oldest universities a shell.




BBC News - Published





The Covid 'virus blockers' that do not do anything

BBC Africa explains the facts behind 'protective badges' that some politicians have been wearing.




BBC News - Published





Letter from Africa: Behind Ghana and Nigeria's love-hate affair

Why the current tensions over the closure of some Nigerian-owned shops in Ghana should come as no surprise.




BBC News - Published





Jessica Krug: George Washington University professor resigns

Jessica Krug, who focused on Africa and the African diaspora, had admitted in a blog she was white.




BBC News - Published





World Trade Organization: How an African head could make a difference

An African has never been at the helm of the global trade body, but that could soon change.




BBC News - Published





Letter from Africa: Why journalists in Nigeria feel under attack

A video of a tongue-lashing one reporter recently received comes as no surprise, writes Mannir Dan Ali.




BBC News - Published





Coronavirus in Africa: Could poverty explain mystery of low death rate?

Experts are reaching towards a startling hypothesis about the continent's low infection and death rates.




BBC News - Published





Letter from Africa: Why Kenyans are no longer cheering their constitution

It is a time of reflection 10 years after the country was promised a rebirth, writes Waihiga Mwaura.




BBC News - Published





Africa to be declared free of wild polio in 'milestone'

Rumours and misinformation about the vaccine slowed down immunisation efforts.




BBC News - Published





Coronavirus in Africa: 'Signs of hope' as cases level off

Health experts express "cautious optimism" that "the curve is beginning to bend" in Africa.




BBC News - Published





Elephant shrew rediscovered in Africa after 50 years

The last scientific record of the "lost species" of elephant shrew was in the 1970s.




BBC News - Published





Coronavirus: Ten African innovations to help tackle Covid-19

Coronavirus has inspired Africans to create a wide range of inventions to help fight the pandemic.




BBC News - Published