Kashmir
Former princely state, now a conflict territory between India and Pakistan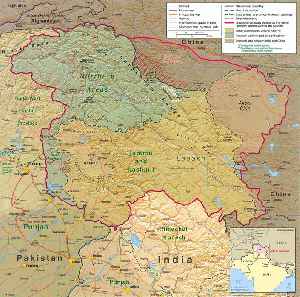 Kashmir is the northernmost geographical region of the Indian subcontinent. Until the mid-19th century, the term "Kashmir" denoted only the Kashmir Valley between the Great Himalayas and the Pir Panjal Range. Today, it denotes a larger area that includes the Indian-administered territory of Jammu and Kashmir, the Pakistani-administered territories of Azad Kashmir and Gilgit-Baltistan, and Chinese-administered territories of Aksai Chin and the Trans-Karakoram Tract.


Pakistan requests U.N. Security Council meeting on Kashmir
Pakistan has asked the United Nations Security Council for an urgent meeting on the contested Kashmir region also claimed by India, according to a letter released by Pakistan's foreign ministry on..
Reuters - Published
Search this site and the web:
You Might Like