Andrew Yang
American entrepreneur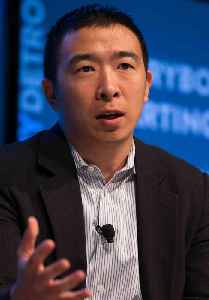 Andrew M. Yang is an American entrepreneur and former presidential candidate. Originally a corporate lawyer, Yang began working in startups and early stage growth companies as a founder or executive from 2000 to 2009. In 2011, he founded Venture for America (VFA), a nonprofit organization focused on creating jobs in cities struggling to recover from the Great Recession. He then ran as a candidate in the 2020 Democratic presidential primaries.


You Might Like
Andrew Yang Bonded with 'Warm, Friendly' Sen. Kamala Harris Early in Campaign
Andrew Yang is a big fan of Sen. Kamala Harris as a candidate, but more importantly, as a person ... and says they bonded early, when he was a political unknown. The former presidential candidate..
TMZ.com - Published
Former Democratic candidate Andrew Yang endorses Joe Biden's presidential run
Andrew Yang, the businessman who ended his bid for the 2020 Democratic presidential nomination last month, on Tuesday endorsed Joe Biden's run for president.
Reuters - Published
Former Democratic presidential hopeful Yang joins CNN as commentator
Former Democratic presidential contender Andrew Yang is joining CNN as a political commentator, the cable network said on Wednesday.
Reuters - Published
Where will the Yang Gang go next?
Andrew Yang attracted among the most loyal supporters in the race. So where will they go next?
BBC News - Published
Businessman Andrew Yang ends eclectic presidential bid
Andrew Yang, an entrepreneur whose unlikely White House bid evolved into a serious campaign thanks to grassroots enthusiasm, pulled out of the Democratic presidential race on Tuesday after New..
Reuters - Published
How a New Hampshire family spent Andrew Yang's 'Freedom Dividend'
A New Hampshire family that received a $1,000-a-month "freedom dividend" for a year from the campaign of Democratic presidential contender Andrew Yang spent most of the money on college bills - but..
Reuters - Published
Andrew Yang's wife says gynaecologist sexually assaulted her
Evelyn Yang is one of 31 women suing a gynaecologist over allegations of sexual assault.
BBC News - Published
U.S. Democratic presidential candidate Yang raises $16.5 million in fourth quarter for bid
Democratic U.S. presidential candidate Andrew Yang raised $16.5 million in the fourth quarter, his campaign said on Thursday, well ahead of the nearly $10 million he collected in the third.
Reuters - Published
Entrepreneur Andrew Yang's quixotic U.S. presidential campaign gets serious
Entrepreneur Andrew Yang knows most people initially viewed his candidacy for U.S. president – and his campaign promise to guarantee every American a basic, government-funded income – as a gimmick.
Reuters - Published
Andrew Yang: The 'Asian math guy' trying to be next US president
Andrew Yang's pledge of $1,000-a-month for every American has piqued the interests of many US voters.
BBC News - Published