Andrew Yang
American entrepreneur and presidential candidate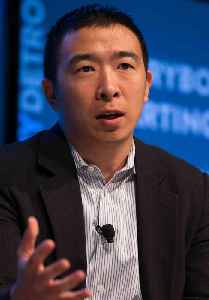 Andrew Yang is an American 2020 Democratic presidential candidate, entrepreneur, lawyer, and philanthropist. He is the founder of Venture for America (VFA), a nonprofit that focuses on creating jobs in struggling American cities. Yang worked in various startups and early stage growth companies as a founder or executive from 2000 to 2009. After he founded VFA in 2011, the Obama administration selected him in 2012 as a "Champion of Change" and in 2015 as a "Presidential Ambassador for Global Entrepreneurship". Yang is the author of the 2014 book Smart People Should Build Things and the 2018 book The War on Normal People.


Entrepreneur Andrew Yang's quixotic U.S. presidential campaign gets serious
Entrepreneur Andrew Yang knows most people initially viewed his candidacy for U.S. president – and his campaign promise to guarantee every American a basic, government-funded income – as a gimmick.
Reuters - Published
Andrew Yang: The 'Asian math guy' trying to be next US president
Andrew Yang's pledge of $1,000-a-month for every American has piqued the interests of many US voters.
BBC News - Published
November Debate Spells Death For Beto Campaign
The DNC increased the threshold for the November Presidential debate. The Washington Examiner reports that failed Senatorial candidate Beto O'Rourke will not make the cut. O'Rourke hit the donor..
Credit: Wochit News Duration: 00:33Published
Downturn would be 'good for my campaign' -Yang
Democratic presidential candidate Andrew Yang on Friday (September 27) said that an economic downturn 'would likely be good' for his campaign, since he is 'so focused' on the issue. Rough cut (No..
Credit: Reuters Studio Duration: 01:02Published
Democratic debate sets up Biden-Warren face-off
Democrats will hold a single debate for 10 U.S. presidential contenders on Thursday but the spotlight will likely be on frontrunner Joe Biden and Elizabeth Warren, whose support rose more than that of..
Credit: Reuters Studio Duration: 02:19Published
Presidential Candidate Andrew Yang Talks About Geoengineering
During a seven-hour town hall about climate change, Democratic presidential candidates outlined their positions. Andrew Yang stood out from other candidates with his idea of geoengineering research...
Credit: Wochit News Duration: 00:32Published
Search this site and the web:
You Might Like