Coronavirus
Subfamily of viruses in the family Coronaviridae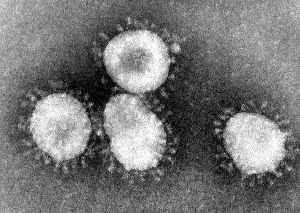 Coronaviruses are a group of RNA viruses that cause diseases in mammals and birds. In humans and birds, they cause respiratory tract infections that can range from mild to lethal. Mild illnesses in humans include some cases of the common cold, while more lethal varieties can cause SARS, MERS, and COVID-19. In cows and pigs they cause diarrhea, while in mice they cause hepatitis and encephalomyelitis. There are as yet no vaccines or antiviral drugs to prevent or treat human coronavirus infections.


Government could tighten national lockdown measures

Amid a rise in coronavirus cases in England, reports have emerged that theGovernment is considering a return to tighter national lockdown measures.Under a so-called "circuit break", extra..
Credit: PA - Press Association STUDIO Duration: 02:04
Published
Corona-mafia? Organised crime setting sights on EU Recovery Fund, experts warn

Davide Del Monte urges to keep 'the eyes open' as Italy is set to get the largest share of the €750 billion EU Recovery Fund. #Coronavirus #Recovery FundView on euronews
Credit: euronews (in English) Duration: 03:12
Published
Former Pence aide says she's voting for Biden

A former White House aide who helped coordinate the Trump administration's response to the coronavirus pandemic sharply criticized President Donald Trump in a video released on Thursday and said she..
Credit: Reuters - Politics Duration: 02:05
Published
Johnson warns increase in coronavirus among elderly could lead to rising death toll

Coronavirus cases among the elderly and in care homes are rising as BorisJohnson admitted there was insufficient capacity in the testing system. ThePrime Minister faced MPs as the Government was..
Credit: PA - Press Association STUDIO Duration: 00:59
Published
Boris Johnson: Coronavirus is gaining ground

Prime Minister Boris Johnson insists that the Government's 'rule of six'policy for group sizes in England is necessary as "the disease is gainingground and we have a very clear means to suppress it".
Credit: PA - Press Association STUDIO Duration: 00:51
Published
'It's a disaster': Shops in Brussels struggling for post-lockdown trade

The Coronavirus plunged stores into uncertainty and despite reopening, many haven't been able to bring their staff back on board.
Credit: Euronews English Duration: 02:50
Published
Mexico celebrates independence with traditional cry

Coronavirus was not enough to stop Mexicans marking their country's independence day on Tuesday (September 15).
Credit: Reuters Studio Duration: 01:14
Published
Scientists predict that COVID-19 will become a seasonal virus - but not yet

A new review published in Frontiers in Public Health suggests that COVID-19, the illness caused by the SARS-CoV-2 virus, will likely become seasonal in countries with temperate climates, but only when..
Credit: ANI Duration: 01:09
Published
CDC Casts Light On Profile Of US Children Killed By COVID-19

The US Centers for Disease Control and Prevention has released new data about the deaths of young people from the novel coronavirus COVID-19. According to UPI, three out of four young people who died..
Credit: Wochit News Duration: 00:41
Published
Coronavirus: 'Rule of six' explained

Most social gatherings of more than six people are now banned in the UK, in anattempt by the Government to curb the spike of Coronavirus cases. Police nowhave the power to break up groups more than..
Credit: PA - Press Association STUDIO Duration: 01:58
Published
B-town celebs spotted in Mumbai amid COVID-19

Bollywood actress Kiara Advani was spotted at Juhu, outside a studio for dubbing of her upcoming film 'Laxmmi Bomb'. Nora Fatehi was clicked by paparazzi in Bandra. Sonali Bendre posed for shutterbugs..
Credit: ANI Duration: 01:27
Published
94,372 new cases take India's COVID tally to 47.54 lakh

Coronavirus cases continue to mount in the country as 94,372 fresh infections were added to the 2nd highest COVID-19 tally in the world on September 13. Total cases in India are now 47,54,357 which..
Credit: ANI Duration: 01:36
Published
Corona ambulance running on Ludhiana roads for free COVID testing

Mobile testing vans, under state government are conducting COVID-19 tests on Ludhiana roads. Currently, 4 corona ambulances are running across the city to ensure easy accessibility for testing. These..
Credit: ANI Duration: 02:50
Published
JEE Main Result 2020 announced by NTA: Check results on this website

National Testing Agency (NTA) has released the topper list for JEE Main result 2020. A total of 24 candidates have scored perfect 100 percentile. The examination was conducted from September 1 to 6..
Credit: HT Digital Content Duration: 01:16
Published
Trump didn't want to create a 'panic' over COVID-19

U.S. President Donald Trump on Wednesday pushed back against revelations that he downplayed the coronavirus' severity throughout the pandemic, saying he acted in ways to reduce panic among Americans.
Credit: Reuters Studio Duration: 01:17
Published
U.S. COVID-19 deaths near 190,000

Cases are surging in Iowa and South Dakota, and the top U.S. infectious disease expert warned "we need to be doing much better." This report produced by Zachary Goelman.
Credit: Reuters - Politics Duration: 01:34
Published
Study: Relax, Taking Ibuprofen Won't Make COVID-19 More Severe

In the early days of the novel coronavirus COVID-19 pandemic, it was believed using NSAID painkillers like ibuprofen could worsen the disease. But now, UPI reports a new study from Denmark, published..
Credit: Wochit News Duration: 00:34
Published
COVID-19: Confirmed infections nearing 43 lakh-mark, over 5 crore samples tested

After reporting record breaking numbers for the past few days, India on September 08 saw a rise of 75,809 coronavirus cases and 1,133 deaths in the last 24 hours. The country had reported a spike of..
Credit: ANI Duration: 01:51
Published
You Might Like



Coronavirus: What are social distancing and self-isolation rules?

Coronavirus cases are increasing, so what are the rules on social distancing?




BBC News - Published




US budget deficit soars to $3tn record

Coronavirus aid programmes have prompted the gap between spending and tax receipts to explode.




BBC News - Published





Coronavirus prompts surge in people wanting to be nurses

Mike Blackham lost his job in the beauty industry during the pandemic and felt inspired by nursing.




BBC News - Published





Former Lead Singer Of The Temptations Bruce Williamson Dead at 50 from Coronavirus

Bruce Williamson, the lead singer of the Temptations, has died from coronavirus. Bruce died Sunday night at his home in Vegas after battling COVID. Williamson's son posted an emotional tribute .....




TMZ.com - Published





Coronavirus case could mean all year group out of school

Secondary schools in England might switch to rotas in areas with rising levels of Covid-19.




BBC News - Published





Coronavirus outbreak in Staffordshire linked to bingo event

People thought to have contracted Covid-19 at a working men's club went on to drink in other pubs.




BBC News - Published





Northern lockdown: Coronavirus restrictions eased in Wigan, Rossendale and parts of Blackburn

Areas are first to have rules relaxed following implementation of measures amid rising infection rates last month




Independent - Published





Coronavirus: Birmingham council to get power to shut businesses

Birmingham City Council will have the power to close businesses that do not follow Covid-19 rules.




BBC News - Published





Coronavirus: Nottinghamshire woman, 75, 'first positive test within UK'

The woman is also believed by scientists to be the first in the UK to die after contracting Covid-19.




BBC News - Published





Man who believed virus was hoax loses wife to Covid-19

A couple from Florida did not follow health guidelines after believing lies about the virus online.




BBC News - Published





13 Dead in Stampede at Peru Nightclub Operating Illegally due to Coronavirus

13 people died in a wild stampede early Sunday in Peru, after cops tried to shut down a nightclub that was operating illegally in the middle of the coronavirus pandemic in the country. The video shows..




TMZ.com - Published





Coronavirus tracked: How trust in Boris Johnson compares to Trump and other leaders during pandemic

New poll shows UK leader scores below Trump and other leaders when it comes to empathy




Independent - Published





Coronavirus 'heroes' switch on Blackpool Illuminations

The Illuminations creative curator Laurence Llewelyn-Bowen says the nominations were "truly humbling".




BBC News - Published





Coronavirus news - live: Nationwide Covid infection study extended as Heathrow develops testing centre in bid to end quarantine

Follow the latest developments




Independent - Published





Coronavirus: Fighting fake news in a refugee camp

These young refugees cycle round the camp in South Sudan to provide trusted information on Covid-19.




BBC News - Published





China and trade: Breaking up is hard to do

Coronavirus has forced firms to rethink supply lines, but can they reduce their reliance on China?




BBC News - Published





Coronavirus: Ten African innovations to help tackle Covid-19

Coronavirus has inspired Africans to create a wide range of inventions to help fight the pandemic.




BBC News - Published





Coronavirus news - live: Thousands in pre-dawn scramble to beat France quarantine as bowling alleys and soft play centres to reopen in England

Ferry arrives in Newhaven just minutes before 4am deadline




Independent - Published





Coronavirus: Second consecutive day over 1,000 new cases in UK for first time since June

In 24-hour period up to 9am, a further 1,009 cases of Covid-19 were recorded




Independent - Published





Coronavirus spread fear of Sheffield carer who went untested

Alison Taylor fears she may have been unwittingly responsible for spreading Covid-19 to care homes.




BBC News - Published





Coronavirus: New Zealand locks down Auckland after cases end 102-day run

Four family members test positive for Covid-19 in Auckland, where a lockdown has now been imposed.




BBC News - Published





Coronavirus and South Africa's toxic relationship with alcohol

A ban on drinking highlights a legacy of the country's racist past but threatens it economic future.




BBC News - Published





Coronavirus severely restricts Antarctic science

Keeping Covid out of Antarctica means little research will be done on the continent in 2020-2021.




BBC News - Published





Coronavirus news - live: UK ready to extend quarantine to France after more countries added and Rishi Sunak 'completely' rules out extending furlough scheme

Travellers returning to UK from Belgium, Andorra and Bahamas must now quarantine for 14 days after overnight announcement




Independent - Published





Coronavirus tracked: Where in the UK are infection rates spiking?

Several new hotspots appear to be emerging in areas throughout the country




Independent - Published




Coronavirus tracked: Top 20 worst affected local authority areas for Covid-19 infections in England

Blackburn with Darwen has highest infection rate, with 78.6 cases per 100,000 people




Independent - Published





Eat out to help out: Coronavirus scheme offering UK diners 50% off begins

The offer is valid at more than 72,000 eateries on Mondays to Wednesdays throughout August.




BBC News - Published





Coronavirus: Media to be barred from Trump election nomination

Coronavirus health guidelines are cited as the reason for holding this month's vote in private.




BBC News - Published





Matt Hancock sees coronavirus not as a threat but as an opportunity, just like the Great Fire of London

Coronavirus has given the NHS tremendous opportunities for innovation, the biggest opportunity in Europe




Independent - Published





Coronavirus tracked: How do infection rates in Spain and UK compare?

Britain reimposed a quarantine order on travellers from Spain after a spike in cases, but some of the countty's key tourist hotspots have infection rates lower than parts of UK




Independent - Published





Coronavirus: How it turned the tables on Ghana's diaspora

Coronavirus has given Ghanaians a new perspective on the pull of living abroad.




BBC News - Published





Coronavirus 'most severe health emergency' WHO has faced

The WHO says the world has made huge efforts to suppress the virus, but there's still a long road ahead.




BBC News - Published





Coronavirus: UK confirms first case of 'very rare' infection in pet cat

The virus responsible for Covid-19 has been detected in a pet cat in the UK for the first time.




Independent - Published





Coronavirus causes fall in Sheffield Children's Hospital fundraising

A charity which raises funds for Sheffield Children's Hospital says fundraising is set to fall by £2.5m.




BBC News - Published





Dalian Atkinson: Coronavirus delays murder-accused PC's trial

Former footballer Dalian Atkinson died after he was Tasered by police in Telford in 2016.




BBC News - Published





Lanarkshire: Coronavirus cluster investigated amid reports of outbreak at contact tracing centre

NHS officials looking into 'potentially linked cases' in Scotland




Independent - Published





Leicester academic questions lockdown approach for BAME groups

Coronavirus cases continued to rise among BAME groups in Leicester in the weeks following lockdown.




BBC News - Published





Coronavirus has boosted support for Welsh independence, Plaid Cymru leader claims

'In the midst of this dark cloud there is a silver lining,' says Adam Price




Independent - Published





Coronavirus surged as nightlife returned in Arizona

Jimmy Flores used to think coronavirus was "fake news" until he ended up in hospital.




BBC News - Published





Coronavirus: Nations heading in wrong direction with Covid-19, says WHO

Mixed messages from leaders are undermining public trust in the virus response, warns the WHO chief.




BBC News - Published





Britons overwhelmingly want NHS privatisation to end after coronavirus crisis, survey finds

Exclusive: Coronavirus crisis has revived debate over making health service fully public-sector operated, says think tank




Independent - Published





Include all care workers in NHS' fast-track mental health service, Labour says

Coronavirus crisis has heightened existing problems with stress and anxiety, says Rosena Allin-Khan




Independent - Published





Yemen: Coronavirus aid loss 'harming millions of children'

"Huge shortfalls" in aid due to coronavirus could lead to mass starvation, UN charity warns.




BBC News - Published





Coronavirus struck as households were still dealing with hangover from last financial crisis following 'unprecedently bad decade', IFS says

'The years following the great recession do not provide a good blueprint for a bounce-back' after coronavirus, researcher warns




Independent - Published





'Coronavirus hit our business like a hidden tsunami'

Singapore is slowly emerging from its coronavirus lockdown, but Modesto's pizza parlour is closing its doors for good.




BBC News - Published





Coronavirus tracked: UK cases pass 300,000 as world sees record surge in new infections

Major outbreaks across Asia and South America contributed to a record high number of global cases




Independent - Published





Coronavirus was already in Italy by December, waste water study finds

Scientists say samples from Milan and Turin showed virus traces long before cases were confirmed.




BBC News - Published





Coronavirus 'a blessing in disguise', homeless people say

"It makes me wonder why we couldn't get this kind of support before", one rough sleeper says.




BBC News - Published





South Africa's battle to protect women against violence

Coronavirus has worsened the growing crisis of gender-based violence in the country.




BBC News - Published





Coronavirus cases in Florida, Arizona spike after record-setting day in six states

Coronavirus cases spiked in Arizona and Florida on Wednesday, a day after those states and four others reported record daily increases of new infections.




Reuters - Published