The Independent
British online daily newspaper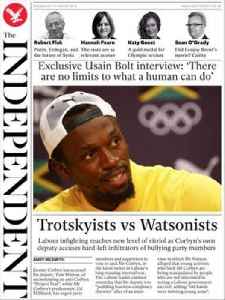 The Independent is a British online newspaper. Established in 1986 as a politically independent national morning newspaper published in London, it was controlled by Tony O'Reilly's Independent News & Media from 1997 until it was sold to Russian oligarch Alexander Lebedev in 2010. The last printed edition of The Independent was published on Saturday 26 March 2016, leaving only its digital editions.


Kosovo president says EU will 'lose a lot of substance' after Brexit as he eyes membership
Interview: The Independent's Diplomatic Editor Kim Sengupta sat down with the President of Kosovo to discuss Brexit, the prospect of peace between Kosovo and Serbia, and the case for joining Nato.
Independent - Published
Search this site and the web:
You Might Like