Amy Klobuchar
United States Senator from Minnesota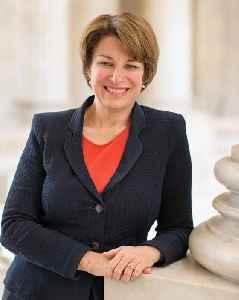 Amy Jean Klobuchar is an American lawyer and politician serving as the senior United States senator from Minnesota since 2007. A member of the Minnesota Democratic–Farmer–Labor Party (DFL), Minnesota's affiliate of the Democratic Party, she previously served as the Hennepin County attorney. She announced her candidacy for the Democratic nomination for President of the United States in the 2020 election on February 10, 2019; on March 2, 2020, she suspended her campaign and endorsed Joe Biden.


Klobuchar Drops Out of VP Race to Make Room for a Woman of Colour

On Thursday, Senator Amy Klobuchar removed herself as a contender to be Joe Biden's running mate.
Credit: Cover Video STUDIO Duration: 01:04
Published
Klobuchar Withdraws From Veep Contest

Business Insider reports that Sen. Amy Klobuchar has withdrawn from the running to be former Vice President Joe Biden's vice president. On Thursday, she spoke to MSNBC's Lawrence O'Donnell. She said..
Credit: Wochit News Duration: 00:29
Published
Klobuchar pulls back from Biden's VP search

U.S. Senator Amy Klobuchar effectively pulled herself from Joe Biden's search for a running mate on Thursday, saying the position should go to a woman of color instead. Gloria Tso reports.
Credit: Reuters - Politics Duration: 01:21
Published
Who will Joe Biden pick as running mate?

Here are some of the nearly dozen candidates who are likely under consideration, as former Vice President Joe Biden faces fresh calls to choose a black woman as his running mate. Lisa Bernhard reports.
Credit: Reuters Studio Duration: 03:11
Published
Klobuchar's Ties To Cop Cash

Amy Klobuchar wants to be Joe Biden's VP. But, according to Business Insider, her ties to law enforcement may hamper her chances to get the job. Police union and law enforcement PACs have given $15,000..
Credit: Wochit News Duration: 00:40
Published
Klobuchar Still In Running For VP

Joe Biden has not named a running mate as yet. Senator Amy Klobuchar is still in the running for the job. The NY Post Klobuchar ranks her 6th on the list to become Biden's running mate. Klobuchar and..
Credit: Wochit News Duration: 00:46
Published
Klobuchar's VP Chances Plummet

Amy Klobuchar's chances of becoming Joe Biden's running mate have taken a significant hit as widespread racial unrest roils her home state. That's according to Democrats who spoke to CNN. Klobuchar was..
Credit: Wochit News Duration: 00:36
Published
Who Are Biden's Top VP Prospects?

Joe Biden has started the vetting process to choose a running mate for the Democratic ticket. Reuters reports the process expected to wrap up by July. Who are some of the names on the list? Senator..
Credit: Wochit News Duration: 00:40
Published
You Might Like



Minnesota to toughen murder charge in George Floyd case, charge three other officers, Klobuchar says

Minnesota's attorney general will increase the murder charge against a fired Minneapolis police officer in the death of an unarmed black man that has triggered nationwide protests and will level..




Reuters - Published




Biden urged to pick black VP, not Klobuchar as Minneapolis killing stokes racial tensions

Joe Biden is facing fresh calls to choose a black woman for his running mate amid rising racial tensions after this week's videotaped killing of an unarmed black man by a white Minneapolis police..




Reuters - Published




Moderate Democrats close ranks as Buttigieg, Klobuchar endorse Biden

Former rivals Pete Buttigieg and Amy Klobuchar endorsed Joe Biden's presidential candidacy on Monday on the eve of Super Tuesday voting, as moderate Democrats rallied around the former vice president..




Reuters - Published




Klobuchar, Buttigieg to join Biden on stage on Super Tuesday eve

Former Vice President Joe Biden's Democratic presidential bid picked up steam on Monday with the endorsements of two former 2020 rivals - Pete Buttigieg and Amy Klobuchar - who planned to join him on..




Reuters - Published




Moderate Klobuchar's 'stealth campaign' for U.S. presidency comes to an end

Amy Klobuchar, a U.S. senator from Minnesota whose wit and straightforward Midwestern style won key endorsements and bolstered her long-shot campaign, is ending her bid for the Democratic presidential..




Reuters - Published




Biden lands backing of former rivals Klobuchar, Buttigieg ahead of Super Tuesday

Former Vice President Joe Biden's quest for the Democratic presidential nomination was set to pick up the endorsements of two former rivals on Monday, as Amy Klobuchar became the third candidate to end..




Reuters - Published




Factbox: Five Democrats remain in fight for U.S. presidential nomination

The field of candidates seeking the U.S. Democratic presidential nomination dropped to five with Monday's departure of U.S. Senator Amy Klobuchar of Minnesota as the race now heads to voters in 14..




Reuters - Published




Amy Klobuchar ends bid for U.S. 2020 Democratic presidential nomination

Democrat Amy Klobuchar, a U.S. senator from Minnesota, is ending her bid for the Democratic presidential nomination and endorsing rival Joe Biden, her campaign confirmed on Monday.




Reuters - Published




Amy Klobuchar ends bid to challenge Trump

The moderate Minnesota senator is expected to endorse Joe Biden.




BBC News - Published





U.S. Democrat Klobuchar's campaign raised $5.5 million in January

U.S. Senator Amy Klobuchar's presidential campaign raised $5.5 million in January, leaving her with $2.9 million at the end of the month, according to disclosures her campaign filed on Thursday.




Reuters - Published





U.S. election: Klobuchar up, three men out

Democratic presidential hopeful Amy Klobuchar raised $2.5 million in the hours after her third-place finish in the New Hampshire primary, her campaign said on Wednesday, a boost as she tries to beef up..




Reuters - Published




Sanders, Buttigieg, Klobuchar locked in close race in New Hampshire: Edison Research

U.S. Senator Bernie Sanders, former South Bend, Indiana Mayor Pete Buttigieg and U.S. Senator Amy Klobuchar appear to be locked in a close race for the lead in the New Hampshire Democratic primary,..




Reuters - Published




On eve of New Hampshire Democratic vote, Klobuchar gains ground on Sanders and Buttigieg

A day before New Hampshire votes in its Democratic presidential primary, Bernie Sanders and Pete Buttigieg sought on Monday to build on their strength as front-runners in an up-for-grabs race as an..




Reuters - Published




Klobuchar gains ground in New Hampshire; Sanders holds lead in polls

A day before New Hampshire votes in its Democratic presidential primary, Bernie Sanders and Pete Buttigieg sought on Monday to build on their strength as front-runners in an up-for-grabs race as an..




Reuters - Published





'We feel the surge' Klobuchar says in New Hampshire; Sanders remains favorite

U.S. Democratic presidential contenders Bernie Sanders and Pete Buttigieg made their closing pitches to voters as the front-runners in New Hampshire on Monday, with an energized Senator Amy Klobuchar..




Reuters - Published





Sanders, Buttigieg lead in New Hampshire; Klobuchar gains ground

Democratic presidential contenders Pete Buttigieg and Bernie Sanders began the last full day of campaigning in New Hampshire on Monday hoping to build on their momentum after topping the field in the..




Reuters - Published





Stuck in Washington, 2020 Democratic senators send family, Ocasio-Cortez to barnstorm Iowa

Bernie Sanders scrapped Iowa campaign appearances, Amy Klobuchar sent campaign representatives to "hot dish" dinners and Elizabeth Warren planned a remote video speech as the Democratic U.S. senators..




Reuters - Published





Democrat Klobuchar on diversity and taking on Trump in the 2020 presidential race

Democratic presidential contender Amy Klobuchar is banking on a strong showing in Iowa's first-in-the-nation nominating contest on Feb. 3 to jump-start her path to the party's nomination.




Reuters - Published




Blitzing Buttigieg: Democratic U.S. presidential rivals train debate attacks on young mayor

If either Elizabeth Warren or Amy Klobuchar is going to win the 2020 Democratic U.S. presidential nomination, they will have to take down Pete Buttigieg to do it.




Reuters - Published




Democratic presidential hopeful Klobuchar sets out tough stance on China, Russia

Democratic presidential candidate Amy Klobuchar on Wednesday said she would rebuild U.S. foreign alliances and take tougher stances on U.S. relations with China and Russia than President Donald Trump..




Reuters - Published





Presidential hopeful Klobuchar wants community college to be free but not four-year college

U.S. Senator Amy Klobuchar wants to make community college and programs designed to teach technical trades free, but stopped short of joining fellow Democratic hopefuls in backing proposals that would..




Reuters - Published





U.S. Democratic hopeful Amy Klobuchar proposes drug cost plan aimed at seniors

Democratic presidential hopeful Amy Klobuchar unveiled a new plan on Friday to help lower the cost of pharmaceuticals purchased by seniors in the wake of the White House scrapping its own ambitious..




Reuters - Published




Democrat Klobuchar announces plan to help U.S. teachers and students

Democratic presidential candidate Amy Klobuchar rolled out a plan on Friday to provide additional resources for America's public school teachers and students as she and her rivals seek the support of..




Reuters - Published





Democratic presidential hopeful Klobuchar details top policy goals

U.S. Senator Amy Klobuchar unveiled on Tuesday a 137-point list of priorities she would address in her first 100 days in office if elected president, a sweeping set of policies she is highlighting as..




Reuters - Published