Jeremy Hunt
British Conservative politician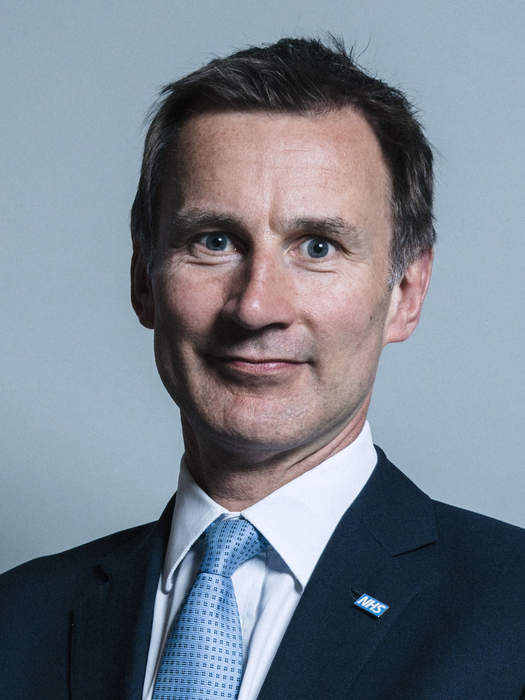 Jeremy Richard Streynsham Hunt is a British politician serving as Member of Parliament (MP) for South West Surrey since 2005. A member of the Conservative Party, he served in the Cabinet from 2010 to 2019, most recently as Foreign Secretary from 2018 to 2019. He identifies as a one-nation conservative, and has been associated with economically liberal and socially liberal policies. Hunt was a candidate for Leader of the Conservative Party, and Prime Minister, in the 2019 leadership contest, losing to Boris Johnson.


Jeremy Hunt on whether universities went back too early

Former Health Secretary Jeremy Hunt has said that the government was "absolutely right" in its decision to reopen universities amid the coronavirus pandemic. Report by Patelr. Like us on Facebook..
Credit: ODN Duration: 00:30
Published
Hunt on govt response to pandemic: 'We got things wrong'

Jeremy Hunt has admitted that the government has "got things wrong" in its response to the Covid-19 pandemic, but highlighted the importance of "learning from those lessons". Report by Patelr...
Credit: ODN Duration: 00:50
Published
You Might Like



Jeremy Hunt warns Boris Johnson patient care will suffer if NHS reorganisation goes ahead

Former health secretary dismisses claims that structures hindered pandemic response - saying 'I don't think this was to do with NHS England'




Independent - Published





Former health secretary Jeremy Hunt says Dominic Cummings broke three lockdown rules

Former health secretary Jeremy Hunt has added to the torrent of criticism of Dominic Cummings by saying he broke lockdown rules in three separate ways.




Independent - Published





Coronavirus news you may have missed overnight: Jeremy Hunt attacks advice given to ministers as unions warn businesses need fortnight to prepare for return to work

He argued that it was clear there had been a "major blindspot" in the approach to the virus taken in Europe and America, as both continents prepared for pandemic flu, not pandemic coronaviruses such as..




Independent - Published





Coronavirus guidance to government 'one of biggest failures of scientific advice in our lifetime,' Jeremy Hunt says

Lives could have been saved, former health secretary says




Independent - Published





Coronavirus: Brexit will make it harder to fight future pandemics, Jeremy Hunt warns

Head of Commons health committee also raises alarm over UK missing out on benefits of new clinical trials




Independent - Published





Coronavirus: Government rejected advice on NHS protective equipment three years before epidemic

Labour says 2017 decision – made when Jeremy Hunt was health secretary – leaves 'serious questions' for ministers to answer




Independent - Published





Coronavirus: Former Tory health secretary Jeremy Hunt hits out at Boris Johnson's 'surprising and concerning' response to outbreak

'You would have thought that every single thing we do in that four weeks would be designed to slow the spread of people catching the virus,' says senior Conservative MP




Independent - Published





Coronavirus: UK's approach 'concerning', says Jeremy Hunt

The former health secretary criticises the government's decision not to introduce stricter measures.




BBC News - Published





Former health secretary Jeremy Hunt wins seat on committee scrutinising government's NHS performance

'Over nearly a decade in frontline politics, the NHS has always been my greatest political passion'




Independent - Published





Trump may have miscalculated and 'dangerous' killing of Iran's Soleimani could trigger war, says former UK foreign secretary

Jeremy Hunt warns of 'dangerous game of chicken' in Middle East - calling assassination of general 'extreme'




Independent - Published





Boris Johnson dismantles cabinet in reshuffle, building government around people who delivered Brexit vote

Sajid Javid became first Muslim chancellor, while Jeremy Hunt walked out of government after rejecting move to defence




Independent - Published





UK's Hunt quits government after leadership rival Johnson takes office

British foreign secretary Jeremy Hunt said on Wednesday he was quitting the government after new prime minister and recent leadership rival Boris Johnson asked him to take a different ministerial role.




Reuters - Published




Jeremy Hunt turns down job in Boris Johnson's cabinet

Former foreign secretary Jeremy Hunt has left the government after turning down a job offered him by prime minister Boris Johnson.




Independent - Published





UK foreign minister Hunt's job in doubt: Sky

British Foreign Secretary Jeremy Hunt was offered the job of defense minister by incoming Prime Minister Boris Johnson but he turned it down, Sky reported.




Reuters - Published




Boris Johnson news - live: New prime minister to enter Downing Street and appoint cabinet amid 'row with Jeremy Hunt over role'

Follow all the latest updates from Westminster




Independent - Published





Boris Johnson: What the new prime minister's cabinet shake-up will look like

The new Conservative leader promised to 'energise' the country after defeating Jeremy Hunt in the race to succeed Theresa May




Independent - Published





Boris Johnson wins race to be UK Tory leader and PM

He beat Jeremy Hunt in a ballot of party members and will enter Downing Street on Wednesday.




BBC News - Published




Where did Jeremy Hunt go wrong in the Tory leadership race?

Hunt was too aware of risks of a no-deal Brexit to compete with Boris Johnson's optimism




Independent - Published





New UK prime minister: Johnson and Hunt await Conservative leadership vote

Tory members will choose either Boris Johnson or Jeremy Hunt as Theresa May's successor in No 10.




BBC News - Published





UK Tory leadership result to be announced

Tory members will choose either Boris Johnson or Jeremy Hunt as Theresa May's successor in No 10.




BBC News - Published





Britain says won't compromise on freedom of navigation in Strait of Hormuz

There cannot be compromise on freedom of navigation in the Strait of Hormuz and Britain can work with the United States on its approach to the issue despite their differing views on the 2015 Iran..




Reuters - Published




Iran tanker crisis: Jeremy Hunt announces joint European task force to protect British ships

Foreign secretary accuses Iran of taking part in 'state piracy' as he condemns seizure of the Stena Impero




Independent - Published





Voting to close in UK Tory leadership contest

Party members have until Monday evening to return their ballots for Jeremy Hunt or Boris Johnson.




BBC News - Published





Iran tanker seizure raises serious questions for international shipping: UK's Hunt

Iran's seizure of a British-flagged tanker raises very serious questions for British and international shipping in the Strait of Hormuz, foreign minister Jeremy Hunt said on Saturday.




Reuters - Published




Detained British-flagged tanker must go through legal process: Iran foreign minister

The detained British-flagged tanker Stena Impero must go through a legal process because it violated maritime regulations, Iran's Foreign Minister Mohammad Javad Zarif told British Foreign Minister..




Reuters - Published




UK's Hunt expresses 'extreme disappointment' to Iran's Zarif over seized tanker

British foreign minister Jeremy Hunt said he had spoken to his Iranian counterpart Mohammad Javad Zarif and expressed his "extreme disappointment" over Iran's seizure of a British-flagged tanker in the..




Reuters - Published




UK's Hunt says Iran may be on 'dangerous path' after seizing tanker

British foreign minister Jeremy Hunt said on Saturday that he was worried that Iran had taken a "dangerous path" after it seized a British-flagged tanker on Friday.




Reuters - Published




Britain will be considered but robust toward Iran: Hunt

British Foreign Secretary Jeremy Hunt said London would respond in a considered but robust way to the seizure of a British tanker by Iranian guards, and warned that Tehran would be the biggest loser if..




Reuters - Published




Britain warns of consequences if Iran does not return ships

British Foreign Secretary Jeremy Hunt said on Friday there would be consequences if Iran did not return control of ships seized in the Strait of Hormuz, Sky News reported.




Reuters - Published




Chance of no-deal Brexit rises as Johnson leads Hunt: poll

The chance that Britain will leave the European Union without a deal is the highest since October 2017, economists polled by Reuters say, as arch-Brexiteer Boris Johnson looks set to take over as prime..




Reuters - Published




UK foreign minister calls U.S. 'send her back' chanting deeply concerning: TV

British Foreign Secretary Jeremy Hunt said on Thursday that chants at a President Trump rally of "send her back" were deeply concerning, Channel 5 reported.




Reuters - Published





Brexit: European holiday costs could soar by £225 per person as a result of no deal, campaigners warn

Warning comes as Tory leadership rivals Boris Johnson and Jeremy Hunt are blamed for slump in value of sterling




Independent - Published





Tory leadership debate: Boris Johnson and Jeremy Hunt condemn Trump tweets but fail to call them racist

Conservative leadership contenders Boris Johnson and Jeremy Hunt have condemned Donald Trump's attack on a group of congresswomen - but neither would go as far as to call the comments racist.




Independent - Published





Theresa May refuses to criticise police for warning journalists not to publish Kim Darroch leaks

Both Boris Johnson and Jeremy Hunt attacked threat of media prosecutions – but the prime minister 'won't comment'




Independent - Published





Britain's Hunt says 'small window' to save Iran nuclear deal

British Foreign Secretary Jeremy Hunt said on Monday that there was still time to save the Iran nuclear deal and that despite the United States being Britain's closest ally it disagreed on how to..




Reuters - Published




EU powers warn Iran it must limit uranium enrichment to keep nuclear deal alive

Jeremy Hunt vows to do 'everything in my power' to stop Tehran getting the bomb, as he heads for talks with EU counterparts




Independent - Published





Iran will continue its oil exports under any conditions: Iran foreign minister

Iran will continue its oil exports under any conditions, Iran's Foreign Minister Mohammad Javad Zarif told his British counterpart Jeremy Hunt in a telephone call on Saturday, according to a statement..




Reuters - Published




UK to facilitate release of Iranian tanker if it gets Syria guarantees: Hunt

British foreign minister Jeremy Hunt told his Iranian counterpart on Saturday that Britain would facilitate the release of the detained Grace 1 oil tanker if Tehran gave guarantees it would not go to..




Reuters - Published





Andrew Neil has ruthlessly exposed Boris Johnson as a phoney and a fraud. But it won't make any difference

Meanwhile, Jeremy Hunt was told off like the school head boy — and he very nearly even said sorry




Independent - Published





Tory leadership: Jeremy Hunt 'expects' Brexit by Christmas

But leadership rival Boris Johnson says the UK will leave the EU on 31 October "come what may".




BBC News - Published





UK says it does not want to increase tension with Iran

Britain is not seeking to escalate the situation with Iran, foreign minister Jeremy Hunt said on Friday, as tensions continue between London and Tehran over a seized Iranian tanker and the passage of..




Reuters - Published





Iran tensions show Royal Navy needs to be strengthened, says Jeremy Hunt

'When you look at this week's events it shows that in recent decades we have run down the navy too much,' says PM hopeful




Independent - Published