José Mourinho
Portuguese association football player and manager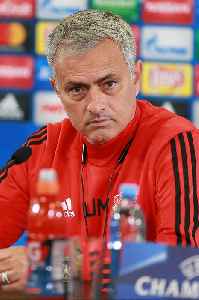 José Mário dos Santos Mourinho Félix, GOIH, is a Portuguese professional football coach and former player who currently works at Sky Sports as a pundit. He most recently served as manager of English club Manchester United. As a manager, Mourinho has won 25 major honours, making him one of the most successful managers of all time. He was named Portuguese Coach of the Century by the Portuguese Football Federation (FPF) in 2015, and was the first coach to spend more than £1 billion on transfers. Due to his tactical knowledge, charismatic and controversial personality, and what his opponents regard as an emphasis on getting results over playing beautiful football, he has drawn comparisons, by both admirers and critics, with Argentine manager Helenio Herrera. He is regarded as one of the greatest managers of all time.


'I'm not going to rush a singles return' - Murray keeps calm after doubles win
Andy Murray on his singles dilemma, winning the doubles at Queen's, his plans for Eastbourne this week, and hugs from football manager Jose Mourinho.
BBC News - Published
Manchester United: Was Jose Mourinho right about state of club?
Jose Mourinho had numerous complaints during his tenure as Manchester United manager, but have events since proved his point?
BBC News - Published
Lampard's Chelsea train for Super Cup clash with Liverpool
Frank Lampard's side will be without defender Antonio Rudiger and winger Willian when they take on European champions Liverpool in Istanbul.
Credit: Reuters - Sports Duration: 01:22Published
Ole Gunnar Solskjaer appointed Man Utd boss: How his dream became reality
When Jose Mourinho's future was in the balance, Ole Gunnar Solskjaer was not among the candidates to succeed him. How did he go from no-hoper to shoo-in?
BBC News - Published
'I am preparing myself for the next one' - Mourinho eyes June return to management
Former Manchester United boss Jose Mourinho says he wants to return to management in the summer, but is waiting for the right job.
BBC News - Published
José Mourinho to host own football show on Russian network RT
The Manchester United ex-manager is to provide Champions League analysis in a fortnightly programme.
BBC News - Published
Jose Mourinho tax fraud settled in multi-million deal
The ex-Manchester United boss received a suspended prison sentence and €2m in fines.
BBC News - Published
Has Mourinho been left behind by modern football?
Rival managers, sports psychologists and insiders feel football has overtaken Jose Mourinho, so what next for the Portuguese, asks Guillem Balague.
BBC News - Published
Pogba is Man Utd captain material - Solskjaer
Paul Pogba is Manchester United captain material, says interim boss Ole Gunnar Solskjaer, despite Jose Mourinho taking the job off him earlier this season.
BBC News - Published
You Might Like