Bank
Financial institution which accepts deposits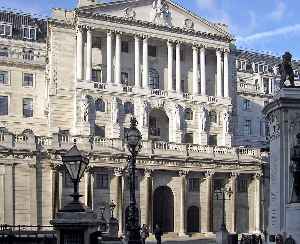 A bank is a financial institution that accepts deposits from the public and creates credit. Lending activities can be performed either directly or indirectly through capital markets. Due to their importance in the financial stability of a country, banks are highly regulated in most countries. Most nations have institutionalized a system known as fractional reserve banking under which banks hold liquid assets equal to only a portion of their current liabilities. In addition to other regulations intended to ensure liquidity, banks are generally subject to minimum capital requirements based on an international set of capital standards, known as the Basel Accords.


Lebanese broadcaster LBCI: banks will return to work on Tuesday
Banks in Lebanon will reopen on Tuesday after a week-long closure, local broadcaster LBCI reported on Monday, following a bank employee union's revision of new security measures.
Reuters - Published
Bank workers in Lebanon to remain on strike on Monday: union
Bank workers in Lebanon will remain on strike on Monday, the president of the Federation of Syndicates of Bank Employees told broadcaster MTV on Sunday, extending industrial action that has kept banks..
Reuters - Published
Banks will seek to stop money leaving Lebanon when doors reopen: sources
Lebanon's banks will seek to prevent capital flight when they open on Friday but without imposing formal capital controls after a two-week closure due to nationwide protests which led the prime..
Reuters - Published
As protests grip Lebanon, banks to stay shut until calm returns
Banks in Lebanon will stay closed for safety reasons until stability returns, the banking association said on Thursday, as protesters flood the streets demanding the government resigns.
Reuters - Published
Factbox - Blockchain projects: A status update
Banks, exchange operators and other companies are investing billions of dollars to find uses for blockchain, a digital ledger used by cryptocurrencies like bitcoin.
Reuters - Published
Banks boost Wall Street with G20 in focus
U.S. stocks rose on Friday, as big banks gained after clearing the Federal Reserve's stress test, while investors kept a watch on the G20 summit where a meeting between Presidents Donald Trump and Xi..
Reuters - Published
You Might Like