Staffordshire
County of England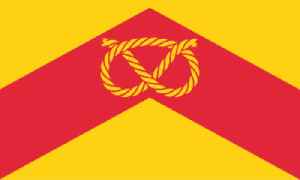 Staffordshire is a landlocked county in the West Midlands of England. It borders Cheshire to the northwest, Derbyshire and Leicestershire to the east, Warwickshire to the southeast, West Midlands and Worcestershire to the south, and Shropshire to the west.


Work begins on new police memorial

Construction work has begun on the new UK Police Memorial to be built at the National Memorial Arboretum in Staffordshire. The fathers of PCs Fiona Bone and Nicola Hughes - Greater Manchester Police..
Credit: PA - Press Association STUDIO Duration: 01:31
Published
You Might Like



UK weather: Rain, wind and flood warnings bring heatwave to an end

Yellow weather warnings have been issued in Staffordshire, Birmingham, Warwickshire, Loughborough and Nottingham




Independent - Published





Coronavirus: Up to 950 JCB jobs at risk as 'demand halves'

The staff roles are under threat at the firm's 10 plants in Staffordshire, Derbyshire and Wrexham.




BBC News - Published





JCB staff return to work as Staffordshire production resumes

Staff at JCB's world headquarters return to work as lockdown measures are eased across England.




BBC News - Published





Tyres fly-tipped in road near Minnie Pit memorial

Residents are left in tears after the 7ft heap of waste was fly-tipped overnight in Staffordshire.




BBC News - Published





Coronavirus: Twenty-four deaths at Staffordshire care home

The owner describes the past three weeks as "truly heart-breaking for everyone involved".




BBC News - Published





Two men burned in Goodwin Steel foundry, Staffordshire

One of the men is in a critical condition and the other has minor injuries, police say.




BBC News - Published





Dog walker in Sutton Coldfield faces missing pets prosecution

Louise Lawford is accused of losing at least five dogs in her care last June in woods in Staffordshire.




BBC News - Published





Hundreds donate toys for boy to leave on Staffordshire graves

Owen Osborne-Williams has been leaving stuffed toys on the graves of children for the past five years.




BBC News - Published





General election 2019: Staffordshire young farmer's technology call

A young farmer calls on the next government to help promote technology in the sector.




BBC News - Published





Cannock puppy farm probe: Mission to rehome dogs begins

Loving homes are being sought for dozens of dogs recovered from an address in Staffordshire.




BBC News - Published





Tokyo Olympics 2020: Ben Williams says it was 'unfinished business' that kept him going

Staffordshire triple jumper Ben Williams looks Tokyo-bound for next year's Olympic Games - but admits he came close to quitting.




BBC News - Published





Staffordshire special schools face residential care cuts

Funding cuts threaten "vital" residential care at special schools, teachers and parents say.




BBC News - Published





Keeley Bunker death: Man remanded after woodland body murder charge

Wesley Streete, 19, is accused of murdering a woman whose body was found in Staffordshire woodland.




BBC News - Published





Dachshund puppies stolen from Staffordshire farm

Owner Caroline Johnson says she hopes whoever has the dogs is feeding them and keeping them warm.




BBC News - Published





M6 motorway in Staffordshire shut after lorry crash

Tailbacks on the motorway are replicated on surrounding roads as drivers seek escape routes.




BBC News - Published





Bodies of man and woman found in Staffordshire house

A two-year-old child also inside the property is being cared for by relatives, police said.




BBC News - Published





Manchester puppy theft: Machete-wielding men steal seven dogs

The five-week-old Staffordshire cross dogs might not survive without their mother, police say.




BBC News - Published





Staffordshire students graduate on Alton Towers rollercoaster

A university graduation ceremony with a difference takes place - on a rollercoaster.




BBC News - Published





Man dies after being pulled from reservoir in Staffordshire

Teenage girl safe after pair seen struggling in water




Independent - Published





Couple spends £150 a month to feed Staffordshire swans

A couple has been feeding the birds every day for 10 years.




BBC News - Published





Flooding threatens Staffordshire farmer's potato crop

Andrew Lockhart says consumers may end up paying the price if rain causes a potato shortage.




BBC News - Published