Labrador Retriever
Dog breed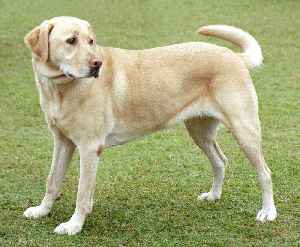 The Labrador Retriever, or just Labrador, is a large type of retriever-gun dog. The Labrador is one of the most popular breeds of dog in Canada, the United Kingdom and the United States.


Kent woman praises medical detection dog for saving life
Pal the Labrador warns his diabetic owner if he smells changes in her blood sugar.
BBC News - Published
Labrador who had special high-chair to eat has died
Buck the Labrador struggled to hold down food until a specialist chair was built for him.
BBC News - Published
Labrador retriever fetches top U.S. dog breed honor for record 28th year
The loyal and dependable Labrador Retriever hung on for the 28th year in a row to the title of America's most popular dog in 2018. Rough Cut (no reporter narration).
Credit: Reuters Studio Duration: 01:29Published
List Of The Easiest Dogs To Have
If you're interested in buying or adopting a hassle-free pup, there are certain breeds that could be appealing. Although every dog is different, Mother Nature Network put together a list of some dogs..
Credit: Wochit News Duration: 00:43Published
Search this site and the web:
You Might Like