Shropshire
County of England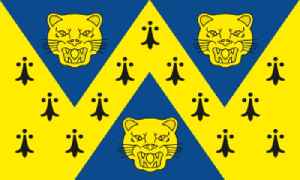 Shropshire
(; alternatively
Salop
; abbreviated, in print only,
Shrops
; demonym
Salopian
sə-

LOH

-pee-ən
, is a county in England, bordering Wales to the west, Cheshire to the north, Staffordshire to the east, and Worcestershire and Herefordshire to the south. Shropshire Council was created in 2009, a unitary authority taking over from the previous county council and five district councils. The borough of Telford and Wrekin has been a separate unitary authority since 1998 but continues to be included in the ceremonial county.
Victorian town museum ready to reopen

Blists Hill Victorian Town is preparing to welcome visitors when it reopens on Saturday. The Ironbridge Gorge Museums attraction near Telford, Shropshire, is introducing various social distancing and..
Credit: PA - Press Association STUDIO Duration: 00:55
Published
You Might Like



Shropshire baby deaths: Police investigation into hospital trust

An independent review into the deaths at Shrewsbury and Telford Hospital NHS Trust is also ongoing.




BBC News - Published





Rose Paterson: Aintree Racecourse chairman dies, aged 63

Tributes are paid to Rose Paterson, the chairman of Aintree Racecourse, who has been found dead at her Shropshire home.




BBC News - Published





The sailing club making waves on the water once more

Members of Chelmarsh Sailing Club in Shropshire are able to return to their sport after lockdown.




BBC News - Published





Wild ponies of Long Mynd in Shropshire 'keep me going'

A photographer says watching animals' interaction has brought comfort as people keep apart.




BBC News - Published





Whittington Castle in Shropshire is facing closure after Covid-19 lockdown

Whittington Castle trustees launch an appeal to save the Shropshire landmark.




BBC News - Published





Shropshire maternity care inquiry could include 1,200 cases

Families who wish to have their maternity care investigated urged to make contact by end of May.




BBC News - Published





Coronavirus: Shropshire shire horses become lockdown Twitter stars

Thousands watch videos of Joe, William and Alfie at work on a heritage farm in Shropshire.




BBC News - Published





Shropshire mum turns isolation into second Christmas

Three-year-old Thomas spent Christmas in hospital, so his family and neighbours gave him a special surprise.




BBC News - Published





Coronavirs: DJ entertains Shropshire neighbours from driveway

Sticking to social distancing rules, Steve Chase organised a party for his whole street.




BBC News - Published





Coronavirus: Shropshire flood recovery 'stalled'

Weeks after their homes were damaged by rising water, many people are now self-isolating.




BBC News - Published





Food for Shropshire community delivery service stolen in raid

Thieves targeted a hotel in Shropshire, stealing £1,200 worth of produce, bosses said.




BBC News - Published





Shropshire baby deaths: Trust will return £1m it received for 'good care'

Shrewsbury and Telford NHS trust received almost £1m despite an inquiry into preventable baby deaths.




BBC News - Published




Shropshire Bronze Age pendant bought by British Museum

It is one of the most significant pieces of Bronze Age gold metalwork ever found in Britain.




BBC News - Published





Worcester and Shropshire flooding 'not over yet'

Almost the whole length of the River Severn in England is still at flood warning level.




BBC News - Published





Storm Jorge: Flood-hit areas braced for more severe weather

A "critical incident" is declared in south Wales, while engineers repair defences in Shropshire.




BBC News - Published





England floods: George Eustice defends government response

On a visit to flood-hit Shropshire, George Eustice says decisions have been made "in a timely way".




BBC News - Published





Treasure finds 'important to Shropshire's story'

A mix of Iron and Bronze Age axe heads in one hoard is "groundbreaking", according to an expert.




BBC News - Published





Shropshire 'flood bus' helps people trapped in village

A publican is using an ex-army truck to help get people in and out of a village cut off by floods.




BBC News - Published





Anstice Memorial Hall: 'Best ballroom outside Blackpool' refurbished

Dancing is back on the bill at Anstice Memorial Hall, a former working men's club in Shropshire.




BBC News - Published





Woman, 23, wins farmhouse in Valentine's Day raffle

Jemma Nicklin won Shrubbery Farm House in Shropshire in a Valentine's Day draw.




BBC News - Published





Shropshire Council appoints £1k-a-day potholes consultant

An external company is already undertaking Shropshire's road maintenance in a £147m deal.




BBC News - Published





Shropshire bus firm criticised over Veganuary decision

Bus firm Arriva says the vegan posters were removed as an "agreed procedure" was not adhered to.




BBC News - Published





Scale of Shropshire maternity failings 'may never be known'

Hundreds of families have contacted an inquiry into mother and baby deaths at an NHS hospital trust.




BBC News - Published





More families come forward in Shropshire maternity inquiry

Campaigners say 25 new cases have emerged since the leak of a report into maternity care in Shropshire.




BBC News - Published





Teenager launches Smiles for Scoliosis at hospital in Oswestry

Lottie O'Byrne launched Smiles for Scoliosis after the operation to straighten her curved spine in Shropshire.




BBC News - Published





Archie Spriggs death: Father's fears before murder 'dismissed' by Shropshire social services

Matthew Spriggs tried to protect his son before he was killed by his mum, an inquest hears.




BBC News - Published





Flooding causes travel disruption in Wales and Shropshire

There have been rescues from cars - including a mother and child - and rail disruption due to flooding.




BBC News - Published





Minor earthquakes shake Shropshire

The tremor was described as a "really deep, earthy rumbling", the British Geological Survey says




BBC News - Published





Climate change damaging purple heather: National Trust

Acres of once-purple heather on the Long Mynd in Shropshire and Holnicote on Exmoor turns brown.




BBC News - Published





Roman-era hacksilver treasure hoard found in Shropshire

The haul is only the sixth hoard of Roman hacksilver found in Britain and is declared treasure.




BBC News - Published





Shropshire boy sets up fund to help siblings of cancer patients

Callum Finazzi was eight when younger brother Liam was diagnosed with a rare form of leukaemia.




BBC News - Published





School-run dad picks up sons in restored Scorpion tank

Ben Kaye and the boys' grandfather surprised children at a Shropshire primary school.




BBC News - Published





How To Train Your Dragon author joins Shropshire housing row

Writer Cressida Cowell says new homes will spoil an ancient site that has inspired her fiction.




BBC News - Published





Jimmy the Mower: Shropshire's lawnmower man gets Wembley invite

A contractor whose Wembley-worthy pitch for children went viral is invited to the stadium.




BBC News - Published





'Oh my god, he's here': Teenager recalls moment controlling and jealous stepfather shot her mother dead

Daughter of Cheryl Hooper relives attack outside their home in Newport, Shropshire




Independent - Published