Bahrain
Kingdom on the Persian Gulf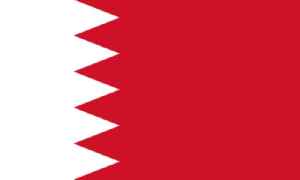 Bahrain, officially the Kingdom of Bahrain, is a sovereign state in the Persian Gulf. The island nation comprises a small archipelago made up of 40 natural islands and an additional 51 artificial islands, centered around Bahrain Island which makes up around 83 percent of the country's landmass. The country is situated between the Qatari peninsula and the north eastern coast of Saudi Arabia, to which it is connected by the 25-kilometre (16 mi) King Fahd Causeway. According to the 2010 census, Bahrain's population is over 1.2 million, of which around half are non-nationals. At 780 square kilometres (300 sq mi) in size, it is the third-smallest nation in Asia after the Maldives and Singapore. The capital and largest city is Manama.


Israel normalisation deals: Palestinians lament new agreement with Emirates and Bahrain


Credit: FRANCE 24 English Duration: 01:35
Published
Donald Trump presides as Israel and Arab states sign historic pacts

Donald Trump has presided over the signing of historic diplomatic pactsbetween Israel and two Gulf Arab nations. The US president hopes the move willlead to a new order in the Middle East and cast him..
Credit: PA - Press Association STUDIO Duration: 01:19
Published
US, UAE, Israel and Bahrain sign Abraham Accord

The President of United State, Donald Trump, Prime Minister of Israel Benjamin Netanyahu, Foreign Minister of the UAE Abdullah bin Zayed Al Nahyan, and Foreign Minister of Bahrain Abdullatif bin Rashid..
Credit: ANI Duration: 02:00
Published
UAE, Bahrain sign deal with Israel at White House

[NFA] The United Arab Emirates and Bahrain on Tuesday became the latest Arab states to break a longstanding taboo by signing agreements toward normalizing relations with Israel in a strategic..
Credit: Reuters Studio Duration: 02:21
Published
UAE and Bahrain sign historic deals in US with Israel

President Donald Trump has hosted a White House ceremony with leaders of the UAE and Bahrain but without the Palestinians.
Credit: Al Jazeera STUDIO Duration: 19:53
Published
Peace deals mark 'dawn of a new Middle East' -Trump

The United Arab Emirates and Bahrain signed agreements on Tuesday for normalizing relations with Israel, becoming the latest Arab states to break a longstanding taboo in a strategic realignment of..
Credit: Reuters Studio Duration: 01:41
Published
Israel-UAE-Bahrain accords burnish Trump's 'deal-maker' credentials


Credit: FRANCE 24 English Duration: 03:16
Published
Palestinians reject Israel-Bahrain deal

Palestinians in Gaza burned pictures of Israeli, U.S., Bahraini and United Arab Emirates leaders on Saturday in protest over the two Gulf countries' moves to normalize ties with Israel. Fred Katayama..
Credit: Reuters - Politics Duration: 01:17
Published
Bahrain recognises Israel: move comes a month after UAE-Israel deal


Credit: FRANCE 24 English Duration: 04:19
Published
Bahrain follows UAE to normalise ties with Israel

Palestine recalls Bahrain envoy, denounces latest deal as 'another treacherous stab to the Palestinian cause'.
Credit: Al Jazeera STUDIO Duration: 02:26
Published
You Might Like



Trump hails 'dawn of new Middle East' with UAE-Bahrain-Israel deals

The president hosts a ceremony marking deals between Israel and Gulf states Bahrain and the UAE.




BBC News - Published





Five reasons why Israel's peace deals with the UAE and Bahrain matter

Gulf states see opportunities for trade while Israel lessens its isolation, writes Jeremy Bowen.




BBC News - Published





Israel and Bahrain agree to normalise relations

Bahrain becomes the latest Arab country to establish diplomatic ties with Israel, following UAE deal.




BBC News - Published





Formula 1 2020: Turkey, Bahrain and Abu Dhabi confirmed to conclude season

Formula 1 has named Turkey, Bahrain and Abu Dhabi as the three countries that will host four races to conclude the 2020 season.




BBC News - Published





Giant Robot Mistaken for Monarch of Bahrain's Bodyguard

An 8-foot robot is getting a lot of attention online ... for the wrong reasons. There's video of the contraption -- AKA Titan -- barreling through the International Defense Exhibition in Abu Dhabi last..




TMZ.com - Published





UK government under pressure to intervene after Bahrain upholds death sentences for pro-democracy activists 'tortured into confessions'

British-funded agencies in Middle East country have dropped a probe into abuse of detainees




Independent - Published





McLaren set to secure Bahraini bank loan to solve cash-flow problems

McLaren is poised to secure a loan from the National Bank of Bahrain to solve its cash-flow problems, BBC Sport has learned.




BBC News - Published





Coronavirus: Alarm over 'invasive' Kuwait and Bahrain contact-tracing apps

Kuwait and Bahrain's apps put users' privacy and security at risk, Amnesty International says.




BBC News - Published





Nabeel Rajab: Bahraini human rights activist freed from jail

The UN has been among those calling for Nabeel Rajab's release from prison.




BBC News - Published





Bahrain releases leading rights activist Nabeel Rajab: lawyer

Bahrain has released leading human rights activist Nabeel Rajab after a court agreed to pass an alternative sentence to the jail term he is currently serving, his lawyer said on Tuesday.




Reuters - Published




Bahrain eases coronavirus restrictions, Saudis announce hefty fines

Shops and industrial enterprises in Bahrain can open from Thursday while restaurants will stay closed to in-house diners, the Health Ministry said, as the Gulf state eases restrictions designed to stop..




Reuters - Published





Bahrain eases coronavirus restrictions, shops, industries to open

Shops and industrial enterprises in Bahrain can open from Thursday while restaurants will stay closed to in-house diners, the Health Ministry said, as the Gulf state eases restrictions designed to stop..




Reuters - Published





Bahrain extends closure measures for two weeks starting April 23

Bahrain extended the closure measures it took to limit the spread of coronavirus for two additional weeks which set to start from April 23 until May 7, state news agency reported on Wednesday.




Reuters - Published





Bahrain sets up coronavirus ICU in military hospital car park

Bahrain has converted the multi-storey car park of a military hospital into a 130-bed intensive care unit for patients with COVID-19, the respiratory disease caused by the new coronavirus, and plans to..




Reuters - Published





Gulf's migrant workers left stranded and struggling by coronavirus outbreak

Charity workers are scouring the United Arab Emirates for empty buildings and Bahrain is repurposing closed schools to rehouse low income labourers from overcrowded accommodation, a hotspot for the..




Reuters - Published





In overcrowded cells, Bahrain's political prisoners fear coronavirus threat

When jailed Bahraini activist Abdullah Habeeb Swar developed a bad cough that lasted several days, his 14 cell mates feared he might have contracted the coronavirus and would spread it through their..




Reuters - Published





UAE to clear streets for coronavirus disinfection drive, Bahrain evacuates citizens

The United Arab Emirates will halt all public transport and restrict people's movements in the evening for a weekend nationwide disinfection campaign starting Thursday to curb the spread of the new..




Reuters - Published





Bahrain prime minister returns from medical treatment in Germany

Bahrain's Prime Minister Sheikh Khalifa bin Salman al Khalifa returned to the kingdom after medical treatment in Germany, the state news agency BNA said on Friday.




Reuters - Published





Hundreds of Bahrainis stuck in Iran as evacuation plans stall

Hundreds of Bahraini pilgrims are stranded in Iran, epicenter of the coronavirus outbreak in the Middle East, as Bahrain struggles to evacuate its citizens from a country with which it has no..




Reuters - Published





Saudis told to stay home as Bahrain reports Gulf's first coronavirus death

Bahrain reported the Arab Gulf's first death from the coronavirus on Monday and Saudi Arabia urged its citizens to stay at home as the region broadened measures to shield populations and economies from..




Reuters - Published





Bahrain reports first Gulf death from coronavirus

Bahrain reported the Gulf's first death from the coronavirus on Monday and the energy-producing region broadened measures to shield populations and economies from the outbreak.




Reuters - Published




Coronavirus: F1 season set to be suspended until May with Bahrain and Vietnam races called off

The Formula 1 season is set to be suspended until May with the Bahrain and Vietnam Grands Prix expected to be cancelled due to coronavirus concerns.




BBC News - Published





Bahrain accuses Iran of 'biological aggression', Gulf states try to curb coronavirus

Bahrain accused Iran on Thursday of "biological aggression" by covering up the spread of the coronavirus and failing to stamp the passports of Bahraini travelers.




Reuters - Published




Qatar and Bahrain record jump in coronavirus cases, Kuwait bans flights

Qatar reported 238 more coronavirus infections among individuals under quarantine in a residential compound on Wednesday, the latest Gulf state to record new cases in a regional outbreak that prompted..




Reuters - Published





Bahrain records 77 new coronavirus cases among evacuees from Iran

Bahrain's health ministry said on Wednesday 77 new coronavirus cases had been recorded among citizens evacuated from Iran by plane this week.




Reuters - Published





Saudi Arabia suspends travel to and from nine countries including UAE, Bahrain and Egypt

Saudi Arabia suspended travel to nine countries for its citizens and residents amid coronavirus fears and suspended the entry of people from those countries or anyone who has been there in the past 14..




Reuters - Published





Bahrain asks people arriving from four countries to self-quarantine: tweet

Bahrain has called on people who have traveled to Lebanon, Egypt, Italy or South Korea to self-quarantine for two weeks from the day of their arrival, the Health Ministry said in a tweet on Saturday.




Reuters - Published





Saudi Arabia limits arrivals from UAE, Kuwait, Bahrain to airports over coronavirus: SPA

Saudi Arabia limited on Saturday land crossings with the United Arab Emirates, Kuwait, and Bahrain to commercial trucks only, with arrivals from the three countries temporarily limited to three..




Reuters - Published




Saudi Arabia announces second coronavirus case for a citizen coming from Iran through Bahrain

Saudi Arabia on Wednesday said the second coronavirus case for a Saudi national came from Iran through Bahrain, the health ministry announced in a statement published by the state news agency.




Reuters - Published




Bahrain confirms six new coronavirus cases: state news agency

Bahrain's ministry of health on Sunday confirmed six new coronavirus cases, raising the total number to 47 cases, the state news agency said, citing a ministry statement.




Reuters - Published




Bahrain reports two new cases of coronavirus, one a Saudi national

Bahrain reported two new cases of coronavirus on Friday, one of them a Saudi Arabian national, taking the total there to 38.




Reuters - Published





Bahrain stops flights to and from Iraq and Lebanon until further notice

Flights to and from Iraq and Lebanon have been stopped until further notice, Civil Aviation Affairs (CAA) in Bahrain announced on Thursday.




Reuters - Published




Iraq bans public gatherings on coronavirus fear; travel ban totals nine countries

Iraq on Wednesday banned public gatherings and barred entry by travelers from Kuwait and Bahrain because of the spread of the new coronavirus, prohibiting travel to or from a total of nine countries.




Reuters - Published




Bahrain discovers seven new coronavirus cases, raising the number to 33

Bahrain discovered seven new cases of coronavirus, raising the number to 33, the ministry of health reported on Twitter on Wednesday.




Reuters - Published




Bahrain extends suspension of flights to and from Dubai international airport

Flights to and from Dubai International Airport have been suspended for an additional 48 hours, civil aviation affairs (CAA) in Bahrain announced on Wednesday.




Reuters - Published




Iraq bans public gatherings and travel to nine countries amid coronavirus fears

Iraq banned all public gatherings and banned travelers from Kuwait and Bahrain from entry, the health minister said on Wednesday, taking the total number of countries on the entry ban list to nine amid..




Reuters - Published




Bahrain civil aviation suspends flights from Dubai airport and Sharjah airport for 48 hours

Bahrain civil aviation authority on Monday suspended all its flights from Dubai airport and Sharjah airport for 48 hours over coronavirus fears.




Reuters - Published




Saudi, Egypt, Bahrain to resume Qatar post services despite dispute

Saudi Arabia, Egypt and Bahrain have agreed to resume postal services to Qatar almost three years after they were stopped due to a political dispute, the United Nations said on Monday.




Reuters - Published





Three Gulf states, Iraq report first coronavirus cases, linked to Iran

Kuwait, Bahrain, Oman and Iraq on Monday recorded their first new coronavirus cases, all people who had been in Iran, which raised its toll from the disease to 12 dead and 61 infected.




Reuters - Published