Waterloo Bridge
Bridge in London, England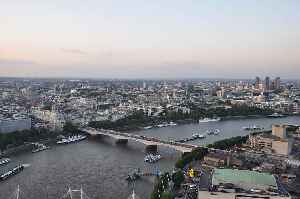 Waterloo Bridge is a road and foot traffic bridge crossing the River Thames in London, between Blackfriars Bridge and Hungerford Bridge. Its name commemorates the victory of the British, Dutch and Prussians at the Battle of Waterloo in 1815. Thanks to its location at a strategic bend in the river, the views from the bridge are widely held to be the finest from any spot in London at ground level.


Extinction Rebellion protest – live: London climate activists block Waterloo Bridge as demonstrations enter fourth day
First three people believed to have been charged over protests are due to appear in court
Independent - Published
Extinction Rebellion London protest: 'Our objective is to cause disruption'
Oxford Circus, Waterloo Bridge, Parliament Square and Marble Arch are blocked by protesters.
BBC News - Published
UK Police Arrest More Than 750 Climate Change Protestors
According to Reuters, more than 750 climate change activists have been arrested over the last six days in London. Police in the British city said the number was up Saturday from Friday's total of 682..
Credit: Wochit News Duration: 00:51Published
Extinction Rebellion demonstrate on climate change for the fifth day
Climate change protests continued on Friday, with activists arrested on Waterloo Bridge, and young people demonstrating at Heathrow Airport. It was the fifth day of Extinction Rebellion action.
Credit: PA - Press Association STUDIO Duration: 01:03Published
London eco-activists turn to superglue
Environmental activists glued themselves to a train, lorry, building and to each other in a series of protests to force Britain to take more radical measures to avert climate change.
Credit: Reuters Studio Duration: 01:04Published
Climate change protesters glue themselves to London train
Environmental activists climbed onto the roof and glued themselves to a train in London's Canary Wharf financial district on Wednesday as part of a third day of action to force Britain to take more..
Credit: Reuters Studio Duration: 00:58Published
Environmental protesters block five central London locations
The campaign group Extinction Rebellion leads a a global campaign demanding that the Government declares a climate emergency. Protesters set up camps and roadblocks at Marble Arch, Oxford Circus,..
Credit: PA - Press Association STUDIO Duration: 00:44Published
Extinction Rebellion: Thousands of climate change protesters shut down major London streets
Parliament Square, Oxford Circus, Marble Arch, Waterloo Bridge and Piccadilly Circus taken over by activists
Independent - Published
Extinction Rebellion protesters block London roads
Members of Extinction Rebellion target Waterloo Bridge and Oxford Circus during a day of action.
BBC News - Published
Extinction Rebellion: Climate activists to 'shut down' London's busiest streets in round-the-clock protest
Group will block traffic at Oxford Circus, Marble Arch, Piccadilly Circus, Waterloo Bridge and Parliament Square
Independent - Published
Search this site and the web:
You Might Like