Liz Truss
British Conservative Party politician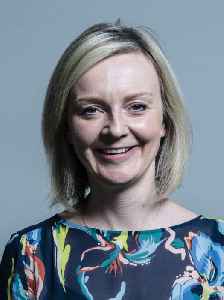 Mary Elizabeth Truss, known as Liz Truss, is a British politician serving as Secretary of State for International Trade and President of the Board of Trade since July 2019 in Boris Johnson's cabinet. Following the resignation of Amber Rudd, she took on the additional position as the Minister for Women and Equalities. A member of the Conservative Party, she has been the Member of Parliament (MP) for South West Norfolk since the 2010 United Kingdom general election. Truss was Secretary of State for Environment, Food and Rural Affairs from 2014 to 2016, Secretary of State for Justice and Lord Chancellor from 2016 to 2017 and Chief Secretary to the Treasury from 2017 to 2019.


Brexit talks will need to go to wire to get deal: trade minister Truss
Britain will need to take negotiations with the EU on Brexit up to the deadline to force the changes needed to a get deal that will pass through parliament trade minister Liz Truss said on Sunday.
Reuters - Published
Britain will be low-tax after Brexit, says trade minister Truss
Britain will be a low-tax, flexible economy after it leaves the European Union, trade minister Liz Truss said on Sunday.
Reuters - Published
Boris Johnson's Cabinet meet after Commons defeat
Ministers enter the first Cabinet meeting since the Government lost a key election vote last night in the Commons. Ministers visit Downing Street for a Cabinet meeting, following the prorogation of..
Credit: PA - Press Association STUDIO Duration: 00:36Published
Liz Truss: Tory minister admits UK breached court order banning arms sales to Saudi Arabia again
'It is possible that more cases will come to light,' minister admits
Independent - Published
Tory government 'looking at' granting Australians freedom of movement denied to EU citizens after Brexit, cabinet minister Liz Truss says
Liz Truss says she wants 'fully comprehensive trade deal' reflecting the fact that Britons and Australians want to live and work in each others' countries
Independent - Published
UK trade minister Truss says NHS will not be put up for sale: The Telegraph
Britain's trade minister Liz Truss has said the National Health Service (NHS) would not be put up for sale, as she prepares to discuss a free-trade deal with the U.S. in the next few weeks.
Reuters - Published
Factbox: Five facts about Liz Truss, Britain's new trade minister
Following are five facts about Liz Truss, who has been appointed trade minister by new British Prime Minister Boris Johnson.
Reuters - Published
Senior Tory suggests Boris Johnson will choose new US ambassador, as party infighting intensifies
Liz Truss says appointing next US envoy a job for Theresa May's successor
Independent - Published
Likely UK's new U.S. ambassador will be appointed by new PM: minister
The appointment of Britain's ambassador to the United States is likely to be made by the next British prime minister rather than outgoing leader Theresa May, senior minister Liz Truss told journalists..
Reuters - Published
Boris Johnson's plan to review sugar tax branded 'bollocks' by Tory health minister
Caroline Dinenage lashes out after Liz Truss, a prominent Johnson supporter, claims that scrapping levy would 'help Britain's poorest'
Independent - Published
Conservative party turmoil will slam brakes on promise to end austerity, admits Liz Truss
Spending review announced for this autumn – the mechanism to end a near-decade of cuts – now 'unlikely to happen'
Independent - Published
PM May's Brexit deal still the best option: minister
British Prime Minister Theresa May's Brexit deal remains the best option for leaving the European Union despite it having been voted down three times by lawmakers, Treasury minister Liz Truss said on..
Reuters - Published
Jeremy Hunt vows to end Tories' 'money, money, money' image in race to succeed Theresa May
Two other likely candidates – Dominic Raab and Liz Truss – demand tougher stance in talks with EU
Independent - Published
You Might Like