Seth Moulton
U.S. Representative from Massachusetts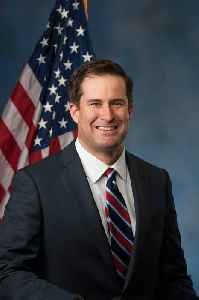 Seth Wilbur Moulton is an American politician serving as the U.S. Representative for Massachusetts's 6th congressional district since 2015. A former Marine Corps officer, he is a member of the Democratic Party.


Moulton ends bid for U.S. Democratic presidential nomination
U.S. Representative Seth Moulton, who mounted a long-shot bid for the 2020 Democratic presidential nomination, ended his campaign on Friday, warning that the party must now decide how far left it wants..
Reuters - Published
Democrats announce 20 U.S. presidential candidates who qualify for first debate
The Democratic National Committee announced on Thursday the 20 presidential candidates who will participate in the party's pivotal first debate in Miami later this month, dealing a blow to four..
Reuters - Published
Congressmen Criticize Trump After He Attacks Representative Seth Moulton
Democratic Rep Seth Moulton recently dropped out of the 2020 presidential election. President Donald Trump took the news as an opportunity to blame the falling Dow on Moulton. According to Business..
Credit: Wochit News Duration: 00:32Published
Trump Blames Congressman Seth Moulton For Dow's Drastic Drop
President Donald Trump tried to blame the Dow's latest plunge on anyone other than himself. According to Business Insider, he blamed it on the Democratic former presidential candidate Rep. Seth..
Credit: Wochit News Duration: 00:32Published
Two Republicans, 21 Democrats Are Presidential Hopefuls For 2020
The largest group of Democratic presidential candidates in the modern U.S. political era has gotten smaller. Twenty-one rivals now are seeking their party's 2020 nomination, reports Reuters. This is..
Credit: Wochit News Duration: 00:48Published
Democratic presidential candidate Moulton: restore benefits of military discharged for being gay
Democratic U.S. Representative Seth Moulton, a 2020 presidential candidate, on Thursday said if elected he would seek to retroactively upgrade the discharge status of military members dismissed on the..
Reuters - Published
Democratic 2020 candidate Moulton says Sanders, Warren too liberal to beat Trump
U.S. congressman Seth Moulton, one of 20 Democrats running for president, criticized rivals Bernie Sanders and Elizabeth Warren on Friday, saying they were so liberal they risked handing President..
Reuters - Published
Congressman Moulton enters Democratic 2020 presidential race
U.S. Representative Seth Moulton entered the 2020 Democratic presidential race on Monday as a long-shot contender in a contest that now includes almost 20 candidates.
Reuters - Published
Search this site and the web:
You Might Like