Diamond Princess (ship)
Cruise ship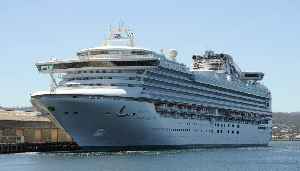 Diamond Princess is a British-registered cruise ship owned and operated by Princess Cruises. She began operation in March 2004 and primarily cruises in Asia during the northern hemisphere summer and Australia during the southern hemisphere summer. She is a subclassed Grand-class ship, which is also known as a Gem-class ship. Diamond Princess and her sister ship, Sapphire Princess, are the widest subclass of Grand-class ships, as they have a 37.5-metre beam, while all other Grand-class ships have a beam of 36 metres. Diamond Princess and Sapphire Princess were both built in Nagasaki, Japan, by Mitsubishi Industries.


Vietnamese girl drawing a brighter future

When Hanoi went into a three month lockdown, 10-year-old Nguyen Doi Chung Anh decided to pick up her colored pencils and express her feelings about what she was seeing.
Credit: Reuters Studio Duration: 00:49
Published



Diamond Princess critic says Tokyo Olympics should be halted

The Japanese doctor who created a media firestorm with videos criticizing the quarantine of a coronavirus-stricken cruise ship said he now believes the Tokyo 2020 Olympics should not go on.




Reuters - Published





British coronavirus cruise couple back in UK

David and Sally Abel, from Northamptonshire, contracted the virus on board the Diamond Princess.




BBC News - Published





Diamond Princess passenger dies, bringing ship's death toll to seven: NHK

A former passenger of the Diamond Princess cruise ship who was infected with coronavirus has died, bringing the death toll from the ship to seven, Japanese public broadcaster NHK said on Saturday.




Reuters - Published





Japanese coronavirus cases top 1,000, government insists Olympics plans on track

The number of confirmed coronavirus infections in Japan topped the 1,000 mark on Wednesday, mostly from the Diamond Princess cruise liner, as the government reiterated that plans to host the Tokyo..




Reuters - Published




U.S. CDC confirms two new coronavirus cases, 27 infections yet to be confirmed

The U.S. Centers for Disease Control and Prevention on Monday confirmed two new cases of coronavirus in the country that included an American evacuated from the Diamond Princess cruise ship, and the..




Reuters - Published





Japan confirms at least 19 new coronavirus infections on Monday: Kyodo

Japan on Monday confirmed at least 19 new coronavirus cases, bringing the number of infections in the country to 980, including passengers who caught the pathogen on the Diamond Princess cruise ship,..




Reuters - Published




Australia's first coronavirus death confirmed as former Diamond Cruise passenger

A former passenger on the Diamond Princess cruise ship that was quarantined off Japan for coronavirus died in a hospital in Perth early on Sunday, a health official said, becoming Australia's first..




Reuters - Published





U.S. CDC confirms one more coronavirus case among Diamond Princess evacuees

The U.S. Centers for Disease Control and Prevention on Friday confirmed one more case of the coronavirus among citizens evacuated from the Diamond Princess cruise ship, bringing the tally among..




Reuters - Published




British man infected by coronavirus on Japanese cruise ship has died

A British man who was infected by the coronavirus on the Diamond Princess cruise ship in Japan has died, bringing the death toll among people who were aboard the vessel to six, Japan's government said..




Reuters - Published




British man who was on Diamond Princess ship in Japan dies: Kyodo

A British man who was aboard the Diamond Princess cruise ship, docked in Yokohama, Japan, has died from coronavirus, Kyodo news reported on Friday.




Reuters - Published




Coronavirus: First Briton dies of disease

Death toll on 'Diamond Princess' cruise ship rises to six




Independent - Published





Fourth passenger from cruise ship dies in Japan - NHK

A fourth passenger from the cruise ship "Diamond Princess" moored in Japan has died from the coronavirus, NHK public television said on Tuesday. The passenger was in their 80s, NHK said.




Reuters - Published




Trump administration backs off sending coronavirus patients to Alabama -governor

The Trump administration has backed off plans to quarantine patients from the Diamond Princess cruise ship stricken with coronavirus at a federal facility in Alabama, the state's governor and a U.S...




Reuters - Published




Coronavirus: Four new UK cases confirmed as cruise ship evacuees test positive

Four recently repatriated evacuees from the Diamond Princess cruise ship have tested positive for the coronavirus in Merseyside.




Independent - Published





Third death from Japan cruise ship as health minister vows to set virus strategy

A third passenger from the coronavirus-infected Diamond Princess cruise ship in Japan died on Sunday, authorities said, as the government promised to introduce fresh steps to contain the outbreak.




Reuters - Published




Hong Kong cruise passengers head to quarantine after third flight from Japan

A third plane with five Hong Kong residents who were quarantined on the Diamond Princess cruise in Japan for more than two weeks landed early on Sunday in the Asian financial hub.




Reuters - Published




China brings in seven cruise ships to house Wuhan medical workers

China is bringing in seven cruise ships to house medical workers in Wuhan, state media said on Saturday, at a time when such ships are under scrutiny after hundreds of passengers on the Diamond..




Reuters - Published




Second batch of Diamond Princess passengers arrive in Hong Kong to face further quarantine

A second plane with 82 Hong Kong residents who were quarantined on the Diamond Princess cruise in Japan for more than two weeks landed early on Saturday in the Asian financial hub, where they will face..




Reuters - Published




Coronavirus: Evacuation flight carrying Britons from quarantined cruise ship takes off from Japan

A repatriation flight carrying 32 British and European passengers evacuated from the Diamond Princess cruise ship has taken off from Japan, the Foreign Office has said.




Independent - Published





Flight carrying British evacuees from coronavirus-hit cruise ship in Japan takes off

Britain's Foreign Office on Friday said the evacuation flight for its nationals on board the Diamond Princess cruise ship has taken off from Japan, following the coronavirus outbreak.




Reuters - Published




Israeli on coronavirus-hit cruise ship tested positive upon return to Israel

An Israeli woman who was aboard the coronavirus-hit cruise ship Diamond Princess tested positive for the illness after returning to Israel on Friday but was in good condition and not showing any..




Reuters - Published





Coronavirus news – live: Flight evacuating Britons from cruise ship delayed as Ukrainians attack quarantine bus

Around 70 Britons remain on the Diamond Princess cruise ship amid ongoing repatriation efforts




Independent - Published





Japanese data on cruise ship coronavirus infections backs quarantine strategy

Newly released data from a Japanese research institute appears to back the government's case that its quarantine strategy for the Diamond Princess cruise ship was successful in stemming contagion of..




Reuters - Published




British coronavirus cruise couple say hospital is 'best place'

David and Sally Abel, from Northamptonshire, were transferred from the Diamond Princess to hospital.




BBC News - Published





Coronavirus: Two deaths from Japan cruise ship, media report

The pair, in their 80s, were taken off the Diamond Princess after contracting Covid-19.




BBC News - Published





Indonesia to evacuate 74 people from coronavirus-affected ship off Japan

Indonesia is "committed" to evacuating 74 of its nationals from the Diamond Princess cruise off the Japanese port city of Yokohama that has been affected by a coronavirus outbreak, a senior minister..




Reuters - Published




With stricken cruise ship, Japan draws criticism over coronavirus response

As the virus-stricken Diamond Princess cruise ship is evacuated, Japan faces deepening criticism over its response to the outbreak, tarnishing what was supposed to be a triumphant Olympic year for..




Reuters - Published




Coronavirus: First passengers disembark from Diamond Princess in Japan

Some Diamond Princess passengers are being allowed to leave if they have tested negative for Covid-19.




BBC News - Published





Diamond Princess passengers begin disembarking in Japan: NHK

Passengers began disembarking on Wednesday from the virus-hit Diamond Princess cruise ship after spending two weeks in quarantine off Yokohama, near Tokyo, public broadcaster NHK said.




Reuters - Published




U.S. CDC places 14-day travel restriction on passengers from quarantined cruise ship

The U.S. Centers for Disease Control and Prevention (CDC) said on Tuesday all passengers on the quarantined Diamond Princess cruise ship in Japan would be restricted from traveling to the United States..




Reuters - Published




Japan plans HIV drug trials to fight coronavirus as Diamond Princess cases rise

Japan plans to start trials of HIV medications to treat coronavirus patients as an increase in the number of cases poses a growing threat to the economy and public health, the government's top..




Reuters - Published