FA Cup
Annual knockout football competition in English football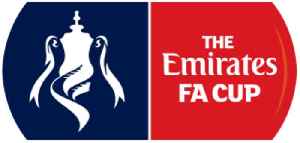 The FA Cup, known officially as The Football Association Challenge Cup, is an annual knockout football competition in men's domestic English football. First played during the 1871–72 season, it is the oldest national football competition in the world. It is organised by and named after The Football Association. Since 2015, it has been known as The Emirates FA Cup after its headline sponsor. A concurrent women's tournament is also held, the FA Women's Cup.


Footballer loses seven stone before scoring FA Cup winner

A footballer who lost seven stone during lockdown scored an FA Cup winner anda league hat-trick upon his return to the game. Kieran Amos, 24, from Bishop'sStortford, had put weight on after an ankle..
Credit: PA - Press Association STUDIO Duration: 00:44
Published
Arsenal: 2020/21 season in preview

A look ahead to Arsenal's 2020-21 season as Mikel Arteta embarks on his firstfull season in charge. The Spaniard won the FA Cup, but improving on adisappointing 8th place in the Premier League will..
Credit: PA - Press Association STUDIO Duration: 00:48
Published
Mikel Arteta confident Aubameyang will sign again with Arsenal

Mikel Arteta has indicated that he believes the club are "close" to finalisinga new deal for captain Pierre-Emerick Aubameyang, who fired them to a penaltyshoot-out win over Liverpool in the..
Credit: PA - Press Association STUDIO Duration: 00:27
Published
You Might Like



FA Cup qualifying: Christchurch look for another upset against Dulwich Hamlet

Christchurch host Dulwich Hamlet in FA Cup qualifying, overlooked by a stand named for their former player.




BBC News - Published





Ben Greenhalgh: The former Inter Milan winger playing in the FA Cup qualifying rounds

After winning a reality TV football show, Ben Greenhalgh got to live the dream at Inter Milan and received a Champions League winners' medal - which he lost.




BBC News - Published





FA Cup qualifying: How Chatham Town boss turned to football after losing wife to cancer

As Chatham Town get ready for the FA Cup, manager Scott Lindsey explains how football is helping him deal the loss of his wife to cancer.




BBC News - Published





Evans hat-trick helps Arsenal beat Tottenham to reach FA Cup semi-finals

Scotland's Lisa Evans nets a late hat-trick as Arsenal beat neighbours Tottenham 4-0 to reach the Women's FA Cup semi-finals.




BBC News - Published





Premier League Q&A: What will the new 2020-21 season look like?

All matches on TV? No winter break? A streamlined FA Cup? What will the new 2020-21 football season look like?




BBC News - Published





FA Cup qualifying: How the coronavirus pandemic has impacted non-league clubs

Non-league Leicester Nirvana say their FA Cup preparations have been disrupted because teams don't want to play them for "Covid-19 reasons".




BBC News - Published





Chelsea boss Hayes excited over Wembley return of Women's Community Shield

Women's Super League champions Chelsea take on FA Cup holders Chelsea in the first Women's Community Shield since 2008 at Wembley Stadium.




BBC News - Published





FA Cup replays scrapped for 2020-21 season and EFL Cup semi-finals reduced to one leg

There will be no FA Cup replays during the 2020-21 season, while the EFL Cup semi-finals will be reduced to one leg.




BBC News - Published





FA Cup: No replays during 2020-21 season

There will be no replays during the 2020-21 FA Cup campaign in order to "ease pressure" on the football calendar.




BBC News - Published





FA Cup final: The Wembley showpiece that deserved so much more

As Arsenal beat Chelsea to lift the FA Cup behind closed doors, BBC Sport chief football writer Phil McNulty reflects on a surreal experience.




BBC News - Published




'We got complacent' - Chelsea boss Lampard frustrated after FA Cup final defeat

Chelsea manager Frank Lampard said his side "can only blame ourselves" after they let an early lead slip to lose the Heads Up FA Cup final 2-1 to Arsenal at Wembley.




BBC News - Published





FA Cup final 2020: Arsenal 2-1 Chelsea - Aubameyang double secures victory

Pierre-Emerick Aubameyang scores both goals as Arsenal come from behind against Chelsea to win the Heads Up FA Cup for a record 14th time at a near-empty Wembley.




BBC News - Published





FA Cup final: Arsenal v Chelsea - rate the players

Rate the players out of 10 for Arsenal v Chelsea in the FA Cup final.




BBC News - Published





Arsenal want to 'save season' by winning FA Cup - Lacazette

Arsenal's Alexandre Lacazette says the players are excited about the FA Cup final because they know they can "save our season".




BBC News - Published





'We must put ourselves under FA Cup final pressure' - Lampard

Chelsea manager Frank Lampard says his side "cannot cruise" into Saturday's FA Cup final against Arsenal at Wembley.




BBC News - Published





FA Cup win could help Aubameyang 'believe' - Arteta

Arsenal boss Mikel Arteta says winning the FA Cup to secure European football may persuade captain Pierre-Emerick Aubameyang to stay.




BBC News - Published





Pierre-Emerick Aubameyang: Arsenal FA Cup final win could help striker 'believe' - Mikel Arteta

Arsenal boss Mikel Arteta says winning the FA Cup to secure European football may persuade captain Pierre-Emerick Aubameyang to stay.




BBC News - Published





'Courage, steel and intelligence' - why Arteta and Lampard have a bright future

Mikel Arteta and Frank Lampard hunt their first trophy as managers when Arsenal and Chelsea meet in Saturday's FA Cup final.




BBC News - Published





FA Cup final: Winners to collect trophy on Wembley pitch

The winners of Saturday's FA Cup final between Arsenal and Chelsea will collect the trophy on the pitch without a presentation party.




BBC News - Published





FA Cup: 2020/21 competition will maintain its existing structure

The FA Cup is to maintain its structure in 2020-21, allaying fears among non-league clubs that they might get overlooked.




BBC News - Published





David de Gea: Did Manchester United keeper peak in 2017?

Manchester United keeper David de Gea has come under scrutiny again after his errors contributed to his side's FA Cup semi-final defeat by Chelsea.




BBC News - Published





Manchester United 1-3 Chelsea: De Gea errors help settle FA Cup semi-final

Chelsea will play Arsenal in the FA Cup final after two howlers from David de Gea settle their semi-final against Manchester United.




BBC News - Published





'Lethal in attack' - watch Aubameyang's sublime FA Cup double

Pierre-Emerick Aubameyang seals the deal with two goals in 2-0 victory over Manchester City, sending Arsenal into the FA Cup final.




BBC News - Published





Man Utd without injured Shaw for FA Cup semi-final against Chelsea

Preview followed by live coverage of Sunday's FA Cup semi-final between Manchester United and Chelsea.




BBC News - Published





FA Cup quiz: Can you name 18 Britons to manage in the final since 1993?

Can you name the 18 British managers to take charge in an FA Cup final since 1992-93?




BBC News - Published





Newcastle United 0-2 Manchester City: Raheem Sterling helps earn his side a semi-final with Arsenal

Raheem Sterling's sublime finish helps seal victory over Newcastle United and earns holders Manchester City an FA Cup semi-final date with record 13-time winners Arsenal.




BBC News - Published





Man Utd face Chelsea, Arsenal v Man City in FA Cup semi-finals

Manchester United will face Chelsea and Arsenal will play holders Manchester City in the semi-finals of the FA Cup.




BBC News - Published





FA Cup semi-final draw: Manchester United to face Chelsea

Manchester United will face Chelsea and Arsenal will play holders Manchester City or Newcastle in the semi-finals of the FA Cup.




BBC News - Published





Barkley goal takes Chelsea into FA Cup semi-finals

Chelsea edge out Leicester City to move into the semi-finals of the FA Cup for the fifth time in nine seasons.




BBC News - Published





Sheffield United 1-2 Arsenal: Dani Ceballos' late goal sends Arsenal to FA Cup semis

Arsenal remain in the hunt for silverware after Dani Ceballos' 91st-minute winner takes them through to the FA Cup semi-finals at Sheffield United's expense.




BBC News - Published




Leicester City v Chelsea

Preview followed by live coverage of Sunday's FA Cup game between Leicester City and Chelsea.




BBC News - Published





Man Utd into FA Cup semis as Maguire goal beats 10-man Norwich

Harry Maguire scores deep into extra-time as Manchester United overcome valiant 10-man Norwich to reach the FA Cup semi-finals.




BBC News - Published





Maguire's extra-time winner sends Man Utd into FA Cup semis

Harry Maguire scores deep into extra-time as Manchester United overcome valiant 10-man Norwich to reach the FA Cup semi-finals.




BBC News - Published





FA Cup: Everything you need to know before the quarter-finals

Who is left and what are the big questions as the FA Cup resumes this weekend.




BBC News - Published





Can you name every FA Cup quarter-finalist this century?

Can you name all 44 teams to qualify for the FA Cup quarter-finals this century?




BBC News - Published





Newcastle United v Manchester City

Preview followed by live coverage of Sunday's FA Cup quarter-final between Newcastle United and Manchester City.




BBC News - Published





FA Cup & Premier League predictions: Lawro v Peter Crouch's co-host Alex Horne

Mark Lawrenson takes on Peter Crouch's co-host Alex Horne to make predictions for this weekend's FA Cup quarter-finals and Premier League games.




BBC News - Published





FA Cup final renamed to raise awareness of mental health

This season's FA Cup final will be renamed the Heads Up FA Cup final to raise awareness of mental health.




BBC News - Published





2020 FA Cup final renamed Heads Up FA Cup final to promote mental health

This season's FA Cup final will be renamed the Heads Up FA Cup final to raise awareness of mental health.




BBC News - Published





FA Cup: New dates announced after Premier League set to return

The FA Cup quarter-finals have been rescheduled for Saturday 27 and Sunday 28 June with the final set to take place on Saturday 1 August.




BBC News - Published





On This Day: When Man City hit Watford for six to win FA Cup

BBC Sport looks back to the 2019 FA Cup final when Manchester City scored six goals against Watford to complete a domestic treble.




BBC News - Published




FA Cup: The inside story of Wigan's win over Manchester City in the 2013 final

How Wigan shocked Manchester City to win the 2013 FA Cup final - as told by the players, coaches and backroom staff who were at Wembley - and what happened next.




BBC News - Published





FA Cup: How two friends finished FA Cup odyssey in their living room

A shock in the quarter-finals, a rivalry in the last four and a record-extending 15th title for Arsenal - how Jack and Alex's FA Cup ending plays out on Fifa.




BBC News - Published





#GoalsAtHome: Can you recreate this amazing Didier Drogba goal?

For this week's #GoalsAtHome challenge, stay at home and recreate this stunner from Didier Drogba in Chelsea's 2012 FA Cup semi-final thrashing of Tottenham.




BBC News - Published





Cesc Fabregas: Billy Clarke to raffle Chelsea shirt worn in FA Cup giant-killing

Grimsby loan striker Billy Clarke is to raffle Cesc Fabregas;' shirt which he swapped after Bradford's FA Cup win over Chelsea.




BBC News - Published





#GoalsAtHome: Gerard Deulofeu's FA Cup worldie - your attempts at recreating it

Steve Wilson commentates on your attempts to recreate Gerard Deulofeu's amazing curler in last year's FA Cup semi-final for this week's #GoalsAtHome challenge.




BBC News - Published





FA Cup: Stoke thump Bolton 5-0 to reach first ever final

Watch highlights as Stoke turn on the style to beat Bolton 5-0 in 2011 and reach their first ever FA Cup final.




BBC News - Published





Arsenal's Robin van Persie scores twice and is elbowed against Blackburn in FA Cup

Robin van Persie suffers an elbow to the face after scoring a late double to seal Arsenal's place in the 2005 FA Cup final.




BBC News - Published





#GoalsAtHome: Can you recreate Gerard Deulofeu's amazing curler?

For this week's #GoalsAtHome challenge, we want you to recreate an amazing goal from Watford's Gerard Deulofeu in their FA Cup semi-final win over Wolves.




BBC News - Published





FA Cup: Arsenal's David Seaman makes super save against Sheffield United

Watch Arsenal's David Seaman make an incredible save to deny Sheffield United's Paul Peschisolido during their FA Cup semi-final in 2003.




BBC News - Published