Killing of George Floyd
May 2020 police killing of an unarmed man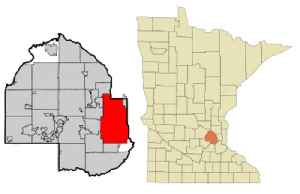 On May 25, 2020, George Floyd, a 46-year-old black man, was killed in Minneapolis, Minnesota, while being arrested for allegedly using a counterfeit bill. During the arrest Derek Chauvin, a white police officer with the Minneapolis Police Department, knelt on Floyd's neck for several minutes after he was already handcuffed and lying face down. Two police officers, J. Alexander Kueng and Thomas Lane, assisted Chauvin in restraining Floyd, while another officer, Tou Thao, prevented bystanders from interfering with the arrest and intervening as events unfolded.


Crump decries claim that Floyd died of drug overdose

Benjamin Crump, the lawyer representing George Floyd's family, pushed back against the assertion made by police officers' defense attorneys in court filings that Floyd, who had fentanyl in his system,..
Credit: Reuters Studio Duration: 01:31
Published
Darren Randolph: The anti-racism message still hasn't sunk in

Republic of Ireland goalkeeper Darren Randolph has backed athletes throwingtheir weight behind the Black Lives Matter campaign. NBA play-off fixtures inthe United States were postponed last week as..
Credit: PA - Press Association STUDIO Duration: 00:36
Published
George Floyd's Killer Wants Charges Against Him Dropped

The former Minneapolis police officer who stood with his foot on the neck of George Floyd has asked a judge to dismiss murder charges against him. Floyd died on May 25 after Derek Chauvin knelt on..
Credit: Wochit News Duration: 00:35
Published
Million Person March protest against systemic racism

Interview with Anthony Spencer a protest organiser as demonstrators gather atNotting Hill gate for the 'Million People March' against systemic racism,before marching to Hyde Park. The purpose of the..
Credit: PA - Press Association STUDIO Duration: 02:03
Published
Thousands march for racial equality in Washington

Thousands of people took part in a march in Washington on Friday to denounce racism, on the anniversary of the march in 1963 where civil rights leader Martin Luther King Jr made his historic "I Have a..
Credit: Reuters - Politics Duration: 02:27
Published
You Might Like



George Floyd murder suspect Derek Chauvin appears in court

Former Minneapolis police officer Derek Chauvin is seen leaving court after a pre-trial hearing.




BBC News - Published





George Floyd death: What's changed, 100 days later?

A protest movement reborn, colonial symbols destroyed and policing scrutinised.




BBC News - Published





George Floyd Case, State Will Seek Harsher Sentence For Cop Derek Chauvin

Derek Chauvin -- the ex-Minneapolis cop charged with murdering George Floyd -- deserves an especially harsh sentence because, among other things, he killed Floyd in front of kids ... according to..




TMZ.com - Published





Authorities must apologise for 'knee on neck' police arrest, lawyer says

Marcus Coutain in court on knife charge as solicitor compares incident to George Floyd case




Independent - Published





'Knee-on-neck' arrest man 'owed an apology', says lawyer

Marcus Coutain's lawyer says the arrest "mirrored almost identically what happened to George Floyd".




BBC News - Published





George Floyd's death: Police body camera footage emerges

George Floyd is seen pleading with policemen as they try to force him into their car, US media say.




BBC News - Published





George Floyd: 'If you don't break the chain, then who will?'

Across the US, street artists have been inspired by the death of George Floyd earlier this year.




BBC News - Published





Brother of George Floyd urges U.N. probe into U.S. racism, violence

The brother of the late George Floyd called on the top U.N. human rights body on Wednesday to investigate police brutality and racial discrimination in the United States.




Reuters - Published




Bail raised to $1.25 million for former police officer in George Floyd death

Bail for the white former Minneapolis police officer charged with murdering African American George Floyd, whose death ignited two weeks of protests, was raised by $250,000 to $1.25 million at a..




Reuters - Published





Greg Glassman: Brands cut ties over CrossFit CEO's George Floyd tweet

Greg Glassman faces industry backlash over a tweet making light of George Floyd's death.




BBC News - Published





George Floyd: Minneapolis council pledges to dismantle police department

The significant move comes amid nationwide anti-racism protests sparked by George Floyd's death.




BBC News - Published





Protesters march again, demanding justice after George Floyd killing

A relaxed confidence infused a new round of street protests in New York and other major cities on Sunday, a day after some of the largest demonstrations since the killing of George Floyd in Minneapolis..




Reuters - Published




George Floyd death: 'Demonstrators' block M6 near Coventry

Anti-racism protesters had earlier gathered in Coventry and Wolverhampton to remember George Floyd.




BBC News - Published





Democratic U.S. presidential candidate Joe Biden to meet George Floyd's family

Democratic U.S. presidential candidate Joe Biden will travel to Houston on Monday and meet with the family of George Floyd, two weeks after Floyd's death in police custody triggered nationwide protests..




Reuters - Published





U.S. Democrats, black lawmakers ready response to George Floyd death

Two weeks after George Floyd's death in police custody sparked nationwide protests, Democrats led by black members of the U.S. Congress are set to introduce legislation to combat police violence and..




Reuters - Published





'Enough is Enough': Jamaicans protest in support of George Floyd

Wearing black and braving a blistering sun, Jamaicans gathered on Saturday to lend support to global protests against police abuses sparked by the death of George Floyd in Minneapolis last month.




Reuters - Published





George Floyd death: Hammad Miah on being called a 'shoebomber'

The death of George Floyd in America has touched many people, including snooker player Hammad Miah, who was subjected to racism while growing up.




BBC News - Published




George Floyd death: Mass rallies in Australia for Black Lives Matter

Protesters march nationwide in support of African American George Floyd and indigenous Australians.




BBC News - Published





George Floyd death 'has parallels' with Mikey Powell's

The cousin of a man who died in police custody says George Floyd's death prompts painful memories.




BBC News - Published





George Floyd death: Michael Johnson hopeful that protests will spark change

Michael Johnson says current protests following the death of George Floyd have produced "the most momentum around this issue I've seen in my lifetime".




BBC News - Published





George Floyd death: Morgan Lake, Chris Lambert and Lianne Sanderson speak out

Morgan Lake, Chris Lambert and Lianne Sanderson speak about how they feel after the death of George Floyd.




BBC News - Published





Mourners gather in Minneapolis to remember George Floyd; attorney general sees protest 'agitators'

Mourners gathered in Minneapolis on Thursday for a service to remember George Floyd, the black man whose death in police custody set off a wave of protests that have roiled America in the midst of the..




Reuters - Published




Black architect who knew George Floyd hopes to rebuild a more just Twin Cities

George Floyd's death in Minneapolis while in police custody, and the destruction that followed during demonstrations throughout the region, cut especially deep for Saint Paul architect James Garrett..




Reuters - Published




Minnesota to toughen murder charge in George Floyd case, charge three other officers, Klobuchar says

Minnesota's attorney general will increase the murder charge against a fired Minneapolis police officer in the death of an unarmed black man that has triggered nationwide protests and will level..




Reuters - Published




Minnesota raises charge against fired officer in George Floyd case, charges three others

Minnesota Attorney General Keith Ellison will increase the charge against a fired Minneapolis police officer to second-degree murder in the death of an unarmed black man and level charges against the..




Reuters - Published




Outpouring of rage over George Floyd killing tests limits of U.S. police tactics

Responses by law enforcement authorities in the U.S. capital and in Flint, Michigan, to protests over the police killing of George Floyd illustrated starkly contrasting approaches to handling angry..




Reuters - Published




Protests over George Floyd's death expose raw race relations worldwide

Images of a white police officer kneeling on the neck of African-American George Floyd, who then died, have sparked protests from Amsterdam to Nairobi, but they also expose deeper grievances among..




Reuters - Published





Pelosi says legislation coming soon in response to Minneapolis George Floyd killing

U.S. House of Representatives Speaker Nancy Pelosi on Tuesday promised legislation on racial profiling and other issues raised by the police killing of George Floyd, while other lawmakers warned..




Reuters - Published





GM, Ford join U.S. companies condemning George Floyd death, racism

General Motors Co and Ford Motor Co condemned racial inequality in the United States following the death of George Floyd, an unarmed black man, at the hands of police in Minneapolis last week.




Reuters - Published




New Zealand's Ardern says she is 'horrified' by George Floyd's death

Prime Minister Jacinda Ardern said on Tuesday that she was "horrified" by George Floyd's death, and welcomed peaceful protests in New Zealand in solidarity, but noted that they flouted social..




Reuters - Published





Medical examiner declares George Floyd death homicide: report

The Hennepin County Medical Examiner on Monday declared the death of George Floyd a homicide, saying he died of "cardiopulmonary arrest complicating law enforcement subdual restraint, and neck..




Reuters - Published




Minnesota trucker who drove through protesters was 'frustrated' at road closure, governor says

Minnesota Governor Tim Walz said a truck driver who drove through marchers on a Minneapolis highway on Sunday appeared to do so unintentionally and was "frustrated" at the road closure for the protest..




Reuters - Published




Thousands chant 'I can't breathe' at Amsterdam rally, angry at George Floyd's death

Thousands of protesters chanting "I can't breathe" gathered in central Amsterdam on Monday in solidarity with George Floyd, a black American who died in police custody in the United States last week.




Reuters - Published




New York's Cuomo calls for police reforms in wake of George Floyd's death

New York Governor Andrew Cuomo on Monday called for a national ban on police use of chokeholds and excessive force as part of a reform of policing following the death of an unarmed black man in police..




Reuters - Published




George Floyd: Music industry calls for 'blackout' over death

Record labels say they will not release new music this week, as musicians join protests in the US.




BBC News - Published





George Floyd death: Michael Jordan 'truly pained and plain angry'

Basketball legend Michael Jordan says he is "deeply saddened, truly pained and plain angry" after the death in police custody of African-American George Floyd.




BBC News - Published