MOVIE REVIEW: Fast & Furious Presents: Hobbs & Shaw

Monday, 5 August 2019
by 👨‍💻 Graham Pierrepoint


FAST & FURIOUS PRESENTS: HOBBS & SHAW

Dir: David Leitch

Starring Dwayne Johnson, Jason Statham, Idris Elba, Vanessa Kirby, Helen Mirren, Roman Reigns, Eddie Marsan, Eiza Gonzalez





4.5 STARS (out of 5)
Am I really giving a Fast & Furious movie a 4.5 star rating? Perhaps I've had a change of heart over these sorts of movies over the years, because I can quite safely say that I had an absolutely fantastic time watching Hobbs and Shaw, and I think plenty more people will, too.
Fast & Furious is an odd franchise which has evolved massively if you look back at the earlier instalments. Street racing and petty crime have slowly evolved into big, brash fights back against international terrorism over what now amounts to nine different movies. Yes, the series post FF4 is markedly different from the original trilogy, however, this is a freight train of a franchise that shows no sign of slowing down. Does Hobbs & Shaw bring anything new to the table? In some ways yes, in a lot of ways, no – but does it have a good time while doing any of it? 100% affirmative.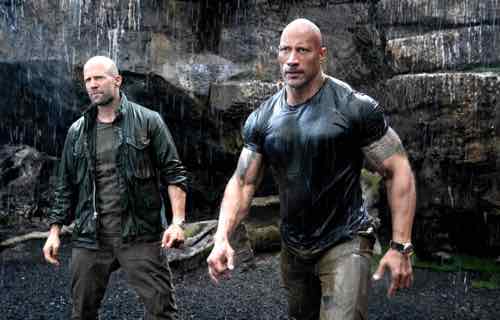 Fast & Furious Presents: Hobbs & Shaw (Universal)
This spin-off from the main series sees MI6 agent Hattie Shaw (Kirby) make off with a deadly virus that Brixton Lore (Elba) wants to use to help push the profile of Eteon, an organisation hell-bent on 'upgrading' humanity. Luke Hobbs (Johnson) and Deckard Shaw (Statham) – Agent Shaw's brother – are brought in to work together to bring the virus into safe keeping, with Hattie assumed to have gone rogue. Hobbs and Shaw have worked together to save the world before. However, they really can't stand each other, and it shows. Ultimately, you have a big scale buddy comedy on your hands here, and it's an absolute riot.
The main standout of this movie is the cast. The main stars – Johnson, Statham, Kirby, Elba – are all amazingly charismatic. Yes, the script has touches and swerves which have been done to death elsewhere – but with this team at the helm, you're going to want to stick around. Yes, this is what's helped the FF movies massively, too – but with a focus on Hobbs and Shaw, there's more fun gleaned from their very specific chemistry. Both are hardmen with hearts of gold – but neither of them take any (insert expletive) from anybody.
There have been complaints made about the narrative being a little wayward, and while I have to agree, I feel the pacing is precise, and I feel that there's enough variety to fill the runtime. I do feel that it is maybe 30 minutes too long, however, there are action movies out there which are shorter, and feel longer. This takes on a variety of locations, from London to Samoa, and the stuntwork is nothing short of incredible. The FF movies try to outdo themselves each and every time – and while some will feel that this spin-off may even dumb things down a little, there are moments you simply can't conceive of until you see them.
Yes, Hobbs & Shaw is the type of cinema you need to turn your brain off for before you sit down. Not all movies that do that are worth seeing. However, this is a movie which requires brain shutdown and which gives you everything on a plate. Big visuals, a fantastic cast, a script which has a few genuinely funny zingers, and above all, genuine joy. This movie looked like an absolute blast to film, green screen or not, and it's worth sticking around to the credits to see just how many stuntpeople worked on it. It's nothing short of absolute mayhem, and it really isn't done by halves.
Fast & Furious Presents: Hobbs & Shaw - Official Trailer (Universal)
This is not a movie which is going to challenge any 'best of' lists. I dare say all FF fans will get into it, however, it's an excellent companion, and maybe even a nice route into the franchise for some people. You need no prior knowledge of what these characters have done prior to the movie. All you need to know is that they're big, they're bad, and they're here to kick butt.
Hobbs & Shaw is a really welcome diversion in a sea of movies which have muddled around or missed the mark recently. 2019 has been a fantastic year for movies so far, but it has to be said that Disney isn't taking away all of the plaudits. This is a fast, furious, relentless joyride and it's one I feel merits watching if your interest is even slightly piqued. For the cast alone, it's worth the price of admission. There are some really surprising cameos in here, too – and I'm impressed the marketing team refrained from plastering them all over the trailers. No spoilers – but they're pretty unexpected, and pretty big – and if you like your movies to be big, daft and over-the-top, this one will more than do the business for you.
You Might Like
💡 One News Page Knowledge: Other News Mentions
Idris Elba dismisses secret baby talk

Idris Elba has shot down baby rumours, insisting he and his wife, Sabrina Dhowre, are not parents to a secret child.
Credit: Cover Video STUDIO Duration: 00:51
Published
Which Celebrities Got COVID-19?

A number of celebrities have contracted COVID-19. Actors Tom Hanks and Rita Wilson. Sophie Grégoire Trudeau, the wife of Canadian Prime Minister Justin Trudeau. Actor Idris Elba. Basketball player Kevin Durant. Actor Daniel Dae Kim. Presenter Andy Cohen. Musician Jackson Browne.
Credit: Wochit News Duration: 00:43
Published
Idris Elba feared de*th by coronavirus

Idris Elbas wife has spoken candidly about the actors Covid 19 horror, revealing that he had feared he was going to di*.
Credit: Cover Video STUDIO Duration: 00:46
Published
Dwayne Johnson back at work following COVID-19 recovery

Dwayne Johnson has returned to work on Red Notice after battling COVID-19 over the summer.
Credit: Cover Video STUDIO Duration: 00:44
Published
New 'No Time to Die' Trailer, 'The Batman' Pauses Production & More News | THR News

'The Batman' presses pause on production in London after Robert Pattinson tests positive for COVID-19, Dwayne Johnson reveals that he, his wife and two youngest daughters test positive for COVID-19 and Universal drops a trailer for 'No Time To Die.'
Credit: The Hollywood Reporter Duration: 02:23
Published
Dwayne Johnson, His Wife & Kids Test Positive for COVID-19 | THR News

Dwayne Johnson, his wife and two youngest daughters have tested positive for COVID-19.
Credit: The Hollywood Reporter Duration: 02:05
Published
Jordan Peele, Issa Rae Team for Supernatural Feature, AMC & Universal Make Historic Deal & More News | THR News

The first look at Sarah Paulson in the new Netflix drama 'Ratched' is here, AMC Theatres has struck a historic agreement with Universal Pictures and Jordan Peele and Issa Rae are teaming up for a new supernatural feature for Universal.
Credit: The Hollywood Reporter Duration: 01:51
Published
AMC Theatres, Universal Pictures Forge Historic Deal Allowing Theatrical Releases to Debut on Premium VOD | THR News

Wall Street analysts on Wednesday weighed in on AMC Theatres' historic agreement with Universal Pictures that will allow the studio's movies to be made available on premium video-on-demand after just 17 days of play in cinemas.
Credit: The Hollywood Reporter Duration: 01:27
Published
Peta protesters target London Fashion Week

Supporters of the animal welfare organisation Peta have demonstrated outsideSomerset House in central London, protesting against the killing of animals tomake shoes and bags, at London Fashion Week. It comes as the charity claimsthat conservation experts warn that the trade in exotic skins risks fuellingthe spread of diseases like Covid-19. British brands such as Mulberry,Victoria Beckham, and Vivienne Westwood are all free from exotic skins, whilea few labels, such as Burberry, continue to use them.
Credit: PA - Press Association STUDIO Duration: 01:08
Published
Mayor confirms London New Year's Eve fireworks cancelled

London Mayor Sadiq Khan has confirmed that the New Year's Eve fireworks will not be taking place in the capital this year due to coronavirus, but there will be a 'spectacular event' that people can enjoy from home. Report by Etemadil. Like us on Facebook at http://www.facebook.com/itn and follow us on Twitter at http://twitter.com/itn
Credit: ODN Duration: 00:24
Published
London's New Year's Eve fireworks cancelled

London's annual New Year's Eve fireworks display will not take place this yearbecause of the coronavirus pandemic, the city's mayor has confirmed. SadiqKhan said instead that he was working on doing something that "people canenjoy in the comfort and safety of their living rooms on TV".
Credit: PA - Press Association STUDIO Duration: 00:44
Published
Tweets about this
•More original news reports from One News Page